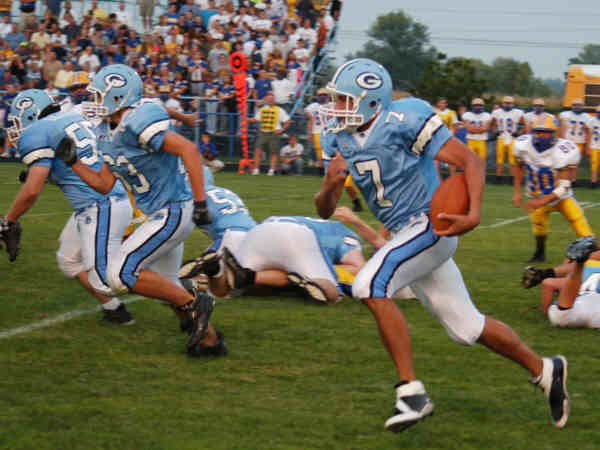 Garber QB Randon Henika (7) runs for a big gain behind (63) Nick Dion and (55) Zach Balwinski during 33-20 win over Birch Run
---
Garber (4-1) Makes a Comeback Against Birch Run
Garber recovers after last week's loss; Defeats Panthers 33-20
September 23, 2007
By: Chelsea Anderson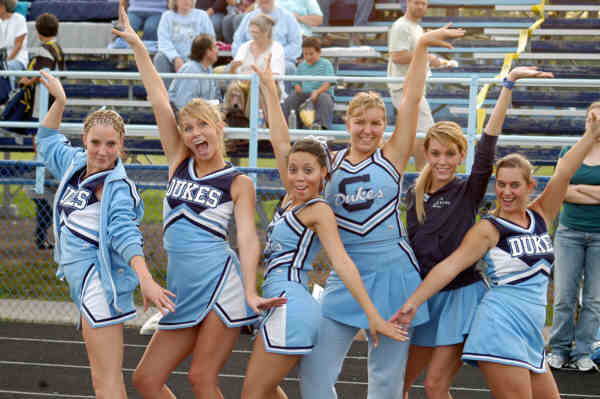 Garber cheerleaders show off their spirit during Garber win over Birch Run.
(MyBayCity Photo by Johnny Keuvelaar)
Garber's pride was a little bruised after last week's loss against Frankenmuth, but they didn't let it get to them. Up against Birch Run, a team they haven't beaten since 2002, they showed that they meant business.
Garber took an early lead with Justin Zielinski (#33) getting a touchdown with just under four minutes left in the first quarter; an 82-yard play in 2 minutes and 17 seconds. Making sure to keep up, Birch run then caught a 24-yard pass for a touchdown. The Dukes kept it up with an amazing pass from Randon Henika to Zielinski, making the score 14-7 at the end of the first quarter.
Birch Run seemed determined with a 76-yard touchdown run from Jordan Duby in the second quarter. Henika and Duby were both unstoppable, each scoring another touchdown. It was tense with the score being 20-all at halftime.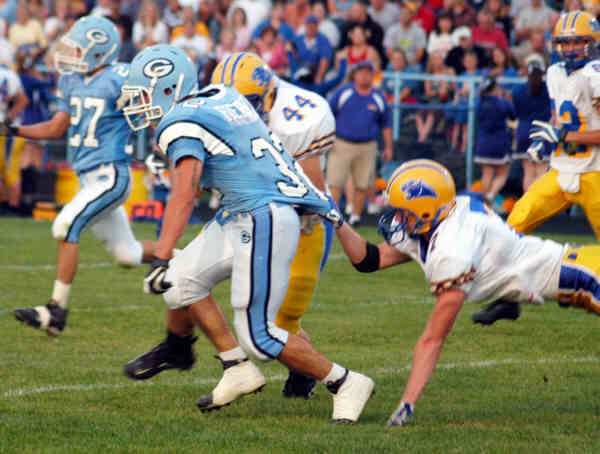 (32) Josh Pierson pulls away from Panthers (7) Bret Coleman during Friday's 33-20 victory. .
(MyBayCity Photo by Johnny Keuvelaar)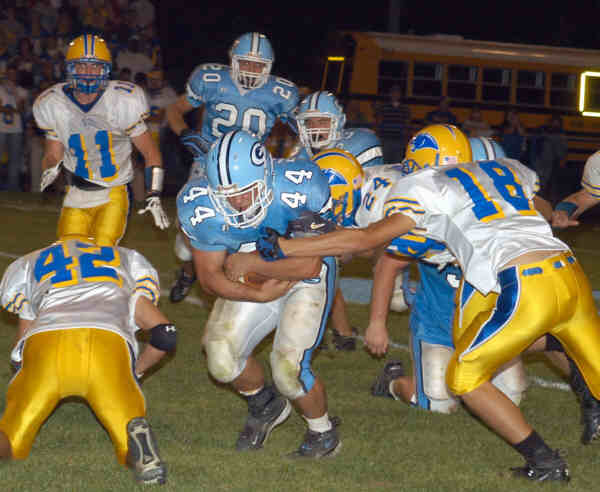 (44) Abe Bargouthy keeps the Dukes fourth quarter drive going with this run for a first down.
(MyBayCity Photo by Johnny Keuvelaar)
In the second half of the game, the Dukes stepped up, getting a touchdown in the third quarter and keeping a lead against the Panthers. With the score 27-20 at the beginning the the fourth quarter, it was anyone's game.
Randon Henika made a spectacular play: a fake punt that gained Garber 21-yards. That set up for Henika to throw to Jake Bundy, who got Garber's winning 30-yard touchdown. The Dukes won 33-20 and are now 4-1.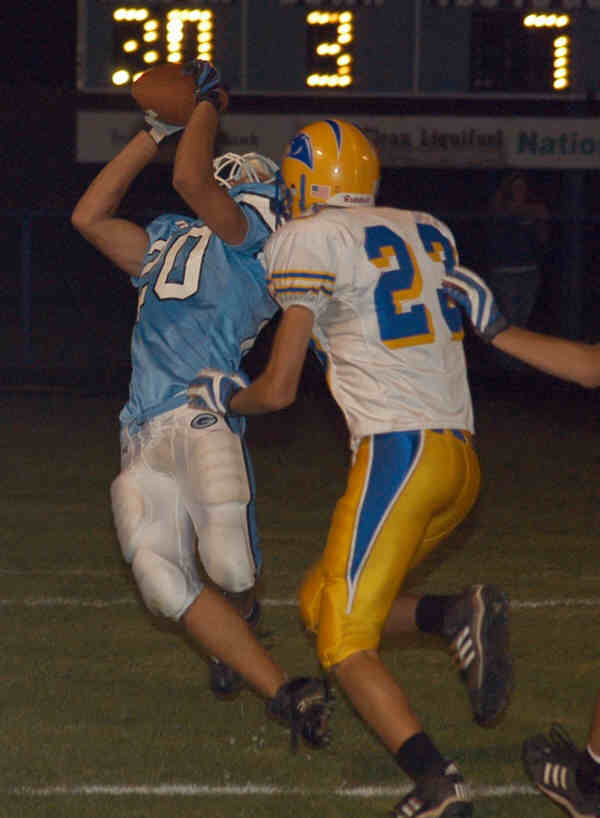 BIG CATCH - (20) Garber's Jacob Bundy hauls in a 30 yard pass from Randon Henika for the games final and decisive touchdown against Birch Run.
(MyBayCity Photo by Johnny Keuvelaar)