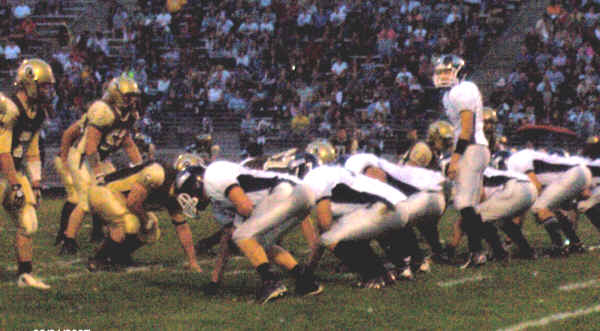 The John Glenn offense struggled against Ogemaw Heights in a 47-13 loss
---
Ogemaw Heights Topples John Glenn 47-13
Tyler Clemons and Andrew Martin Score Touchdowns in Losing Effort
September 23, 2007
By: Maria Vos & Shannon Smith

Bangor John Glenn put up a courageous fight against the Ogemaw Heights Falcons Friday night. The Falcons' strong defense and unstoppable offense accounted for the 47-13 win.
The game's scoring began with an Ogemaw touchdown by Kevin Page about half way into the first quarter and Michael Noffsinger added another 6 points to the board four minutes later. The 2 point conversion made the score 14-0, Falcons' lead. Only seconds later John Glenn's Tyler Clemons made a 31 yard touchdown run putting up points for the Bobcats. Ty Richards scored the extra point making the score 14-7.
Not wasting any time in the second quarter, Noffsinger scored again for Ogemaw after only two minutes and once more before the end of the half. The score stood at 27-7 going into halftime.
Returning in the second half of the game, Glenn struggled to stop the Falcons and gave every effort had. Unable to be contained, Ogemaw scored three more times before the final minutes ticked off the clock. Noffsinger, Josh Jameson, and Anthony Carolo claimed the last of Ogemaw Height's touchdowns.
The Bobcats were able to add six additional points to their final score in the final minutes of the game thanks to junior running back, Andrew Martin.
Though mistakes were made and the playing was tough, the Bobcats kept their heads up and played with as much heart as anyone has ever seen. With the promise of improvement in the very near future, John Glenn is sure to come out ready for a win. The Bobcats will get their next chance at victory next Friday night as they face the Oscoda Owls at home.