Rotary District Governor Addresses Bay City Rotary
September 30, 2007
By: Stephen Kent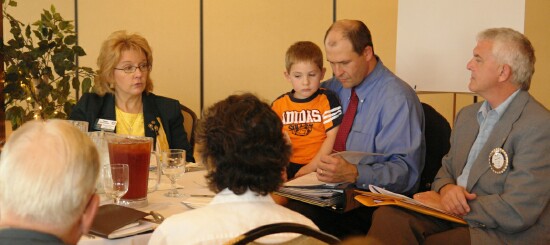 Last Weeks program - September 25, 2007:
District Governor Harkema meets with Board then addresses Club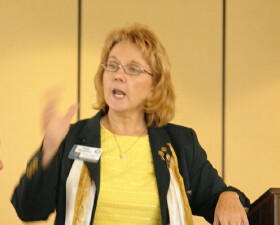 Incoming District 6310 Governor Pam Harkema visited the Bay City club as part of a new Governor's rounds of all clubs. The Board of Directors convened in a special session with Harkema before the regular meeting. Harkema provided a Planning Guide work sheet, which Club president Clark had previously filled out. The Board reviewed the various points and described projects, goals and other aspects of the Bay City Club.
Among Harkema's items was the question "how to you tell someone what Rotary is all about? How do you explain why you'd go to a meeting every week?" The easy answer is that Rotary is an international service club with over 1.2 million members. Another answer is that "Rotary's international scope is the best chance for world peace."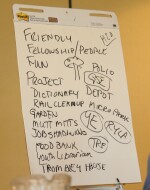 Both of those answers are too broad. Harkema then put up a note board and asked members what the Bay City club has done. Soon the page was covered with ideas. "This is why you're a Rotarian", she said.
During her address to the full club later, Harkema talked about how Rotary has changed. 25 years ago a Rotary Club would be older white males, generally business owners and generally well off. They would be decision makers, not hands on workers. That was about the time Rotary began to change. 20 years ago women were admitted and today they make up a sizable percent of members. Club demographics begin to shift to younger people and a racial and ethnic mix which better reflects the places Rotary represents.
Harkema congratulated the club on their achievements. Last year the club gave more than $18,000 to the Rotary Foundation. Harkema challenged members who have never given to give just $2 per month. She asked those who have given to increase their giving by $2 per month.
In recognition of Harkema's visit, the club donated a children's book based on the Rotary Four Way Test to the Bay County Library System. Rotarian Kevin Ayala of the library accepted.
CLUB NEWS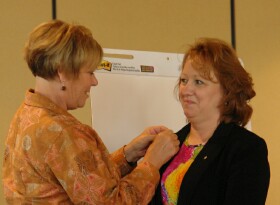 The club welcomed new member Shelly Ouellette, Acting Director of Human Resources and Labor Relations for the Bay City Public Schools. Governor Harkema recognized both Shelly and her sponsor, Kim Prime, by presenting a sponsor pin to Kim and a Rotary Theme pin to Shelly.
Inducting Shelly is a reminder of the upcoming membership campaign. The club is being divided into teams based on birthday month. This will be a member challenge. The team with the best member recruiting record will eat steak at a special meeting and every one else will eat beans.
President Rob Clark reported that the President's Challenge food drive has netted over 175 items. The manager of the local Kroger donated another $20 in a gift card. The first distribution of food has been made and was gratefully received.
---
Upcoming Programs
(See the official schedule at
RotaryBayCity.org
)
October 2 ARE YOU READY FOR SOME FOOTBALL? High school coaches Mark Miller and Dave Schwartz


October 9 Historic Resources at the Public Libraries of Saginaw



---
CLUB ANNOUNCEMENTS
Mark October 18 on your calendar for the chartering of the Pinconning /Standish club. The meeting will be hosted by the Saginaw Chippewa Indian Tribe at the Community Center located on the Saganing Indian Reservation. A traditional bar-b-que dinner will be served starting at 6:00 and the program will begin at 7:00. Cost of the dinner is $15.00 Be sure to make reservations with Mike Stoner if you plan to attend.


International Night is almost here! OCTOBER 11. The committee will have one more major meeting. Don't miss it. If you don't have your tickets, see Larry LaPorte .


Vocational Days needs a co-chair. If interested see Ralph Knop or Griff Acker.


The board has approved a Public Relations Officer position for the club, for which it will pay an honorarium.


Breezes Reporters Wanted: If you'd like to help write the weekly Breezes please see Steve Kent. It's an easy job. No experience necessary. High Pay (well at least a lot of thanks).


---
Visit RotaryBayCity.org, web site of the Rotary Club of Bay City, Michigan