Welcome To Karen's Korner
Pumpkin Carving 101! Banned From K-Mart Letter! Heinz Baked Beans!
October 7, 2007
By: Karen Polega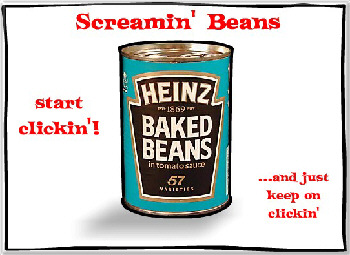 Screamin' Beans...Start Clicking & Keep On Clicking....
PUMPKIN CARVING 101
...The right place for Halloween Pumpkin Carving!
PUMPKIN CARVING HISTORY Learn the history of Pumpkin Carving and Jack O' Lanterns
CHOOSING YOUR PUMPKINS How to select the right pumpkins for your Halloween festivities
PUMPKIN CARVING TOOLS Pumpkin carving tools to carve your Jack O' Lanterns
TRADITIONAL CARVING See how we carve our pumpkins the old fashioned way
CARVING WITH STENCILS How we carve pumpkin masterpieces using stencils
LIGHTING YOUR PUMPKINS Various methods to light your Jack O' Lanterns on Halloween
LIFE-SPAN OF A PUMPKIN How to extend the life-span of your Halloween Jack O' Lanterns
PHOTOGRAPHING How to photograph your carved pumpkins for Halloween posterity
PUMPKIN BURIAL TRADITION Lay your post Halloween pumpkins to rest with love and dignity
My next link is a Very Funny Letter...
Banned from Kmart!
Just click on the letter and it will enlarge.
Last of all I have found
Screamin' Beans
...Just start clicking and keep on clicking. (turn your sound up)
Click Here
to go to this week's edition of Karen's Korner.
Stay safe, carve your pumpkins and have fun!
Karen