Garber, Glenn Football Coaches Talk About Their Bottom Line: Character
October 7, 2007
By: Dave Rogers
Last Weeks program - October 2, 2007:
Coaches Talk High School Football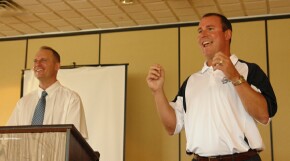 Two local football coaches who have been friends since high school talked about today's youth and their goals through athletics last Tuesday to Bay City Rotarians.
Mark Miller, coach at Bangor John Glenn, and Dave Schwartz, coach at Essexville Garber, have several things in common: Both are John Glenn graduates;
Both graduated from Central Michigan University;
Both coached early in their careers at Mt. Pleasant High;
Both will lead their teams onto the field Oct. 19 at John Glenn for the final football game of the regular season.
And, both are agreed that football is a particularly appropriate format for teaching youngsters about life.
"We teach them to deal with adversity, discipline and respect for older persons," said Coach Miller.
"They can learn life's lessons: injuries, losses, bad test scores," he said, adding: "They need to deal with these things in a positive way."
"We want to develop young men into leaders, and positive citizens," he said, noting that half a dozen former Glenn graduates were among Rotarians in attendance. "We are very proud of these kids," he commented.
Coach Schwartz, arriving after a confrontation with an open bridge across the Saginaw River, said: "Philosophy is important; anything you are involved in comes down to philosophy; you have to have an idea where you want to go."
He said: "We teach leadership, competitiveness, respect -- all of which comes with strong academics and the highest moral principles."
Football is the "ultimate team sport," said Coach Schwartz, "in that not everybody gets to handle the ball and not everyone can play."
However, he noted, the entire school is involved: "Cheerleaders, the dance squad, pon-pon, the band -- so many facets of the school are involved. It brings out all the positive things the school and community have to offer."
He also noted that football is a 12 month endeavor involving off season training, academics and goal setting in the spring.
He summarized: "If young people buy into what we're selling, they're going to be better people because we teach right and wrong."###
---
Upcoming Programs
(See the official schedule at
RotaryBayCity.org
)
October 9 Historic Resources at the Public Libraries of Saginaw


October 16 Saginaw Bay Shoreline Cleanup


October 30 Bay Area Family Y building plan



---
CLUB ANNOUNCEMENTS
Mark October 18 on your calendar for the chartering of the Pinconning /Standish club. The meeting will be hosted by the Saginaw Chippewa Indian Tribe at the Community Center located on the Saganing Indian Reservation. A traditional bar-b-que dinner will be served starting at 6:00 and the program will begin at 7:00. Cost of the dinner is $15.00 Be sure to make reservations with Mike Stoner if you plan to attend.


International Night is almost here! OCTOBER 11. Don't miss it. Larry LaPorte reports that ticket sales will set a new high.


Vocational Days needs a co-chair. If interested see Ralph Knop or Griff Acker.


The board has approved a Public Relations Officer position for the club, for which it will pay an honorarium.


Breezes Reporters Wanted: If you'd like to help write the weekly Breezes please see Steve Kent. It's an easy job. No experience necessary. High Pay (well at least a lot of thanks).


---
Visit RotaryBayCity.org, web site of the Rotary Club of Bay City, Michigan