Saginaw Libraries Said to Have One of Midwest's Best Historical Collections
October 14, 2007
By: Dave Rogers
Last Weeks program - October 9, 2007:
Saginaw Library System Historical Resources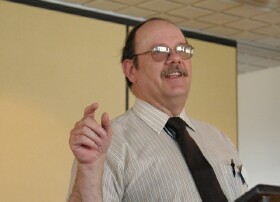 John Sheridan of the Saginaw Library System described the genealogical and historical resources of the system, said to be among the best in the Midwest, last week at the Rotary Club of Bay City.
Eric Jylha, programmer, introducing Mr. Sheridan, said historical collections at the Wirt Library in Bay City, the Bay County Historical Society research library, and others locally are bolstered by other resources outside the county such as those in Saginaw.
Mr. Sheridan said one of the most popular searches in the Saginaw libraries is for photos of actor Don Johnson and singer Barbra Streisand at the Bay City River Roar in the 1970s.
Hoyt Main Library in downtown Saginaw, has extensive genealogical records and a complete roster of Civil War soldiers that was published in 1930, he said.
The Saginaw libraries also have the photos taken by the famed Goodridge Brothers, Saginaw's black photographers of the Civil War era.
Researchers using genealogical resources have two main purposes: health of family members and family relational background, said Mr. Sheridan. Groups like the Daughters of the American Revolution employ the 140 volume genealogical series to check on the backgrounds of persons who have applied for membership.
"You never know what you're going to dig up," he said. "Some families are over-joyed and others are heart-broken." He said Michigan keeps adoption records sealed and some people find out who their real parents are only to be told "we don't want you." Mr. Sheridan said: "That of course can be quite devastating." They also may find out that grand-dad had a fight with his brother and changed the spelling of his name as a result.
The Public Libraries of Saginaw have five branches: Hoyt Main, 505 Janes; Butman-Fish, 1716 Hancock St.; Claytor, 1410 N. 12th St.; Wickes, 1713 Hess; and Zauel, 3100 N. Center Road.
Trish Burns, former assistant director of the Bay County Library System, 2001-2005, is director of the Saginaw libraries.
Mr. Sheridan, a graduate of the Wayne State University library archival program, also took classes at Saginaw Valley State University where his favorite professor was the late John Willertz, former mayor of Bay City.
"You can be a very important person in the life of the history of your city," Mr. Sheridan said, advising Rotarians to turn over historical items like family papers and old yearbooks to your local library.
Genealogical research is one of the most popular services offered by the Saginaw libraries, said Mr. Sheridan. The Saginaw on-line obituary index currently has more than 125,000 records.
Saginaw Images, a distinctive database, contains digitized impages-of-photos, art works and historical essays relating to Saginaw's past.
Dr. Richard D. Mudd's Lincoln Collection includes books and other materials relating to the Civil War, the Lincoln assassination and other notables of the Lincoln era. It is the result of Dr. Mudd's efforts to prove the innocence of his grandfather, Dr. Samuel A. Mudd, who was accused of aiding the assassin of Lincoln, John Wilkes Booth.
Mr. Sheridan summarized: "Take advantage of your resources, contribute to your resources and make sure you leave important papers to your local library." Assign the copyright of old photographs to your library, and be sure to identify the subject of the photos, but write on the back using only a No. 2 pencil, he advised. Ink often shows through and ruins the photo.###
---
CLUB NEWS
A record setting crowd turned out for the Club's annual International Night dinner. Guests enjoyed cuisine with an African flavor prepared by the Doubletree Conference Center's chef. The evening featured both silent and live auctions. This is the club's largest fund raiser of the year with proceeds supporting the many community grants and projects undertaken by Bay City Rotarians.
---
Upcoming Programs
(See the official schedule at
RotaryBayCity.org
)
October 16 Saginaw Bay Shoreline Cleanup


October 30 Bay Area Family Y building plan



---
CLUB ANNOUNCEMENTS
Mark October 18 on your calendar for the chartering of the Pinconning /Standish club. The meeting will be hosted by the Saginaw Chippewa Indian Tribe at the Community Center located on the Saganing Indian Reservation. A traditional bar-b-que dinner will be served starting at 6:00 and the program will begin at 7:00. Cost of the dinner is $15.00 Be sure to make reservations with Mike Stoner if you plan to attend.


Vocational Days needs a co-chair. If interested see Ralph Knop or Griff Acker.


The board has approved a Public Relations Officer position for the club, for which it will pay an honorarium.


Breezes Reporters Wanted: If you'd like to help write the weekly Breezes please see Steve Kent. It's an easy job. No experience necessary. High Pay (well at least a lot of thanks).


---
Visit RotaryBayCity.org, web site of the Rotary Club of Bay City, Michigan