Pinconning-Standish Rotary Club Chartered
127 Attend at Chippewa Center
Event Draws Representatives From 15 Clubs in Rotary District 6310
October 21, 2007
By: Dave Rogers
Last Weeks program - October 16, 2007:
32nd Rotary Club of District 6310 chartered.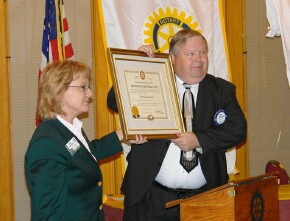 The 32nd Rotary Club of District 6310 was chartered last Thursday night, Oct. 18, in ceremonies at the Saganing Community Center of the Chippewa Tribe.
Master of Ceremonies Eric Jylha noted that, with the chartering of the new club, Rotary International now has a grand total of 32,717 clubs. "The things that bind us together are traditional," he commented.
Frank Cloutier, representing the Saginaw Chippewa Tribe, welcomed the group and said "Rotary Clubs are an asset to the area." He noted the tribe is "always excited when we get a chance to share our new community center."
He also pointed across the street to a 31,900 square foot casino under construction and said "God willing it will open by the end of the year." Mr. Cloutier said the casino will provide 347 full-time jobs and commented the facility is built to be expanded to three stories if necessary. "Feel free to come and visit us," he joked, drawing a laugh from the crowd.
Officially the Northern Bay and Arenac Rotary Club of Pinconning and Standish, the new club also inducted 23 charter members including President Marv Ittner, of Standish, a Chemical Bank executive.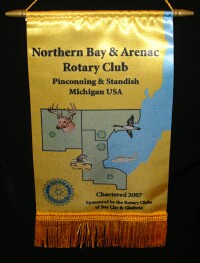 Tom and Marcia Johnson, publishers of the Pinconning Journal, were made honorary members of the new club for their assistance in publicizing the organizational efforts.
In the spirit of Rotary's motto "Service Above Self," the club has already launched several community service projects: building benches in the nature center, planting flowers and raising funds for educational projects through collaboration with the Northern Bay Fund of the Bay Area Community Foundation.
Mike Stoner, former president of Bay City Noon Rotary, recalled how the idea for the new club started: "Dalton Coe, of Sebewaing, then district governor, called me a couple of years ago and said 'I want you to do this.'"
Mr. Stoner and Joyce Swartsmiller, president of the Gladwin Rotary, acting as co-chairs of the organizing committee complied and the new club was formed, although it took longer than normal for new clubs.
District Gov. Pam Harkema, of Mt. Pleasant, said Rotary is "a catalyst for life-changing activities," commenting: "the person who provides the service is ultimately changed."
By virtue of a donation from the Bay City club, each charter member of the new club was allocated 200 points toward a Paul Harris Fellowship, achieved with a donation of $1,000 to the Rotary International Charitable Foundation.
Tribute was paid to the late Wes Timm, who donated 6,000 points toward seeding the Paul Harris award for the new club's members. Other donors were Rob Monroe, Anne Trahan, Mr. Stoner, Jeff Yantz and Carl Lockwood.
Kathy Czerwinski, chairman of the Bay City Rotary Charitable Foundation, presented Paul Harris Fellowships, noting that there are 62 Paul Harris Fellows, living and deceased, in the Bay City club. "We move closer to a more peaceful world with every new Paul Harris Fellow," she said. Funds raised are used for Rotary International projects helping to build good will across the world.
New members, inducted by Tim Holsworth, received a standing ovation from the crowd.
Bill Ballard of the Gladwin Rotary presented the new club with a bell for use at meetings.
A donation to the new club also was received from the Midland Morning Rotary Club.
Charter members of the new club are: Mr. Ittner, president; Dennis Curtis, secretary; Cynthia Gravlin, treasurer; Steve Packer, Jean Saxon, Yvette Ross, Laura Niedzwiecki, Theresa Maliskey, Thomas Boetefuer, Michael Vieau, Lori Schumann, Darren Kroczaleski, Michael Dodge, Gary Roper, Regina Turner, Ashley Morse, Keith Wetters, Linda Packer, Mark Fuhrman, Dan Coveau, Dr. Thomas Buechle, Mark Williams and Robert Ordiway.###
---
Upcoming Programs
(See the official schedule at
RotaryBayCity.org
)
October 23 Club Assembly on New Membership Drive


October 30 Bay Area Family Y building plan


November 6 Michigan Attorney General Mike Cox speaks on Protecting Michigan's Consumers



---
CLUB ANNOUNCEMENTS
Vocational Days needs a co-chair. If interested see Ralph Knop or Griff Acker.


The board has approved a Public Relations Officer position for the club, for which it will pay an honorarium.


Breezes Reporters Wanted: If you'd like to help write the weekly Breezes please see Steve Kent. It's an easy job. No experience necessary. High Pay (well at least a lot of thanks).


---
Visit RotaryBayCity.org, web site of the Rotary Club of Bay City, Michigan