Rotary Club Assembly Focuses on Membership
November 1, 2007
By: Stephen Kent
Last Weeks program - October 23, 2007:
Club Assembly.
In an effort to expand the reach of Rotary, the Bay City Noon club has undertaken a membership drive. Club members were divided into teams based on birth month and asked to propose potential new members. This week the results of this effort were discussed and the names were reviewed.
On November 6, the club will host prospective new members at a the regular Tuesday meeting at the Lumber Barons. Special guest speaker will be Michigan Attorney General Mike Cox, who will speak on the job of protecting Michigan's consumers.
Rotary is known as an intimate fellowship of business and professional leaders from a community. Historically members were recruited as the sole representative of their particular business or profession. These members were typically well established, older men. Today Rotary is much broader based. The average age has trended down and women have been an integral part of clubs for many years. The tradition of one member from any given profession has relaxed so that a club may include many people from a business classification.
Bay City's Noon club, one of the oldest in Rotary, represents a broad base of the city's leaders. The average age is near 60 but has been coming down. Women comprise one third of the club's current 117 members. The weekly meeting normally draws over 70 members who enjoy lunch and a consistently interesting and informative speaker or other program.
The club performs many community services and raises funds for many worthy community needs. Each year the club grants $12,000 to area schools and organizations who apply for these grants. The club also selects and funds a multi-year "major project" with a typical budget of $250,000. The current major project funds community beautification with the largest share going to the Pere Marquette Depot project. The previous project paid for The Bay County Library System's Youth Librarian for five years. The club is also involved in international projects and the general funding of Rotary International projects.
Individuals interested in learning about the work of Rotary and membership in the Bay City Club should visit the club web site and click on the Contact Us link.
---
CLUB NEWS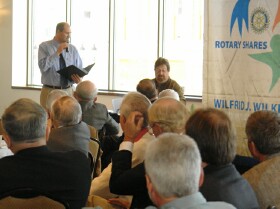 Last week's meeting enjoyed President Rob Clark's singing of the official Bay City and Bay County songs with accompaniment of member Leo Najar, director of the Bijou Orchestra. The Bay City song dates back many years. The county song was recently written in response to a contest centered on the county's sesquicentennial anniversary. As Rob said "This is probably the only song with the words Sesquicentennial Celebration appear together."
The club congratulation Dee Dee Wacksman on her achievement of her Paul Harris Fellow Plus 2 designation. Dee Dee has been a member for just over two and a half years.
Mike Stoner reported on the chartering of the Pinconning - Standish club last week. That club's new banner, designed by their membership and paid for by the Bay City club was on display.
Rob Clark reported on his second delivery of food as part of his President's challenge. The club's first shipment was distributed to a local food pantry where stocks had fallen very low. Our efforts are greatly appreciated.
Chuck and Nancy Cusick will be going to Nigeria to participate in a Rotary Polio vaccination campaign. They will be taking along donated school supplies and clothing. Members wishing to help should see Chuck.
---
Upcoming Programs
(See the official schedule at
RotaryBayCity.org
)
October 30 Bay Area Family Y building plan


November 6 Michigan Attorney General Mike Cox speaks on Protecting Michigan's Consumers



---
CLUB ANNOUNCEMENTS
Vocational Days needs a co-chair. If interested see Ralph Knop or Griff Acker.


The board has approved a Public Relations Officer position for the club, for which it will pay an honorarium.


Breezes Reporters Wanted: If you'd like to help write the weekly Breezes please see Steve Kent. It's an easy job. No experience necessary. High Pay (well at least a lot of thanks).


---
Visit RotaryBayCity.org, web site of the Rotary Club of Bay City, Michigan