L/R) Dean Oswald, Dale Dunham, Bonnie Kanicki-Wilson, Mark Talaga, Toastmaster Rod Adams, Roger Phelps Jr (son), Thomas V. Meisel (son) and Charles Rochow. (All Photos by Julie Munger)
---
Bay County Sports Hall of Fame Celebrates 17th Year at Doubletree
Oswald, Kanicki, Dunham, Rochow, Phelps & Meisel Inducted
November 2, 2007
By: O. J. Cunningham
An estimated 400 Bay County Sports Fans filled the Grand Ballroom at DoubleTree Hotel on Sunday afternoon, October 21, 2007 to celebrate the annual Bay County Sports Hall of Fame (HOF) induction dinner.
HOF Inductees, their families and friends were on hand for the 17th Annual HOF Induction ceremony. Inductees for 2007 were: Dean Oswald, Dale Dunham, Bonnie Kanicki-Wilson, Mark Talaga, Roger Phelps, Virgel Meisel and Charles Rochow.
Also inducted were the 1967 Bay City Central State Class "A" Football Champs and Bay City Made Rite's Class "B" Fastpitch Softball Team from 1972.
Barney Glowicki was the recipient of the HOF President's Award for his 17-year stint as HOF Board Secretary. During the award presentation to Glowicki, current HOF President O.J. Cunningham remarked, "Nobody cares more about the Bay County Sports Hall of Fame than Barney Glowicki."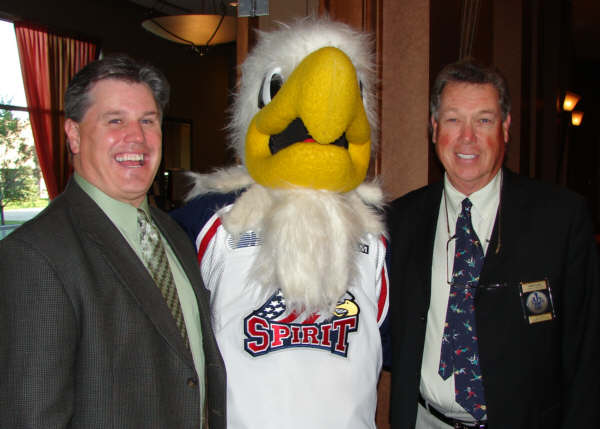 The Saginaw Spirit Mascot, Sammy Spirit was on hand to help with the 50/50 drawing and to have fun with the younger kids in attendance. Pictured are HOF Board Member Mike Gwizdala, Sammy Spirit and HOF Vice-President Bob Darbee.
(MyBayCity Photo by Julie Munger)
During the event, the HOF Scholarship Committee awarded $500 scholarships to: Andrew Grocholski (All Saints), Aaron Oleniacz (John Glenn), Kaitlyn Slater (Western) Andrew Marut (Pinconning), Jordan Henika (Garber) and Kyle Carson (Central). Total Scholarships awarded to date are over $45,000.
HOF Board of Directors include: O. J. Cunningham, Bob Darbee, Bill Herrera, Barney Glowicki, Dave Rogers, Esther Connors, Mike Gwizdala, Neil Kent, George Stevenson, Bob Adamowski, Vaughn Begick and Tim Tobin.
Major Sponsors for the 2007 Induction Banquet were: Bay Regional Medical Center (Gold); and Firehouse Soft Car Wash, Big Boy Restaurant (Euclid) and Covenant Health Care.
Click Here to Visit The Bay County Sports HOF Web Site

"Thirty Second Warning"
If Speakers Get Too Long-Winded

Cunningham and Glowicki

Said Cunningham:
"No one cares more about HOF than Barney Glowicki."

Joe Zielinski
Live Auction High Bidder for team picture of the 1967 Central Wolves

John Loop
Live Auction High Bidder for Elmer Engel Memorabilia

Brenda and Bob Arsenault
show their support to Dean Oswald, 2007 Inductee.

Fr. James Heller
Holds a picture of the Detroit Tigers, his sister bought for him.


0202 nd 10-14-2019