New Building to Return Family Y
to Washington Ave After Half a Century
Director Brooks Sees Project as Boosting Economic Development, Jobs
November 4, 2007
By: Dave Rogers
Last Weeks program - October 30, 2007:
Bay Area Family Y Plans for Fabulous New Center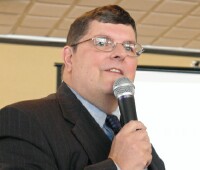 Buoyed by a $4 million gift from The Dow Chemical Company, the Bay Area Family Y is forging ahead with plans for a fabulous new center on Washington Avenue, Chuck Brooks, Y executive director/CEO, told Rotarians last Tuesday.
Soon the structures of old Labadie Olds dealership will come crashing down on a 3.35 acre site between Tenth and Eleventh streets to make room for the new Y.
The old building at 111 N. Madison Street, that opened in 1954, will be donated, leased, sold or demolished, said Mr. Brooks. He said the group has a potential buyer for the present Y building.
The site will be acquired from the Great Lakes Center Foundation, the group that is restoring the Pere Marquette Union Station depot and has been instrumental in acquiring the Uptown at RiversEdge site.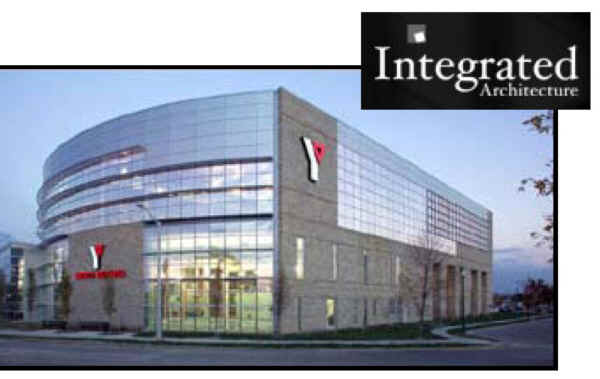 The new downtown Bay City Family Y may be modeled after this new Grand Rapids branch Y designed by Integrated Architects of Grand Rapids that has begun the facility conceptual design of the new Bay City Y.
A two-story 60,000 square foot modernistic structure designed by Integrated Architects will rise to "anchor" the downtown area and set the tone for the RiversEdge development and proposed Maritime Heritage center.
Ground will be broken by next fall on a $15.5 million "green" building and by the first quarter of 2010 the new structure will be open to members, according to Mr. Brooks.
Fritz Horak is chair of the Y Facility Project Planning Committee and Konnie Licavoli is president of the Y Board of Directors.
The new building will have the following amenities:
Warm water family fun/therapy pool and competitive aquatic center;
Wellness center with cardio and strength training equipment, indoor running/walking track and fitness testing center;;
Y sports arena for basketball, volleyball, indoor soccer and youth and adult sports programs and leagues;
fitness and exercise studios providing aerobics, cycling, martial arts;
Prime time family center and Child Watch areas;
Teen Zone with game, computer and club rooms;
Paddleball/racquetball/squash courts;
Locker room facilities;
Healthy eating cafe; and
Center for Faith.

Mr. Brooks said a survey by Seer Analytics shows that there will be a 70 percent increase in the number of households that will become members of the Y at the new location.

To handle the increased services, Mr. Brooks said the full time staff will be doubled and will include youth and sports directors. He said the group is "pledged to double services to teens."

The Y will become a local sponsor of major events, he said.

The Y has evolved from its earlier days, and, although the Christian focus is retained it no longer serves just the young, just men and just Christians. He stressed that the Y is open to all and is "here to build the community and provide health and fitness facilities and programs for everyone."

The Bay Area Family Y, formerly known as the Bay City Y.M.C.A. (Young Men's Christian Association) has been in this community for 155 years. The new building will be the fourth for the Y.

But its heritage goes back even farther -- to just three years after the Civil War, notes Marvin Kuzmierz of Bay-Journal.com and historical researcher Alan Flood of the Bay County Historical Society.

The first Bay City YMCA was organized 1868 and was operated from the rented third floor of the Averill Building located on Center avenue (between Water and Saginaw street). Dr. H.B. Landon was elected first president.

The original organization didn't survive, but was revived in 1885 operating out of the Walton Block building on west side of Adams between Center avenue and Sixth street.

In 1908, they moved to a new building on the north east corner of Washington and Seventh street. In 1954, the Y moved to their current location on Madison avenue.

###



---
CLUB NEWS
This week the club welcomes Michigan Attorney General Mike Cox who will speak on Protecting Michigan's Consumers. This program coincides with the Club's membership campaign. Many guests have been invited as an introduction to Rotary and the Bay City Club in particular.

---
Upcoming Programs
(See the official schedule at RotaryBayCity.org)


November 6 Michigan Attorney General Mike Cox speaks on Protecting Michigan's Consumers


November 20 Growth in Bay County - James C. Fabiano II



---
CLUB ANNOUNCEMENTS
Vocational Days needs a co-chair. If interested see Ralph Knop or Griff Acker.


The board has approved a Public Relations Officer position for the club, for which it will pay an honorarium.


Breezes Reporters Wanted: If you'd like to help write the weekly Breezes please see Steve Kent. It's an easy job. No experience necessary. High Pay (well at least a lot of thanks).


---
Visit RotaryBayCity.org, web site of the Rotary Club of Bay City, Michigan