Attorney General Mike Cox Impressed by Spirit and Espirit of Rotary Clubs
Wenonah Hotel Fire to be Recalled by Times Columnist Tim Younkman
November 11, 2007
By: Dave Rogers
Last Weeks program - Nov 6, 2007:
Michigan Attorney General Speaks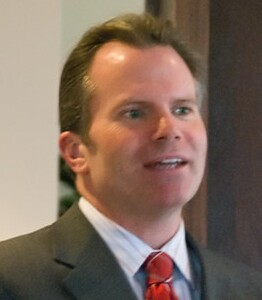 Atty. Gen. Mike Cox, who is considered one of several potential candidates for governor, is a big supporter of Rotary.
Last Tuesday Mr. Cox, who was introduced by programmer Ed Keating, said: "I was always impressed by the spirit and espirit of Rotary clubs."
That was music to the ears of a huge guest day crowd of more than 100, including 38 guests.
Eric Jylha, co-chairman of the programs committee, announced that Tim Younkman, columnist and longtime reporter for The Bay City Times, will speak this Tuesday on the Wenonah Hotel fire in December, 1976. Mr. Younkman was one of the reporters covering that fire for The Times that received the top award for breaking news from the Michigan Associated Press that year.
Mr. Cox covered the political waterfront in a wide-ranging speech touching on:
Child support ($47 million collected over four years on behalf of 4,500 children;
Consumers ($43.3 million returned to citizens while only $20 million had been collected in the previous 20 years); and
Medicaid ($47 million recovered).
He asserted his office of 281 attorneys and 509 employees is "tough on crime and not bashful about it" and is "standing up for the most vulnerable in our society."
A 1961 graduate of Detroit Catholic Central High and a veteran of Marine Corps service, Mr. Cox was graduated from the University of Michigan Law School in 1989.
As an assistant in the Wayne County Prosecutor's Office, he said he had a 90 percent conviction rate in 125 trials conducted, focused on organized crime and was was director of the homicide unit.
A Republican, he was elected attorney general in 2002 and re-elected in 2006.
He claims an affinity with legendary attorney general Frank Kelley from whom he obtained inspiration and occasionally seeks advice.
Internet predators and prescription drug prices also are on Mr. Cox's radar screen. He referred to a television commercial he made with longtime broadcaster Ernie Harwell, joking: "He said his career really took off after that ad began running."
Mr. Cox said there is a need to keep electrical power costs low to benefit both consumers and industries.
He noted that the proposed Consumers Energy $2.3 billion expansion eyed for Hampton Township would bring many construction and permanent jobs but he favors retaining "electrical choice" and not repealing Public Act 141 that he called "a move to re-monopolize" the power industry.
Consumers says repeal of that act is key to the Hampton project moving ahead. Mr. Cox said it may be possible to "tweak" the act to satisfy advocates of repeal.
Mr. Cox also said proposals to divert Great Lakes water will be a "huge issue in the next 4-5 years," noting recent comments by New Mexico Gov. Bill Richardson.
He said he has "teamed up with governors to fight Great Lakes water diversion."
"I'm battling for citizens every day and looking out for your interests," he concluded.###
---
Upcoming Programs
(See the official schedule at
RotaryBayCity.org
)
November 13 Tim Younkman, columnist and longtime reporter for The Bay City Times, to speak on the Wenonah Hotel fire in December, 1976.


November 20 Growth in Bay County - James C. Fabiano II



---
---
Visit RotaryBayCity.org, web site of the Rotary Club of Bay City, Michigan