Hoops... Boys and Girls Action Underway: Coverage Sponsor Graff Chevrolet
Teams Share the Spotlight for First Time in History: Double Fun for Fans
December 6, 2007
By: Kevin Leahy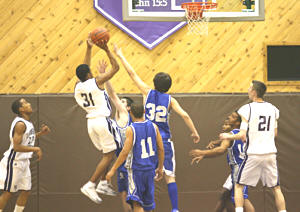 Boys cage action is fast and furious at all levels and culminates with March Madness, tournament time.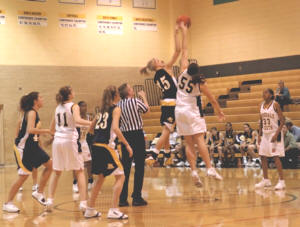 Girls basketball in Michigan this year joins the winter schedule for the first time and is every bit as exciting as the male version..
Hank Graff and MyBaycity.Com are glad to announce that Graff Chevrolet-Bay City will sponsor news and photo coverage of Bay County high school basketball beginning this week.
Graff and MyBayCity.com, that teamed up for football coverage this fall, will again collaborate to put more information and pictures of Bay County teams and players onto the Internet.
"We are happy to be working with Hank Graff and Lisa Kusey of Graff to provide this coverage," said O.J. Cunningham, publisher of MyBayCity.com.
"This coverage will take a co-ed approach for the first time and we will feature marquee games each week of both boys and girls basketball," he added.
Teams to be covered include Central, Western, John Glenn, Garber, Pinconning and All Saints.
High school and college student correspondents will again be employed and other photographers/writers who were active during the football season.
"Look for our coverage in weekend and mid-week postings through the entire season until March Madness," said Mr. Cunningham. "As in football, we will have some exciting action to report and some newly minted stars will certainly begin to shine."
Let the action begin. The combination of simultaneous boys and girls basketball began with The Tip Off Classic in boys basketball this week. Now the two genders share center stage on high school basketball courts.
Each league in the area decided to tackle the scheduling problem differently. Tri-Valley Conference teams will pair their varsity boys and girls teams on the same night, with boys playing first on Tuesdays and girls playing first on Fridays, except when they play outside their division or in a non-league game.
Then it's up to the different teams, which can mean anything from triple-headers (freshman, junior varsity and varsity) to just JV and varsity to girls and boys varsity.
We will revisit the scheduling periodically and report on how the dual scheduling is working out for the fans, the coaches and players.
For now lets get down to the nuts and bolts or sneakers and nets of it all in boys basketball. Four of the six county teams started their season Tuesday night in Pinconning in the Annual Tip Off Classic.
The host Pinconning did not let down their fans as they cruised to a 78-38 over Essexville Garber. Pinconning's offense was very balanced while Brandon Delgado led them with 15 points and ten rebounds. All Saints was also a winner downing John Glenn 69-40 with Ollie Hull sizzling the nets for 24 while Adam Pijaszek's three, three's in the third put All Saints out of reach 46-28.
Those two teams, All Saints and Pinconning meet Friday for the championship of the mini tournament at John Glenn following the consolation game between John Glenn and Garber that starts at 6:00PM.
Central's first year coach Mike Maciejewski may have a rude introduction to the Saginaw Valley League as the Wolves who were 51-41 losers at Alpena Tuesday night will host defending State Champions Saginaw high in their gym Friday night at 7:00PM.
Last year the Trojans began their 27-1 season against Central with a 74-18 point win. Western who lost to Cadillac Tuesday night, travels to Midland high to take on the Chemics.
We at MyBayCity.com look forward to bringing you the action of your local high school basketball and want to thank Hank Graff Chevrolet for sponsoring your coverage.###