Sylvan Learning Centers Topic of Program
December 9, 2007
By: Stephen Kent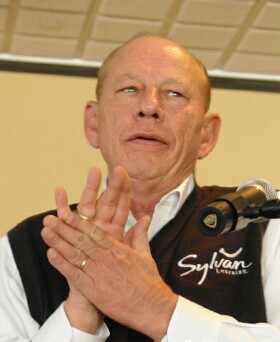 Last Weeks program - December 4
Tom Yoder Presents Sylvan Learning Centers
Started in 1979 by a Spokane Washington school teacher, there are now 1,400 Sylvan Learning centers across the country. Tom Yoder and his wife own three franchises in Saginaw, Bay City and Midland.
The parent company went through a number of evolutionary step before reaching it's present form. At one point it was part of the Kinder Care organization and moved to Alabama. Key Industries then bought 50% of the company and later the other 50%.
Sylvan is now owned by Educate Services, Inc. and is part of a large group of educational services. Besides Sylvan, the company owns European education services, including private universities, a publishing arm, a graduate program, and a professional exam service.
Sylvan provides supplemental educational services. The No Child Left Behind Act requires that public schools which do not achieve a certain level must provide supplemental services to children who request it. At various times Sylvan has fulfilled this role.
The primary role of Sylvan is to provide targeted testing and tutoring. The centers are all accredited and employee professional educators. Students are tested and evaluated in a fixed cost process. Based on the assessment a tutoring program is tailored specifically to the student's needs. Typical students are in the program for 50 to 75 hours. Other than testing, services are billed on an hourly basis.
The three local centers tutor student count varies from 90 to 180 students. About 60% are grade 1 to 8. Another 30% are grades 9 to 12. The remainder are college students and adults. Sylvan does not provide services to learning disabled students. Other services include SAT and ACT prep.
More information is available at
tutoring.sylvanlearning.com
.
---
Upcoming Programs
(See the official schedule at
RotaryBayCity.org
)
December 11 Bay City's own Fall Youth Baseball Team: The RiverDawgs.


December 18 Holiday Program


December 25
NO MEETING
January 1
NO MEETING
---
CLUB ANNOUNCEMENTS
Anyone who would like a new name badge to reflect a classification change should contact Steve Kent.


Vocational Days are scheduled for March 4 and March 18. Please sign up to sponsor students by January 8. The club typically hosts about 180 students. If you can take several students that helps. The committee prefers that you do March 4 because Delta College is doing March 18 and generally takes a very large group. See Ralph Knop or Griff Acker. Forms are available on the club web site in the members section.


The annual CHRISTMAS PROGRAM will be presented December 18 and will feature a number of musicians from the club. Leo Najar welcomes any other club musicians to call him about joining the "Rotary Band" for the day.


---
Visit RotaryBayCity.org