Eagle's Landing Casino Delayed Until February; Tribe Eyes Adding 2,000 Jobs
First Sunrise Side Gambling on Hold As Economic Development Pushed
December 13, 2007
By: Dave Rogers

Eagle's Landing Casino on Worth Road at Saganing in Arenac County is now poised for a February opening.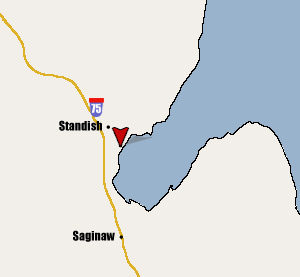 Map To Saganing Casino
The first gambling operation on the Sunrise Side of Michigan has a few clouds but the tribe is optimistically planning to add 2,000 new jobs over five years.
Billboards are up and advertising is out, but dice won't roll at the new Eagle's Landing casino at Saganing until at least February.
Sources close to the Saginaw Chippewa Tribe reported that workers primed to run the gaming at Saganing have been told not to report until near Valentines Day.
The tribe originally had announced the new 32,000 square foot casino would be open before Christmas. What is causing the delay in opening is unknown but some sources theorized it may be related to the onset of cold weather in recent weeks.
Many of the employees reportedly are from the Soaring Eagle Casino at Mt. Pleasant and will stay on the job there until the new operation opens, sources said.
"We don't hear much officially," one source close to the casino said, adding: "But we know lots of people are ready to go to work and many patrons are chomping at the bit."
The tribe's website, www.sagchip.org, still lists the Saganing Eagle's Landing as "opening soon." The promotion material says: "The great outdoors is about to get wilder." It exclaims:
"Welcome to Saganing Eagle's Landing Casino - Michigan's newest place to play! With over 700 exciting slots and a variety of electronic table games, there are plenty of ways to hit it big close to home. Located up north on the sunrise side of the state in Standish, our comfortable and convenient casino is the natural choice for fun and games."
Tribal Chief Fred Cantu Jr. recently distributed $3,721,849 in the semi-annual two percent allocation to local governments and schools.
Meanwhile, the tribe is pushing economic development in both gaming and non-gaming areas. A strong emphasis is on diversifying the tribe's economy beyond gaming, the Tribal Observer newspaper states. Hundreds of acres of properties have been acquired in Isabella and Arenac counties and a full-service Eagle Bay Marina is being developed at Saganing.
A new Migizi Economic Development Company (MEDC), headed by Jim Coleman, is planning the marina, a convenience store and outdoor sporting goods store in Arenac County.
In Isabella County the Tribal Business Park on US-27 offers a dozen pads for light industrial, commercial and retail development. And the former Holiday Inn in Mt. Pleasant has been acquired and converted to the Soaring Eagle Inn and Conference Center.
"MEDC is a sleeping economic giant awakened to create new jobs, opportunities and growth," said Mr. Coleman. "The tribe is stepping up to do its part to help bolster the struggling Michigan economy."
The main focus of MEDC will be on development projects aimed at protecting the tribe's core businesses in gaming, hospitality and entertainment.
"Facing decreasing revenues as a result of new competition all over the state, the tribe has no choice but to pursue an aggressive expansion plan," said Mr. Coleman. Funding will come from a variety of outside sources eager to do business with the tribe, he added.
Information about the status of the new casino may be obtained by accessing the http://www.sagchip.org website or calling 1888-7-EAGLE-7. ###