This week on Karen's Korner I have for you Quick Word Builder, The Human...
Statue of Liberty & The Grow Cube Game! Great Sites To Check Out!
January 6, 2008
By: Karen Polega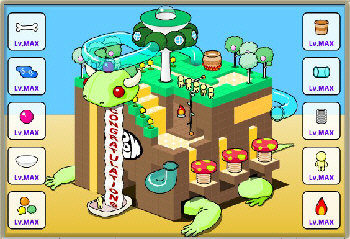 Play The Grow Cube Game (this is how it will look with all the levels complete)
Hello All & Welcome To Karen's Korner!
Win Every Game with this
Quick Word Builder!
Enter up to 12 letters, click view words and it will show you all the words you can make out of them letters. Great Scrabble help - Fast Anagrammer - Games Solver(Scrabble Solver, Literati, Jumble Words, Text Twist, Word Whomp, Scrabulous Helper)
I don't know if you will look at this
Human Statue of Liberty
more than once, but it is worth the one look, it is made out of 18,000 Officers & Men at Camp Dodge, Des Moines, IA. You can always right click and save it for your desktop or to print out. (take a minute to remember our soldiers :).
Last link this week is
The Grow Cube Game!
Do you remember The Robot Game? I hoped you liked it, I did, this game is played the same way, just click panels in your selected order.
Items you click will grow and grow with each turn. You will complete the game when all panels' level is max. They effect each other as they grow. So you have to think about the clicking order.
P.S. Also if you look to the left of the screen you will see a bunch more games similar to The Grow Cube. Have Fun!
Click Here
to go to this week's edition of Karen's Korner.
Don't forget my 2007 Links are under Archives 2007!
As Always Stay Safe, Win Every Game & Remember Our Soldiers!
Karen