Kim Klein, December Coach of the Month
Warriors Leader Shows Energy
January 10, 2008
By: Kevin Leahy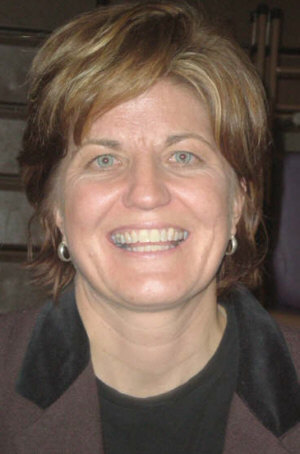 Bay City Western's Kim Klein
MyBayCity/Graff - Top Coach in December (MyBayCity Photo by Kevin Leahy)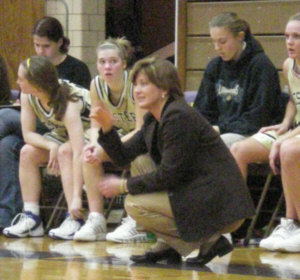 Bay City Western's Coach Kim Klein Works the Sidelines (MyBayCity Photo by Kevin Leahy)
Third year girls basketball coach Kim Klein of Bay City Western has been chosen as the MyBayCity/Hank Graff December Coach of The Month.
MyBayCity cornered Klein after the Warriors recent dramatic double overtime win over rival Bay City Central and asked her point blank
MyBayCity Asks: Why are you putting yourself through this heart-stopping action as a coach?
Klein's Answer:
"I believe I have so much to give back, athletics has been such a positive influence on me my whole life, I would like to share that same positive experience with these girls, but it would be a lot easier if they just listened more," was her candid honest reply.
The Warriors must be listening to something Klein has to preach as they improved to 5-5 on the young season Tuesday night.
Klein was selected as Coach of the Month due to her unwavering belief in her style of play and dedication to the system she is instilling in the new winning Warriors, the same ones who likely have witnessed the far-less than successful old Warrior past in girls hoops at the school out in the country.
Getting the players to think of themselves as winners was one of Klein's objectives starting out and as the old saying goes; "It starts at the top." Her teams are poised to win a lot of games because Klein exudes positive energy and winning philosophy, and she has her own storied past to prove it.
Klein is as close to an Olympian as you can get without actually being an Olympian.
Klein was a world-class speed skater before there was an indoor ice arena in Bay City and before Appolo Anton Ohno made it so cool.
MyBayCity Asks: How close were you to being in the Olympics?
Klein's Answer:
"I actually tied for the last spot but that was the only year that the USA didn't take a full team -- more because of political reasons than athletic accomplishment."
There were never any sour grapes though as a young athlete, Klein had other sports to focus her competitive spirit.
Klein was a standout in basketball and softball in high school.
MyBayCity Asks: What was your first recollection of organized basketball?
Klein's Answer:
Klein smiled . . . "Dr. Dale Martin was my principal at MacGregor School and he had Karen Karner a CMU basketball standout come in and put on a clinic for us. I remember her teaching us how to shoot jump shots all afternoon. That is a fond memory of my introduction to basketball. "
Klein was right at home on the Wolves sideline, as she had coached the Central JV for seven years before taking over the top job at Western.
You can't rebuild something that was never there so Klein has the luxury of building her own brand of teamwork and hard play while forging a winner out of young woman athletes at Western High.
MyBayCity Asks: What is your day job?
Klein's Answer:
"I teach Political Science at Delta College."
Teaching political Science to co-eds in college just might be less stressful than coaching high school girls to double overtime wins.
Depending on her teaching techniques, the coaching is probably more stressful but it also feeds that competitive spirit Klein has grown to enjoy.
Congratulations to Kim Klein, the MyBayCity/Graff Coach of the Month for December 2007. MyBayCity wishes her and her team continued success in 2008.