Youth Exchange Student Presents Slide Show on Mexico
January 13, 2008
By: Stephen Kent
Last Weeks program - January 8
Rotary Exchange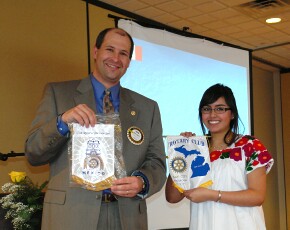 President Clark exchanges banners with Mariana.
Rotary Exchange student Mariagna Zimbron from Mexico spoke to the club and presented a slide show about her native country and home. The Bay City Club has hosted a number of students in recent years, but has had few outbound students taking advantage of the program. The board voted today to form a committee to explore the club's role in this program and to expand it's reach.
Mariagna spoke of her experiences in Bay City. She said that her home is in a warmer climate where the wind blows all the time. She said that winters are cool but not cold. Houses are not heated in the winter as they are here and that can mean cold sleeping.
The slide show featured maps to show the relation of Mariagna's home to the well known resorts, beaches, and other areas that are known to most tourists.
The school system in the States differs from that in Mexico in a number of ways. Teachers in the states stay in their classrooms while students move from class to class. In her school, Mariagna said that students stay in the class and teachers come to them.
Mexican food in local restaurants did not rate as authentic as perhaps one might expect. Enchiladas, in particular, served here are "sort of flat, little skinny things with some kind of sauce on them." Quesadillas didn't fare much better, but both countries have a version of the meat pie pasty familiar in Michigan. The one item that was harder to explain was escamoles, which include the larvae of a small red ant.
---
CLUB NEWS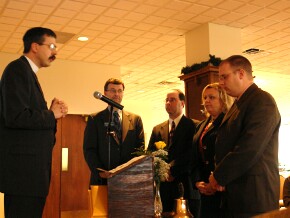 The Club inducted four new members Tuesday. Four more members are slated to be inducted in the next month.
---
The Thesaurus project for 4th graders is off to a great start with a $1,000 grant from The Bay City Times. This project will compliment our Dictionary project that gives a free dictionary to every 3rd grader in Bay County.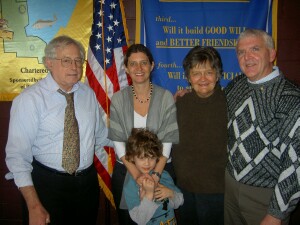 The Bay City club was represented by 18 members and 6 guests at the Pinconning-Standish meeting on December 27, bringing the meeting attendance to 54. The program featured Essexville native Rebeca Blumenstein, Bureau Chief for the Wall Street Journal's Beijing China office, which won a Pulitzer recently.
Blumenstein poses here with Rotarian Mike Stoner (right) and family members Dr. Harold and Ruth Blumenstein and her brother Jacob, 10.
---
Upcoming Programs
(See the official schedule at
RotaryBayCity.org
)
January 15 10 Minute Rotarian


January 22 Ron Gettelfinger, President of The United Auto Workers

---
CLUB ANNOUNCEMENTS
Anyone who would like a new name badge to reflect a classification change should contact Steve Kent.


Vocational Days are scheduled for March 4 and March 18. The deadline for signing up to host students has passed, but if you would still like to be considered, contact Ralph Knop or Griff Acker as soon as possible. Forms are available on the club web site in the members section.


The club will host a dinner honoring the Women of Rotary at the Doubletree on March 6. Plan to attend.


The board has approved a Public Relations Officer position for the club, for which it will pay an honorarium.


Breezes Reporters Wanted: If you'd like to help write the weekly Breezes please see Steve Kent. It's an easy job. No experience necessary. High Pay (well at least a lot of thanks).


---
Visit RotaryBayCity.org