Popular "Ten Minute Rotarian" Program Returns
Lions Club President Dennis Poirier was a guest at Tuesday's meeting
January 20, 2008
By: Stephen Kent
Last Weeks program - January 15
10 Minute Rotarians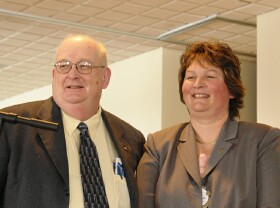 Dr. Griff Acker
didn't plan to be a Veterinarian. His ambition in high school was to be a dentist since he had worked for an orthodontist who thought he would be a great dental tech.
Fate didn't seem to point that direction. Griff was one of the highest scores on the pre-cat test when applying to the University of Michigan, but one thing or another interfered with his entering dental school.
At Michigan State Griff was encouraged by Dean "Black John" to apply for the vet program. Griff had a love for animals dating back to his days as a Boy Scout camp counselor when he was in charge of the camp zoo. Over the years he worked with, or had as pets, hawks, an eagle, owls and other animals.
With "Black John's" encouragement Griff was accepted into the Vet Program at Michigan State. He has now practiced for 38 years at his Bangor Veterinary Clinic. He's also been married to Jane for 39 years and they have two grown sons. Keith is an electrical engineer and Tom has gone back to graduate school at SVSU. There are three grand children.
Griff is very active in professional vet groups, where he has served in a number of offices and won some prestigious awards. He is the founder of a Continuing Education Seminar series that has run for 15 years.
Among his other claims to fame is an incident that happened shortly after Griff started practicing. A DNR officer called one day to say that they had picked up a pregnant doe that had been hit by a car and wanted to see if Griff could help her. Before arriving at the clinic the doe died but Griff did a Cesarean and delivered the live fawn. This made the news wire and he had calls for weeks with offers of adoption.
---
Dr. Tina Kerr
is the Superintendent of Bangor Township Schools. Tina is a native of Kansas where she spent her first 10 years as the fourth generation on the family farm.
As a farm kid, Tina learned to drive a truck at the tender age of 8. Her Dad would stack four thick catalogs on the seat so she could see over the dash and then tie wood blocks to her shoes so she could reach the pedals. "If we heard of that today we'd call the authorities", said Tina.
Being from a small town, with a small school, Tina did everything at school. For eleven years she showed Durham Hogs and as a "round robin" winner also showed sheep. She was the top of her high school class and a basketball star.
Her Dad left the farm when she was about 10 and entered Law Enforcement. "When your Dad's a cop you get some good advice about growing up."
Tina went to Bethany College on a basketball scholarship. She taught school in Kansas for 6 years then was invited to Olivette College in Michigan as a coach. She got her masters there so that she could also teach full time.
After three years in Olivet Tina went to Almont Michigan as an administrator in the public school. She was there for eight years before coming to Bangor Township. Somewhere along the way she had time to complete her PHD at Michigan State.
In her spare time Tina is restoring a 1977 Corvette, which will be a retirement gift for her Dad. She had a friend paint the car, but she's doing everything else. When asked about her experience she said "I bought a book".
---
CLUB NEWS

Lions Club President Dennis Poirier
(left) was an honored guest Tuesday. His club and our club are collaborating on a project to buy duffel bags for foster children, who often have little more than black trash bags to carry their belongings when they are placed with a foster family.
International Night
preparations are under way. The committee met today and Anne Trahan was selected as Chair. Expect to hear a lot more!
Brian Kay
has agreed to chair the
Annual Golf Outing
fund raiser again this year.
---
Upcoming Programs
(See the official schedule at
RotaryBayCity.org
)
January 22 Ron Gettelfinger, President of The United Auto Workers


January 29 World Travels with Rotarian Chuck Cusick


February 5 Michigan Prisoner Re-entry Initiative, presented by George Heron

---
CLUB ANNOUNCEMENTS
Anyone who would like a new name badge to reflect a classification change should contact Steve Kent.


Vocational Days are right around the corner. 88 students are scheduled for March 4, and 158 are scheduled for March 18.


The club will host a dinner honoring the Women of Rotary at the Doubletree on March 6. Plan to attend.


The board has approved a Public Relations Officer position for the club, for which it will pay an honorarium.


Breezes Reporters Wanted: If you'd like to help write the weekly Breezes please see Steve Kent. It's an easy job. No experience necessary. High Pay (well at least a lot of thanks).


---
Visit RotaryBayCity.org