UAW Chief Says Union Ready to Partner with Rotary in Community Development
Ron Gettelfinger Notes Long and Proud History of Auto Union in Bay City
January 27, 2008
By: Dave Rogers
Last Weeks program - January 22
UAW Chief Says Union Ready to Partner with Rotary in Community Development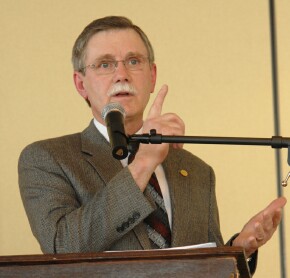 Ron Gettelfinger, president of the United Auto Workers International Union, noted common goals of his organization and Rotary International in a speech here last Tuesday.
"We both share in the search for a common vision and shared values," said Gettelfinger. "The UAW is like Rotary in that we believe in helping our neighbors, have respect for one another and are eager to give back to the community."
Unity is needed to address a wide variety of challenges facing the nation, he said, "and the UAW is ready to be your partner in addressing them."
Mr. Gettelfinger was introduced by programmer Ed Keating who pointed out that the UAW is one of the largest and most diverse unions in the United States.
Gettelfinger, who started out as a chassis line repairman in a Louisville, Kentucky, General Motors plant, is a graduate of Indiana University.
"Bay City has a long and proud relationship with the UAW," said Mr. Gettelfinger, recalling the late Jack Laskowski, a native of Bay City who rose to become vice president of the union and was highly respected. He died in 1999.
Part of the recently approved contract calls for the Bay City PowerTrain plant of GM to retain jobs producing key products beyond 2011, he said, calling that part of the pact "incredibly important for the local tax base and for businesses that rely on consumer expenditures."
"I believe the agreements help maintain high quality automotive jobs and to protect jobs that will enhance the tax base of cities like Bay City," he said.
Labor and management need to find common ground on environmental concerns, health care and ending trade deficits, he said, in order to rebuilt the U.S. economy.
To accomplish those goals, the country needs an industrial policy that would codify human rights, worker rights, environmental protection, control import surges and currency manipulation.
Trade agreements that aren't fair are damaging to the U.S. economy, he said, noting that the textile industry has lost about a million jobs since the North American Free Trade Agreement was adopted. "And this hasn't increased living standards in Mexico where most of those jobs went," he commented.
GM had about 460,000 employees in the U.S. 20 years ago and now has about 70,000, he said, adding: "But 2007 was a moment in time when groundbreaking change began to occur."
The union has worked with the auto companies to control health care costs by promoting wellness and disease management, the UAW chief said.
Mr. Gettelfinger noted that "conventional wisdom" has it that non-union plants produce better quality products. "That is not true," he said, pointing to a recent Harvard University study stating that union plants are more efficient.
The recent Detroit auto show displayed some "green vehicles," and UAW members "are proud to have built those vehicles," he said.
###
---
CLUB NEWS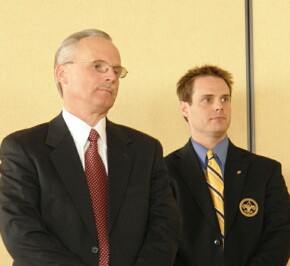 The club welcomed as new members Mike Regulski, Bay County's Finance Officer, and John Callahan, District Executive for Lake Huron Area Council of the Boy Scouts.
Next year's District Governor Bob Chadwick promoted the upcoming Rotary Foundation Gala. He noted that thanks to the work of the Rotary Foundation, Polio should be wiped out world wide in the next year or two. Currently there are only 3 pockets of the infection left.
Congratulations to Rob Clark who announced that baby number three is on its way!
---
Upcoming Programs
(See the official schedule at
RotaryBayCity.org
)
January 29 World Travels with Rotarian Chuck Cusick


February 5 Michigan Prisoner Re-entry Initiative, presented by George Heron

---
CLUB ANNOUNCEMENTS
Vocational Days are right around the corner. 88 students are scheduled for March 4, and 158 are scheduled for March 18.


The club will host a dinner honoring the Women of Rotary at the Doubletree on March 6. Plan to attend.


---
Visit RotaryBayCity.org