Michigan Prisoner Re-entry Initiative
An effort to make communities safer
February 10, 2008
By: Stephen Kent
Last Weeks program - February 5
Michigan Prisoner Re-entry Initiative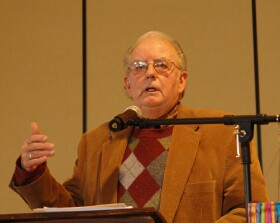 George Heron, who was Executive Director of Bay County's United Way of Bay County from 1983 to 2006, spoke about the Michigan Prisoner Re-Entry Initiative (MPRI). The program, started three years ago, is an effort to make communities safer by providing services and opportunities to Michigan prison inmates when they are released on probation and as they re-enter society.
Michigan is the 8th largest state but the 5th largest in the number of individuals in state prisons. In 1985 there were some 39,000 prisoners. Today there are over 50,000. The prison system consumes 8% of the state's budget and 32% of state employees work for the Department of Corrections.
The MPRI program acknowledges that 95% of released prisoners are going to return to their communities. Without help statistics show that 67% of these people will be re-arrested within three years.
MPRI is a statewide strategic approach to create safer neighborhoods and better citizens. It delivers a seamless plan of services, support, and supervision from the time a prisoner enters prison through their return to a community.
The MPRI "Vision" is that every prisoner released from prison will have the tools needed to succeed in the community. The programs mission statement is "to reduce crime by implementing a seamless plan of services and supervision developed with each prisoner delivered through state and local collaboration from the time of their entry into prison through their transition, reintegration, and aftercare in the community."
The program works in three phases. It starts with an individual assessment before a prisoner enters the system. This documents his particular risks and needs. The second phase starts two years before release and works to prepare the prisoner for his return to society. The third phase follows up after release and helps the individual find work, adjust to living in the community, and survive on his own.
One of the most important rehabilitation efforts is to insure that all prisoners who did not graduate from high school achieve their GED. This has proved to be a source of pride for most inmates.
The Tri-Counties area has been granted $120,000 for their program. Bay County's part of the program is just coming on line.
One of the biggest challenges for the program is to find employment for released inmates. When a person has to check the box on an application that asks if he has been convicted it makes it very hard for the employer to hire him. MPRI will explore ways to help overcome this difficulty.
For more information visit
www.michpri.com
.
---
CLUB NEWS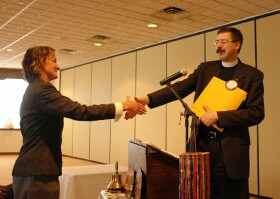 Welcome to new member Barb Englehardt.
Congratulations to Rob Monroe on receiving his Paul Harris plus 6 pin.
Fifteen members have signed up for the Rotary Foundation Gala on February 29. The club will reserve two tables.
New member Jason Ball, who has a degree in Journalism and Public Relations, has agreed to serve as the club's PR Chairman.
Thanks to Dee Dee Wacksman and Cindy Luczak for supplying Mardi Gras beads, masks and decorations for Tuesday's meeting.
---
Upcoming Programs
(See the official schedule at
RotaryBayCity.org
)
February 12 Kim Prime speaks on her world travels.


February 19 The Bay Commitment - Jerome Yantz & Sue Murphy


February 26 Digital Television - Mike Tamme, Chief Engineer WNEM TV-5

---
CLUB ANNOUNCEMENTS
Vocational Days are right around the corner. 88 students are scheduled for March 4, and 158 are scheduled for March 18.


The club will host a dinner honoring the Women of Rotary at the Doubletree on March 28. Please note: That's a DATE CHANGE.


---
Visit RotaryBayCity.org