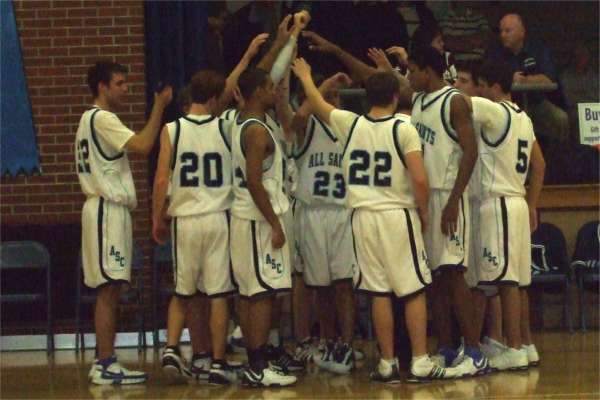 ASC Varsity celebrates their home victory over Bad Axe. MyBayCity Photo by Kevin Kula)
---
Triple Victories at Home for the Cougars Over Bad Axe
ASC Varsity wins 66-55 over Visiting Hatchets
February 14, 2008
By: Kevin Kula
After a freshman victory and an amazing 50-30 JV triumph the Cougar Varsity hoped to follow suit with their own win. With the embarrassing loss to Cass City still fresh in their minds the Cougars decided to try a new strategy. Saving most of the regular starters for later, Cougars Ricky Phillips (#10), and Cameron Coburn (#14) would be among the
"unusual"
starters Coach Showalter used for the Cougar team. The new plan seemed to be sound at first. But it fell apart in the horrific first period that left the Cougar team, and fans reeling. Down 6-2 with four minutes remaining in the first period the Cougars managed to hang on to the Hatchets and fight for a 12-9 score at the end of the first.
Below:(Left) Starter for ASC, Cameron Coburn takes a shot. (Right) Junior Josh Sutton tips one up adding 4pts on the night.
(MyBayCity Photos by Kevin Kula)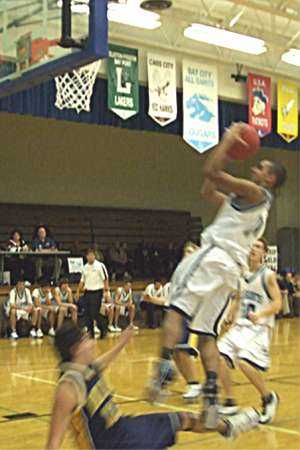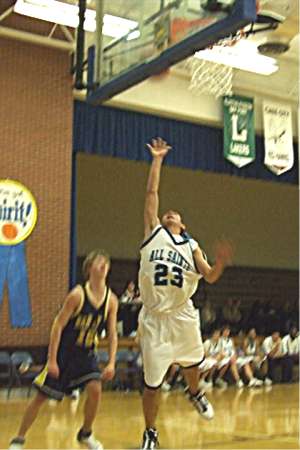 ---
Fighting to narrow the gap before the end of the half, the Cougars unleashed Preston Oakes (#1) who would score 16 points overall and Kevin Klapish (#32) unto the court (among others) to fight for every point they could get. Klapish finished with 6 points on the night and a spectacular attempt to block Hatchet #45 Brad Iskow's dunk.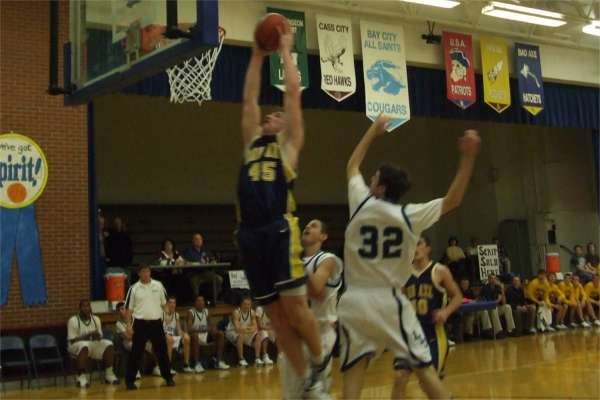 Senior Kevin Klapish goes up against Hatchet Senior big Brad Iskow
(MyBayCity Photo by Kevin Kula)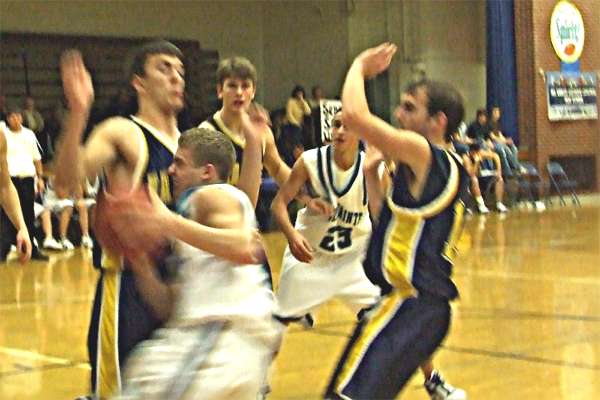 Preston Oakes moves by in a blur as he unleashes for a 16pt night.
(MyBayCity Photo by Kevin Kula)
Three pointers by both Oakes and Adam Pijaszek (#20), as well as key lay-ups put the Cougars on the map. Though they didn't manage to take the lead yet, the score hung at 28-26 with the Hatchets ahead - but barely.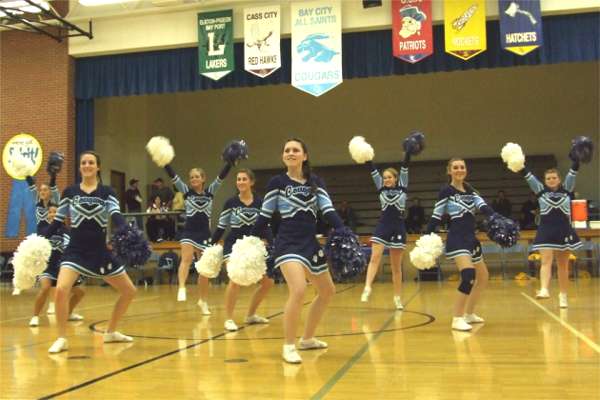 ASC Pom Squad with another dazzling performance!
(MyBayCity Photo by Kevin Kula)
The third period was nothing like the first half at all. Coming out of the intermission down by two points, the Cougars knew they'd have to hit the Hatchets with everything they had to slow them down. Relying on key free-throws and timely three-pointers, the Cougars surged ahead in the third period, and when it was over the score was an unbelievable 47-36.
Below: Key defensive plays and hustle helped keep the Cougars in the lead! (Left) #33 BJ Weaver with a big block and 12pts on the night! (Right) Klapish gets his hand on one tipping to Pijaszek.
(MyBayCity Photo by Kevin Kula)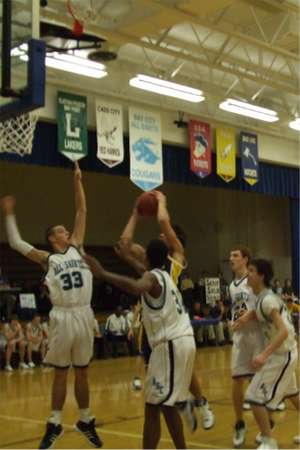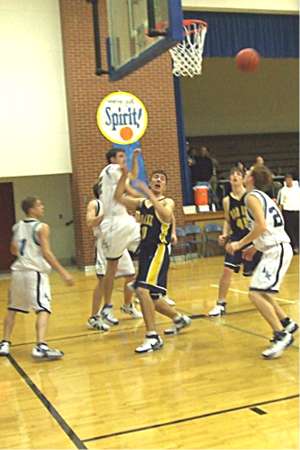 ---
The fourth period would be a defensive struggle for the Cougars to keep their established lead. As Coach Mike Showalter said
"Hustle was the main thing"
and indeed it was in the fourth more than any other period. The Cougars would hold their lead all the way till the last seconds ticked away.
When the game was over the scoreboard showed the Cougars ahead with 66-55. Joining Oakes as lead scorers were Adam Pijaszek with 14 points, and B.J. Weaver (#33) chipped in his twelve.