Bay City Principal Looks at China, Japan Schools, Says Ours More Creative
We Have a Beautiful Blend of Rigor and Creativity, Gerstacker Fellow States
February 17, 2008
By: Dave Rogers
Last Weeks program - February 12
Bay City Principal Looks at China, Japan Schools, Says Ours More Creative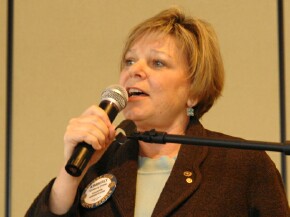 Kim Prime, principal from the Bay City school system, is a fellow of the Rollin M. Gerstacker Foundation who was among leaders to travel to China and Japan in search of better educational methods.
The group's year-long study program was charged with a specific task: "find out what they do that is better than we do."
The general conclusion is that Asian children study harder and develop academic skills "almost to the exclusion of any other talent," said Ms. Prime, speaker last Tuesday at the Rotary Club of Bay City.
In Asia, education is more cut and dried, win or lose, she observed. Bad grades bring great dishonor on the entire family. "However, they fear that it is becoming too one-sided and that the whole child is being forgotten," she said, and are loosening standards after watching how U.S. schools operate.
Meanwhile, American schools "produce students with more diverse talents," she summarized. "We celebrate a balance between the curriculum and our lives. We have a beautiful blend of rigor and creativity. The Asian countries are looking for ways to instill creativity."
"There is room for improvement in American schools but we do pretty well," she said. "Kids are kids, and theirs are just like ours," she said the study group found.
The quality of creativity can't be taught, but it can be killed, she said. Asian students study all day and have study clubs at night. Those who don't measure up find themselves on the lower rungs of the economic ladder. "Test scores drive everything," she observed, adding:
"In contrast, Americans have a broader, more individualized view of success."
The U.S. group is partnering with Saginaw Valley State University to "create a cohort of leaders," she explained. "It is our responsibility as educational leaders to do better."
The group traveled to Shanghai, China, and Tokoshima, Japan, last July in their quest for information about Asian educational methods. In China the children were not in school so information gathering was more difficult, but the Japanese children were attending. Among teachers in the group was Marilyn Abbs, who helped with the Rotary presentation.
Asian parents whose children do well on standardized tests can use their children's success as stepping stones to better jobs or more pay, the Bay City principal noted.
Some of the major differences in Asian education are that the students get to school on their own and provide food preparation and maintenance of the school. "This is not a bad idea, getting kids involved in taking care of the school," observed Ms. Prime.
In Asia, bad behavior is tolerated on the basis that the child, no matter what their deportment, has a right to education, she said.###
---
CLUB NEWS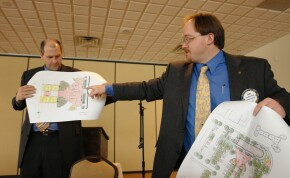 Ron Bloomfield updated the club on plans for the
historic kiosk
, benches and other features that the club will fund at the
Pere Marquette Depot
. An location on the walk approaching the West entrance has been designated and the primary features selected.
The
Love Bag
project is scheduled to run for six weeks starting in mid-March. Drop off sites are being selected where anyone can donate a duffel bag or pack to be distributed to foster children to carry their belongings in. The Bay City Rotarians are partnering with the Lions.
The
President's Challenge
food drive has been a great success, and continues to run. To this point the club has donated almost 1,200 items to food pantries around the area.
Thesauruses
have been received, labeled and organized for delivery, said Cindy Luczak and Kim Prime. Volunteers should sign up to deliver to the schools.
Community Grants
totaling $10,000 have been approved for the year. In keeping with the club's focus on community beautification and infrastructure grants were approved for the following:
Riverfront Workcamp / First Presbyterian Church to purchase portable air conditioners for workers who will be staying at the church this summer while working in the community to repair and improve homes>
State Theater for their marquee restoration project.
Pine Ridge Cemetery for planting of trees along Tuscola Road.
Bijou Orchestra for "Brunch at the Station" marketing materials. The programs will be offered at the restored Pere Marquette Station.
Bay City Rowing Club for repair of the porch and Gazebo at the boat house on the Middle Grounds Island.
Bay City in Bloom for litter signs at community events, and for identification signs for pocket parks through the area and Riverwalk.

---
Upcoming Programs
(See the official schedule at RotaryBayCity.org)


February 19 The Bay Commitment - Jerome Yantz & Sue Murphy


February 26 Digital Television - Mike Tamme, Chief Engineer WNEM TV-5

---
CLUB ANNOUNCEMENTS
Vocational Days are right around the corner. 88 students are scheduled for March 4, and 158 are scheduled for March 18.


The club will host a dinner honoring the Women of Rotary at the Doubletree on March 28.


---
Visit RotaryBayCity.org