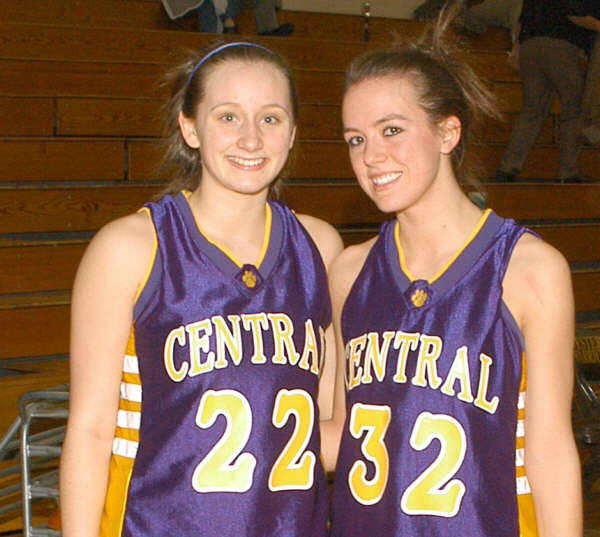 Danette DeCorte (22) and Megan Charlebois (32)
Named January 2008 Graff Players of the Month
---
BCC Backcourt Duo is Selected as Players of the Month for January 2008
Danette DeCorte & Megan Charlebois of Bay City Central
"Twice as Nice"
February 24, 2008
By: Kevin Leahy

The backcourt duo of Danette DeCorte and Megan Charlebois had many teams seeing double in January as they combined for 20.3 points per game.
They each have great ball handling skills and a knack for taking the rock into traffic. They both have a pretty jump shot and like to shoot from the corner.
They were a great asset to coach Todd Thunberg and the Wolves this season.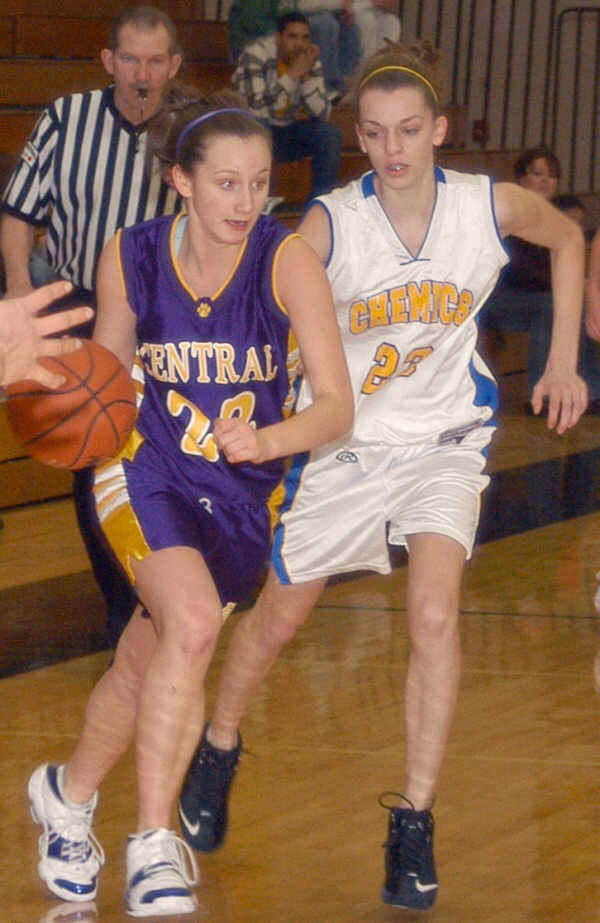 Danette DeCorte drives hard to the basket against the Midland Chemics.
(MyBayCity Photo by John Keuvelaar)
Although DeCorte liked to go down low more often and it showed with her 57-34 rebounds advantage over Charlebois in January, Charlebois was more of the floor General.
They both liked to play bandits as they accounted for 37 steals between them.
The nice thing for coach Thunberg is the fact that DeCorte will be back with her seventh and eighth grade coach next year as she is just a junior.
Meanwhile, Charlebois will be representing her Wolves in the GLIAC as she has accepted a full ride scholarship to Oakland College to play basketball in the fall.
Both girls have a similar origin in organized basketball as their first recollection is playing for The YWCA teams with Danette starting when "she was five," while Megan waited until she was, "seven or eight at the YWCA with Lynne Beaver who was my first coach and an inspiration to me, she was real fun to play for," said Megan during a recent cell phone interview.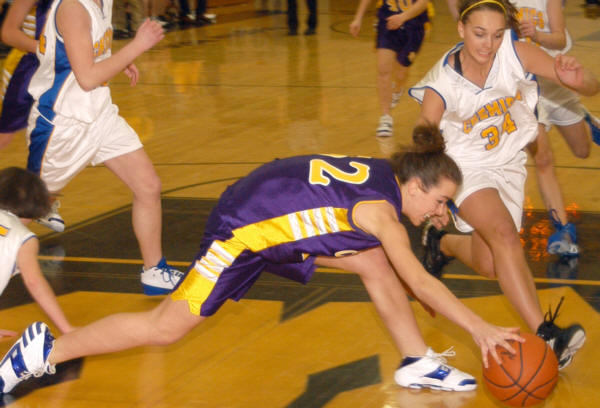 Megan Charlebois battles for the loose ball.
(MyBayCity Photo by John Keuvelaar)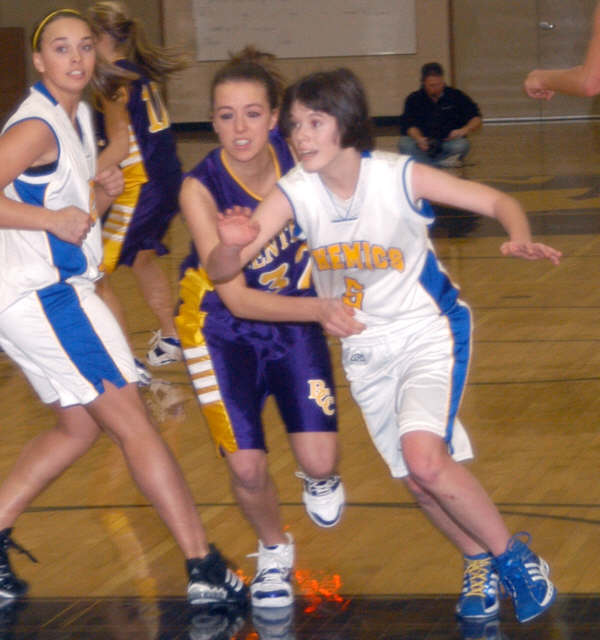 Megan Charlebois plays tough defense against Midland.
(MyBayCity Photo by John Keuvelaar)
Megan still works hard on her game as she recognized her middle school basketball coach at Handy, "Dan Velasquez has helped me a lot since middle school as he always offered to have me come in and shoot around during his practices," said Megan.
Danette gives her basketball skills credit to her father James DeCorte, who according to Danette, "me and my dad played basketball together all the time when I was young."
"I'm a little more into volleyball then basketball," confessed DeCorte when asked what other sports she enjoys.
DeCorte also pointed out "how lucky she was" when her seventh and eighth grade coach at Handy Middle School (Todd Thunberg) "became the varsity coach at Central."
Obviously she is in her comfort zone as she averaged ten points a game and 6.3 rebounds in January.
Her backcourt counterpart, Charlebois was recruited to Oakland, "as a shooting guard, They will be loosing one of their three-point shooters and I will be filling that position," said Charlebois.
As DeCorte is a two sport standout, Charlebois who also plays volleyball adds track on her resume as she will be competing in the high and long jump, as well as tossing the discus for the Wolves in the spring.
MyBayCity and Hank Graff Chevrolet are proud to recognize Bay City Central's back court duo of Megan Charlebois and Danette DeCorte as our Player(s) of the Month for January 2008.