Bay Commitment Aimed at Raising Education Levels, Workforce Skills
Jerome Yantz, Suzanne Murphy Explain New Bay City Schools, Foundation Plan
February 24, 2008
By: Dave Rogers
Last Weeks program - February 19
Bay Commitment Aimed at Raising Education Levels, Workforce Skills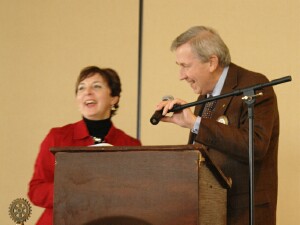 The Bay Commitment is a new program for which the Bay Area Community Foundation will award 100 scholarships of $2,000 each to 2008 graduates of the Bay City Public Schools.
One requirement is that students must come from families in which no member has attended college. That target is aligned with the goal of changing the local culture and attitudes toward education.
And, the scholarship winner must have lived in the district for six years and attend either Delta College or Saginaw Valley State University.
Programmer Jerome Yantz, in introducing Suzanne Murphy, director of the program, explained: "We are hoping to bring back vitality to the community we once had and help increase the skilled workforce. We need a skilled workforce to attract and retain business."
As students achieve higher levels of education they are less likely to incur medical costs, commit crimes or end up on welfare, she said, "all of which translates into savings to the taxpaying public of $3.4 million a year."
The Bay Commitment is patterned after the Kalamazoo Promise that in one year has brought an increase of 1,000 students as families have flooded in from 30 states, housing sales have gone up 6 percent and home prices have risen 7 percent.
The $2,000 grant will pay tuition for the first year and students need to plan to access federal Pell Grants or other aid and perhaps borrow to complete their educations, she said.
Ms. Murphy noted that the average income of a college graduate is $34,000 a year while an non-graduate makes an average of $24,000 a year.
Research is underway through Delta and SVSU to determine who doesn't go to college in Bay County, and why. An associated problem is that many of the students from Bay who do attend college don't return to the community.
Ms. Murphy said 14.2 percent of Bay City graduates over the age of 25 have a college degree compared to the state average of 21.8 percent.
BACF is raising $200,000 for 2009 and every year toward a goal of $4 million, she said. Kantzler, Smith and Osthelder funds have already given $150,000 and a $1 million gift has been received "from a young man," so the drive is well on the way toward success, Mr. Yantz said. BACF now is "ready to go to other sources," he added.
The Bay City Board of Education is supporting the program by establishing an office of College Preparatory Services to work with the foundation, students, parents and the community.
A revised Transition Plan is targeting the eighth to ninth grade transition, where greatest number of student failures occur, she said. Some kids by third grade have already made a decision not to attend college, she said.
The program so far is having trouble attracting enough qualified students to meet the goal of 100, she said. Of a class of 702, about 190, or 27 percent, are eligible for the scholarship. Some students who are interested are homeless or have other challenges like parents who don't speak English.
"Some don't live in an environment where parents talk to them about their futures," she observed.
Ms. Murphy said the deadline to apply for the scholarship program is March 1 and the goal is to give away the 100 scholarships by May 14. A Bay Commitment Awards Ceremony is slated May 14 7-8:30 p.m. in the Scottish Rite Cathedral, 614 Center Ave., and is open to the public.
Bay Commitment Steering Committee members are Mr. Yantz, chairman, Don Carlyon, Thomas Lane, Brian Thomas, Peter Boyse, ISD Supt. Michael Dewey, Mark McKinley, Ms. Murphy, Kurt Brandstadt, Mitzi Dimitroff, Bay City Supt. Carolyn Wierda, and Eileen Curtis, president and CEO, BACF. For more information about the Bay Commitment please contact Suzanne Murphy, director, BCPS Office of College Preparation Services, phone, 671-8108 or e-mail murphys@bcschools.net.###
---
CLUB NEWS
TWO Group Study Exchange Teams
are expected in the next couple of months! The group from West Africa was not able to visit last year due to visa issues. They still have not received visas, but the hope is that they will. If that works out they'll be in Bay City April 13 to April 17. Host families are needed to house five people for four nights.
The scheduled team for this year come from
Australia
and will be in the area at the same time. The Pinconning / Standish club and the Morning club are hosting these visitors.
Deb Lutz
and
Anne Trahan
attended
PETS
(President Elect Training). Deb reported on presentations concerning the push to finish wiping polio from the earth. The effort is very close with only 1,200 cases reported last year and those in just 4 countries.
The
Love Bag
project is scheduled to run for six weeks starting in mid-March. Drop off sites are being selected where anyone can donate a duffel bag or pack to be distributed to foster children to carry their belongings in. The Bay City Rotarians are partnering with the Lions.
Thesauruses
have been received, labeled and organized for delivery, said Cindy Luczak and Kim Prime. Volunteers should sign up to deliver to the schools.
---
Upcoming Programs
(See the official schedule at
RotaryBayCity.org
)
February 26 Digital Television - Mike Tamme, Chief Engineer WNEM TV-5



March 4 First of two Vocation Days


March 11 Club Assembly to start planning next major project.


March 18 Second of two Vocation Days
---
CLUB ANNOUNCEMENTS
Vocational Days are right around the corner. 88 students are scheduled for March 4, and 158 are scheduled for March 18.


The club will host a dinner honoring the Women of Rotary at the Doubletree on March 28.


Rotary Concert: Lee and Molly Newton will be giving a concert with the Garber Band on Saturday May 10. Proceeds will benefit both Rotary and Garber.


A Club Assembly has been scheduled for the meeting of March 11 to take the first steps in selecting a new major project. These projects are the club's major funding focus and typically run for five years.


The International Night Theme as been named Rotary's Circle of Friends. The menu will feature foods of India, China, Greece and Italy.


---
Visit RotaryBayCity.org