Fun Dental Facts and Dental Trivia
Did You Know?
March 6, 2008
By: Ken Nelson, DDS, Dentistry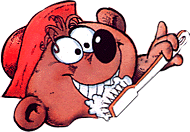 Over a lifetime the average American spends 38.5 days brushing their teeth
Here Are Some Interesting Dental Facts and Trivia . . .
73% of Americans would rather grocery shop than floss their teeth.
More people use blue toothbrushes vs. red ones.
The second most common disease in the US is tooth decay. The first is the common cold.
Children laugh about 400 times per day.
The adult female smiles about 62 times per day but the adult male only smiles eight times.
Much like your fingerprints, each persons set of teeth and even tongue print is unique.
A right-handed person tends to chew their food on the left side while left-handed people tend to favor the right side.
Ouch . . . that mouth burn you received from last night's cheesy dish has a name. It's called "pizza palette".
Americans spent approximately $21 billion on candy in 2001. That is more than the GNP of Lithuania, Costa Rica and Mozambique combined.
Over a lifetime the average American spends 38.5 days brushing their teeth.
Kids in North America spend close to a ½ billion dollars on chewing gum.
---
Who daydreamed of the westerns he would someday write while cleaning patient's teeth?
Zane Grey
Who worked as a silversmith, a copper plate engraver, a dentist and still found time to warn the countryside the British were coming?
Paul Revere
What famous artist depicted his stone-faced dentist as a farmer in "American Gothic"?
Grant Wood
What delectable dairy delights should you chomp on to keep your smile sparking white?
Cheese - specifically aged cheddar, Swiss or Monterey Jack
Or Contact Dr. Ken Nelson at:
800 S. Euclid Ave, Bay City, MI 48706
(989) 686-5410