Saginaw Bay Riverdawgs Youth League Serve Up Steak And Potatoes!
Fundraiser Held At The Essexville Ponderosa For Upcoming "River Brawl"
March 27, 2008
By: MyBayCity Staff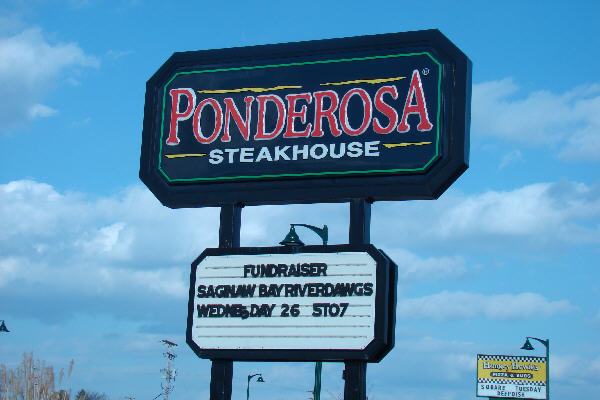 The Essexville Ponderosa was the place to be Wednesday evening. Many came out to support the Saginaw Bay Riverdawgs in their quest to raise money for an upcoming tournament
(MyBayCity Staff Photo)
The Saginaw Bay Riverdawgs Youth League held a fundraiser at the Essexville Ponderosa Wednesday evening to raise money for their upcoming River Brawl to be held in August at Veterans Memorial Park.
The Saginaw Bay Riverdawgs organization is preparing for the 2008 season with 3 brand new teams! They will play in 6-8 tournaments from April through September.
The River Brawl will be a tournament that could potentially bring 70-80 teams right here to Bay City! The Brawl will be August 15th, 16th, and 17th. Open Registration - Ages 11 to 17. For Info, Contact Mark Krzysiak at (989) 239-4240
"We like to be involved in the community and help out many organizations that are attempting to raise money for a good cause. This is one of them. We donate 20% of all proceeds and 100% of tip money raised during the time frame of the fundraiser", said Keith Hepinstall, Essexville Ponderosa General Manager.
The Saginaw Bay Riverdawgs Youth League consists of kids from all over the Tri-Cities. The league has grown from 1 to 7 teams in recent years. For the past two years in a row, this league has fielded teams to Las Vegas NV and just last year, placed in the finals!
When the event began at 5:00p.m., people were coming in droves to support the team knowing that 20% of proceeds and 100% of tips would be donated to the team!
(MyBayCity Staff Photo)
This team consists of players ages 11-17 and is a part of the USSSA Tour and proud of it!
(MyBayCity Staff Photo)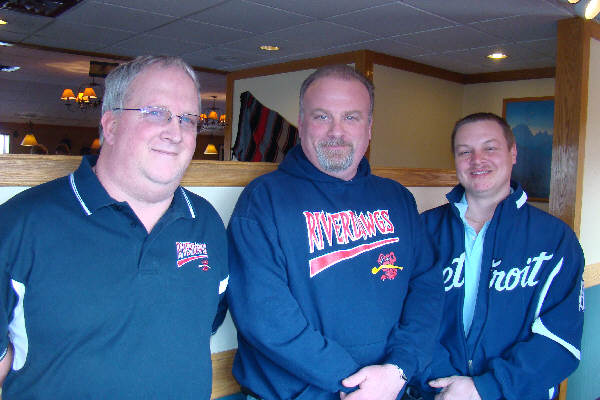 Pictured L/R are Scott Fylling, Riverdawgs Financial Director, Bruce Stapish, Fundraising Coordinator and Chad Sepos who has a son that plays on the team
(MyBayCity Staff Photo)
"Raising money for this team helps to defray the costs of a children's traveling Baseball league. It's very costly for parents. Tonight will help off set some of the costs involved to play in a prestigious tournament such as River Brawl", said Bruce Stapish, Riverdawgs Fundraising Coordinator.
"We want to bring back the good old days with these ball diamonds in Bay City. Located where the Trombley Lumber Mill once was, this tournament will bring back light to a piece of Bay City history", said Stapish.
Another fundraising activity the teams will be participating in is volunteering to the concession stands at the Great Lakes Loon's games. Seven teams will be sharing 30 games and donating their help to raise money for the tournament.
The team also has a Chicken dinner Fundraiser Sunday, April 20th at Rickers Green Hut (1301 Columbus - Bay City) from Noon to 6:00pm. Proceeds to fund the Cooperstown tournament. Take-outs are available.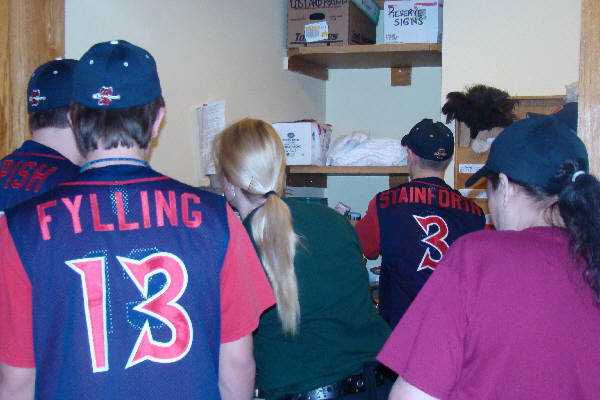 The team learns the tricks of the trade when it comes to serving patrons!
(MyBayCity Staff Photo)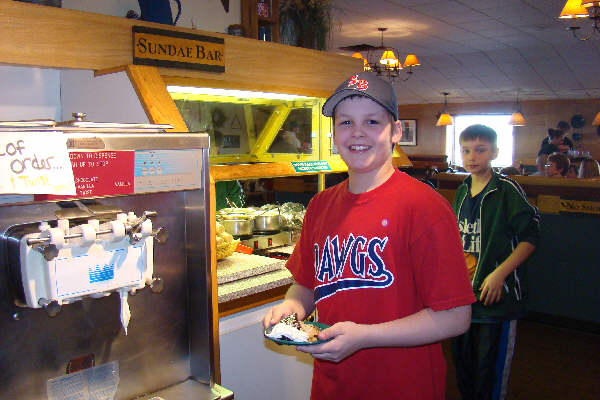 The team members found time Wednesday to "sneak" in a snack every now and then!
(MyBayCity Staff Photo)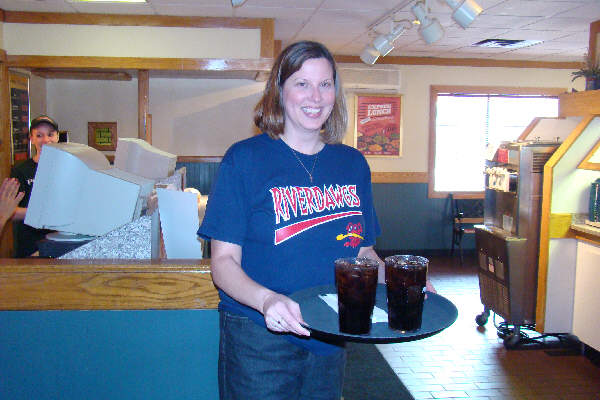 Shelly Whitney, a representative of the Riverdawgs helps out the fundraising efforts
(MyBayCity Staff Photo)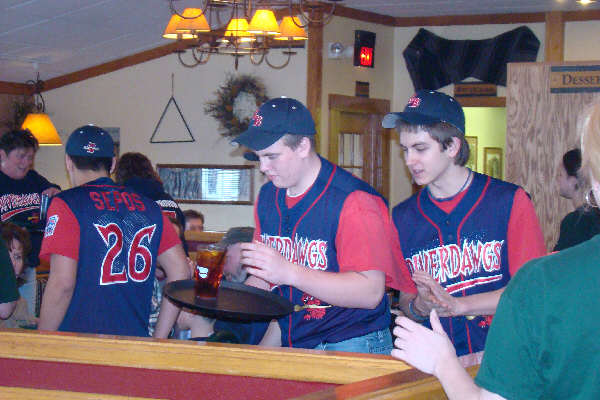 Team members served patrons in a "celebrity" format Wednesday evening!
(MyBayCity Staff Photo)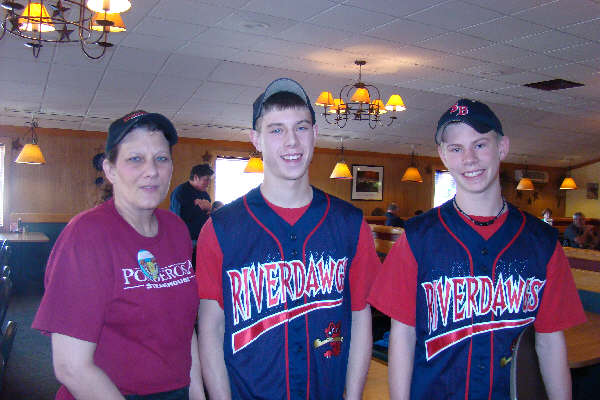 Becky, a server at Ponderosa mentors team players Garrett Myczkowiak and Ryan Stainforth
(MyBayCity Staff Photo)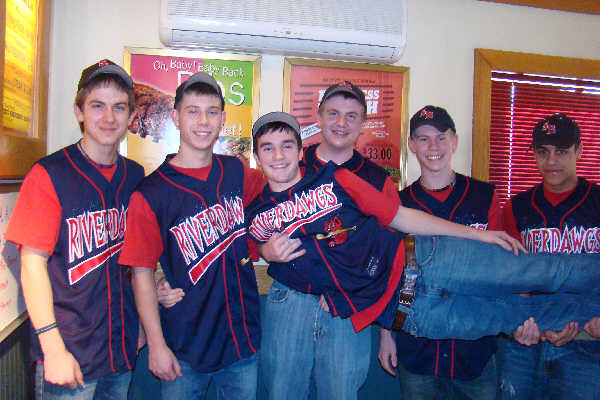 This team is ready to PLAY BALL! Pictured L/R are team members Zachary Fylling, Garrett Myczkowski, Austin Stapish, Ryan Stainforth, Chad Sepos and Connor O'Brein
(MyBayCity Staff Photo)
For further information on the Riverdawgs fundraising efforts and schedule, contact Bruce Stapish at (989) 893-5246 or visit their website at http://www.dawgs.ice95.com
For More Information On How Your Organization Can Get This Exposure, Call Julie For Banner Advertising Details At (989) 892-8501