Bay City - Music Center of the Midwest - Is Dream of Arts Promoters
Najar, Skinner, Smith, Propose Orchestral Ensemble As Business Venture
August 2, 2003
By: Dave Rogers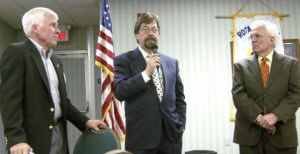 Warren Smith , Leo Najar and Dave Skinner bewitch Bay City Rotarians with their vision of professional orchestra. (Photo courtesy of Andy Rogers)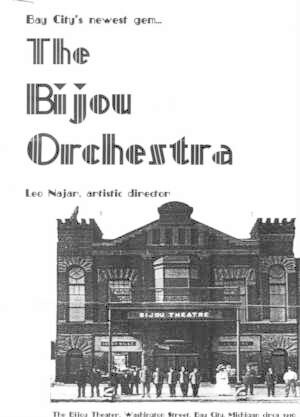 Borrowing the original name of the State Theatre, the Bijou, the trio (above) of musical entrepreneurs laid out an impressive business plan.
A crescendo of ambitious ideas for musical glory is bursting at the State Theatre, cascading over Bay City with beatific hopefulness for its success.
Among community leaders waving their magic wands in directing this explosion of creativity are the inimitable Leo Najar, ubiquitous maestro of orchestras from here to Dixieland, attorney and trial lawyer extraordinaire' Dave Skinner, and Warren Smith, business executive and patron of the arts.
The embryonic hatch of ideas involves using the State Theatre as the base for a symphony organization, the Bijou Orchestra, which will become a successful business, rather than the traditional donation-supported group, and help underpin Bay City's repertoire of "destination attractions."
Najar, Skinner and Smith were waving marvelously at the Rotary Club of Bay City recently, casting a spell over the enthralled throng, eagerly receptive for dreams of successful tourism promotion.
The plan makes sense, Rotarians and guests nodded in unison, responding to Najar's vision for year-round arts programming, thus: "With over 5 million people living within 3 hours of Bay City, the region is perfectly situated to become an outstanding weekend destination."
Borrowing the original name of the State Theatre, the Bijou, the trio of musical entrepreneurs laid out an impressive business plan outlining establishment of Bay Musical Arts, Inc., a not-for-profit corporation "created to respond to opportunities and establish a sustainable professional orchestra tradition that will be unique in the Tri-Cities and in Michigan."
"The conversion of the State into a public theater and event center marks an important turning point for Bay City," said Najar, explaining: "Old theaters, properly restored, can bring economic vitality to downtowns."
Contracts will be sought with the motorcoach business, tourist buses, that can bring a stream of visitors and their money to Bay City, Najar said, commenting: "We plan to change the way tour operators look at Bay City."
The new orchestra will emphasize earned income over contributions, will establish partnerships with business and will participate in tourism through regional marketing. "We will quickly become a state and even Midwest draw," said Najar. "We aren't going to try to survive on Bay City alone."