50-Star Flag Designer Bob Heft of Saginaw is Nation's Largest Flag Dealer
Rotarians hear the story of how the current 50-star flag was designed
April 4, 2008
By: Dave Rogers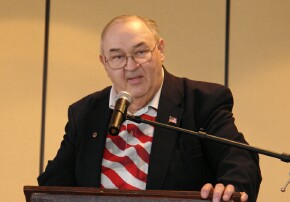 Last Weeks program - April 1, 2008
50-Star Flag Designer Bob Heft
Bay City Rotarians last Tuesday not only heard the entire thrilling story of how the current 50-star flag was designed, they also got a chance to buy a flag signed by the designer.
Robert G. Heft, of Saginaw, was a 17-year-old high school junior in Lancaster, Ohio, when he had an amazingly perceptive political insight: the government would have to add two states for balance when Alaska sought admittance to the Union.
So, banking on his intuition, Heft designed a 50-star flag, upgrading from the 48 star flag at that time, for a class project.
His American History teacher, Stanley Pratt, was skeptical and gave the perceptive youth only a B- on his class project. He did promise to raise the grade if the youth would get his flag accepted in Washington.
Heft sent his flag to Washington, D.C., via his congressman, Walter H. Moeller of Ohio, and it was accepted. President Dwight Eisenhower himself called him to congratulate him on the feat. His tale of having to put "Dwight" on hold to check with his boss at his job site is the highlight of his talk.
Heft made national news when television cameras followed him into Pratt's class and the chagrined teacher had to change Bob's grade to A.
Heft's flag design was officially adopted July 4, 1960. The key was that Congress, true to Heft's prediction, decided to have Hawaii join Alaska as new states, balancing the politics since Hawaii was then Republican and Alaska a Democratic state. They have since switched and Alaska is Republican and Hawaii Democratic.
Today, Heft travels over 130,000 miles makes more than 200 appearances annually -- basically telling the same story over and over as he has since he told it to President Dwight Eisenhower in 1958.
His speaking has taken him to all 50 states and 57 foreign countries, visiting the White House 14 times and meeting many celebrities. A recent experience was having Detroit Mayor Kwame Kilpatrick introduce him to the Detroit Economic Club. Was that before or after the scandal, he was asked. "During," he remarked.
---
Heft claims he is the nation's largest salesman of flags, exceeding "even Wal-Mart," he said. Contact him at usflagbobheft@yahoo.com.
Women Of Rotary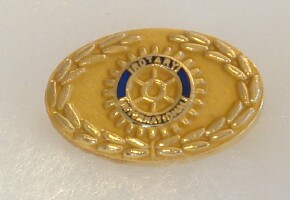 Linda Heemstra's Original Pin
The men of the Bay City Rotary Club held a special appreciation dinner last week for the Women of Rotary. Women were first inducted into the formally all-male organization only 20 years ago.
Linda Heemstra, who with Joy Gaasch, was one of the first two women in the Bay City Club brought her original Rotary lapel pin to the meeting. This is a rare pin because when Cindy Chadwick was inducted she felt (insisted) that women should have the same pin as the men. And so it has been ever since!
The men presented special "Rose Pins" to the women of the club at the dinner. Pins were presented today to some of the women who were unable to attend the dinner.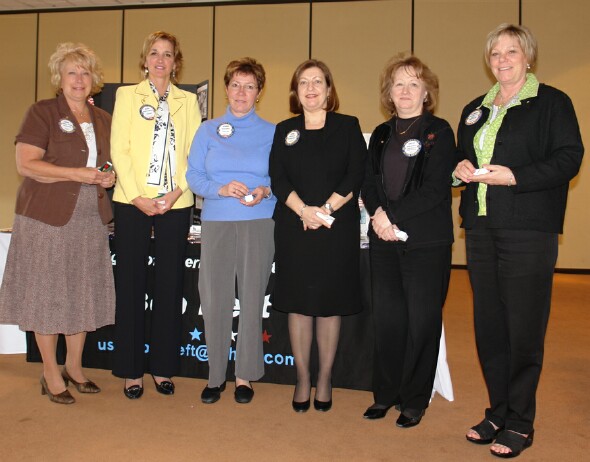 Women of Rotary Presented With Rose Pins
---
CLUB NEWS and ANNOUNCEMENTS
The District 6310 Conference is scheduled for April 24-26 at the Soaring Eagle Casino and Resort in Mt. Pleasant. The club will
reimburse up to $100
of a member's conference cost. Visit the
District 6310
web site for more information.
The
Love Bag Project
, sponsored by the Rotary Club and the Lions Club, continues to accept duffel bags, back packs, suitcases, etc. for distribution to foster children. Donations may be dropped off now through April 30 at a number of locations.
President Rob announced that the
Younkers
store in Bay City heard about the project and donated a large number of bags.
Thanks Younkers!
The
Group Study Exchange
team from Australia has arrived for their visit. Contact Mike Stoner if you'd like to participate in any of the planned activities.
The
Annual Golf Outing
has been scheduled for Monday, June 2, 2008 at the Bay City Country Club. See Brian Kay or visit the club web site for details.
A new
member orientation
will be held at the Stein House on Wednesday April 9 at noon. Everyone is welcome.
Rotary Concert
: Lee and Molly Newton will be giving a concert with the Garber Band on Saturday May 10. Proceeds will benefit both Rotary and Garber.
---
Upcoming Programs
(See the official schedule at
RotaryBayCity.org
)
April 8 Steve Rodgers, Senior Regional Victim Advocate for Central Michigan Chapter of MADD (Mothers Against Drunk Driving)


April 15 West African Group Study Exchange Team Visit.


April 22 William Ostler from Michigan Attorney General Office speaks on identity theft and how to protect yourself.


April 29 Clubs Review of Major Projects for 2008
---
Visit RotaryBayCity.org