G'Day, Mate! Rotary District 6310 Hosts the Aussies From Sydney
Group Study Exchange Program Brings Six Sheilas/Blokes
April 11, 2008
By: Dave Rogers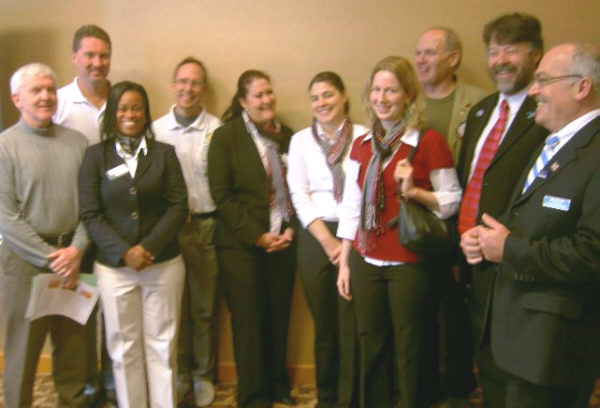 GROUP GAB -- Mike Stoner, left, Rotary District 6310 club extension chair, and Trooper Yvonne Brantley, and Hratch Basmadjian, right, next year's district youth exchange chair, gather at the Bay City Morning Rotary Club with Australian study team members. (L/R) Mike Stoner, Richard Hanly, Yvonne Brantley, David Owens, Katrinna Madden, Camille Smith, Madeleine Maguire, Rod Sundstrom, Ian Faulks, Hratch Basmadjian.<
(MyBayCity Photo by Dave Rogers)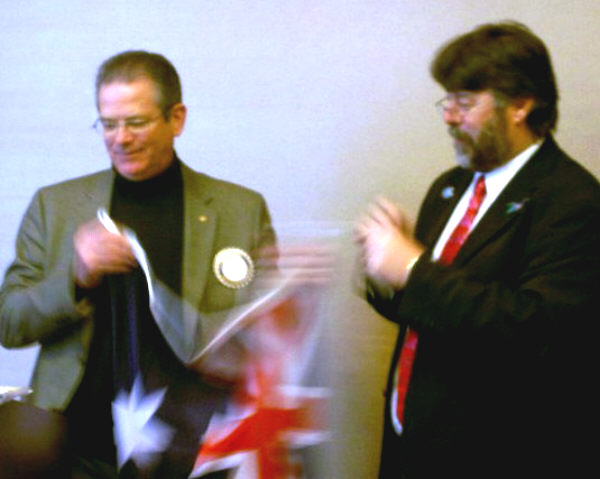 FLAG GIFT -- Rick Lyon, left, president of the Bay City Morning Rotary Club, receives Australian flag from Ian Faulks, team leader of the Group Study Exchange from District 9680.
(MyBayCity Photo by Dave Rogers)
Australian Sheilas and Blokes from Sydney are having a "Bob's Your Uncle" good time in mid-Michigan.
Sheilas are women and blokes are men in Aussie lingo, a recitation of which was a real hit at the Bay City Morning Rotary Club last Thursday as the Aussies hit town.
"Bob's Your Uncle" means "too right," that aptly describes the welcome being given the six member team which, after 43 hours of travel, was hosted by the Pigeon and Sebewaing Rotary Clubs.
Michigan State Trooper Yvonne Brantley, of the Bay City Post, who was part of the Michigan Rotary District 5310 team that visited Australia recently, is driving the group on part of its tour of District 6310.
District 6310 is comprised of 32 Rotary clubs in mid-Michigan with 1,532 members. The Australian visitors are from District 9680 with 67 clubs and 2,100 members.
Local Rotarians are hearing Aussie catch words like "good on ya" that means just what it says and G'day, that could mean "good morning," "good afternoon," "good evening," or "bloody hot day isn't it, mate?"
There will surely be "Shrimp on the Barbie," or some version of good stuff to eat, at all the clubs in District 6310 during the month the Aussie team will be visiting. Actually, shrimp are called prawns in Australia.
It doesn't take a "banana bender" (Queensland resident) to know that this is very different country than places like Wahroongah or Wooloomoloo in New South Wales where the team hails from. One reason is that Australia, almost as large in land area as the United States, has 150 million sheep, far outnumbering its 20 million people.
Team Leader of the Australian Group Study Exchange is Ian Faulks, secretary of the Rotary Club of Wahroonga, who holds Psychology degrees and works as a behavioral specialist in transportation safety and policing. Raised in a dairy farming community, Mr. Faulks worked as a farm hand and deck hand at an abalone fishery before attending the University of New South Walesin Sydney and the Australian National University in Canberra.
Camille Smith is an office manager for Judy Hopwood, Member of Parliament from New South Wales. She earned degrees of Bachelor of Media and Bachelor of Laws and lives in Potts Point in Sydney.
Katrinna Madden works in management of School Based Apprenticeships and with employers in training and coordinates with the Western Sydney Manufacturing & Engineering Forum. She lives in Terrigal, a beachside suburb of the Central Coast, Gosford.
Richard Hanly, sponsored by the Rotary Club of Kincumber, is a horticulturist and arborist and education officer with Sydney Wildlife World and Aquarium. He lived a rustic lifestyle without electricity, town water or phone for a year on native bushland on the Mid North Coast of New South Wales.
Madeleine Maguire, of Beecroft, is a junior medical officer with Sydney South West Area Health Service and a psychiatric resident at Rozelle Hospital. She earned a medical degree at the University of New South Wales.
David Owens, sponsored by the Rotary Club of Turramurra, is the "Yank" in the group, being a native of Minnesota and graduate of Ausberg College, Minneapolis, MN. He is a drama teacher at Abbotsleigh School, a girls school in Wahroonga.###