Bay City State Recreation Area
Wetland Wake Up Day draws Big Crowds
April 19, 2008
By: Kevin Leahy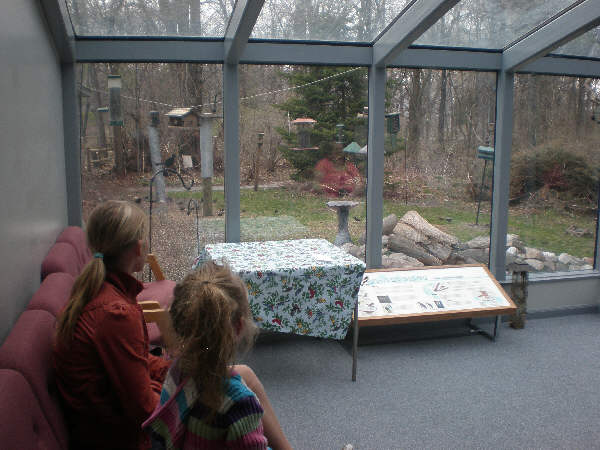 Wetland Wakeup Day shows that "Spring Has Arrived"! The wildlife viewing room is very relaxing.
(MyBayCity Photo by Kevin Leahy)
The Bay City State Recreation Area held their Wetland Wake up Day Saturday in honor of Earth week and their desire to have "No Child Left Inside Day," special event.
By the looks of the crowds leaving the Saginaw Bay Visitors Center with arms full of bird houses, butterfly shelters, toad houses, Hummingbird feeders and kites...all made during the action packed festive afternoon, it was a huge success.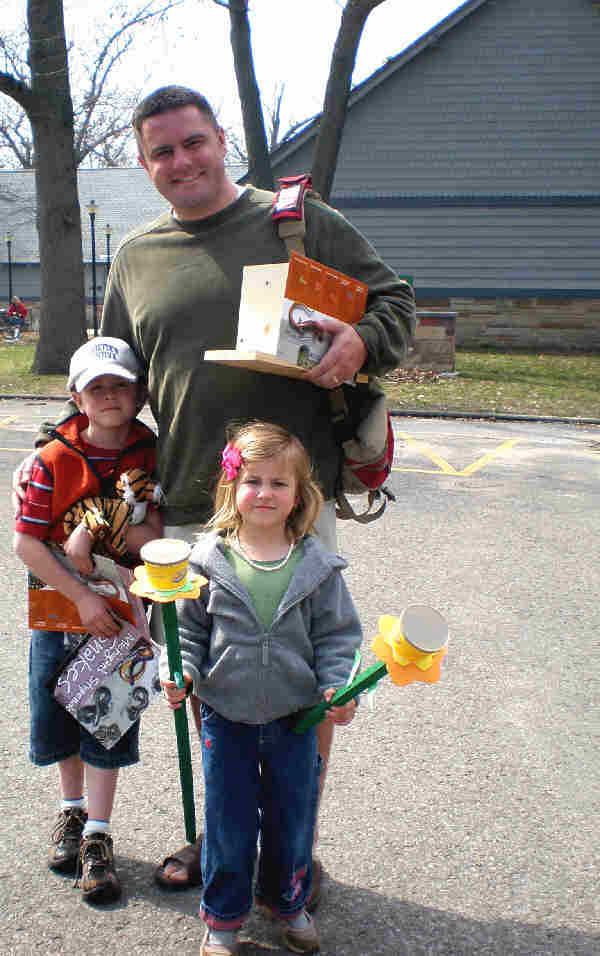 Joel Mitryks with his children Blake and Liv enjoyed a few hours at the Visitors Center before hitting the driving range across the street. Notice the bounty they are taking home.
(MyBayCity Photo by Kevin Leahy)
From one o'clock until six there were scheduled activities for all ages. Starting with "Hummingbirds in your garden" and "Bluebird's bring 'em back," to kite making to a scavenger hunt, a puppet show to a salamander hunt to "Tree Top Tweeters," to a kite flying and decorating contest the recreation area was truly an informative and fun place to be for all ages.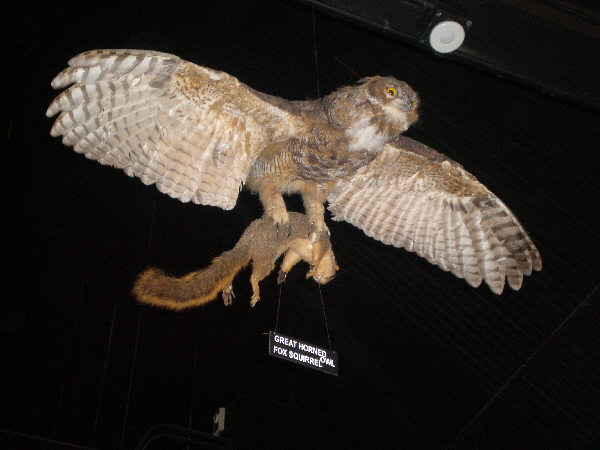 "HOOT-HOOT," the real-life displays are just like being in the outdoors.
(MyBayCity Photo by Kevin Leahy)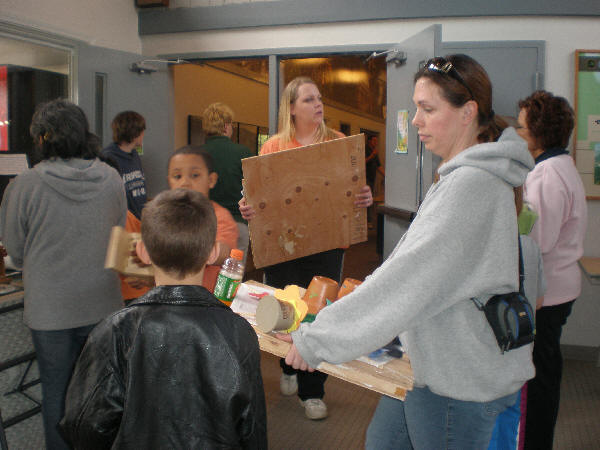 Many came to show their support and make numerous projects with their families! A memory that will surely stay with them for a lifetime!
(MyBayCity Photo by Kevin Leahy)
If you haven't been out to the Saginaw Bay Visitors Center, formerly the Jennison Building in a few years you would not be able to recognize the new $250,000.00 vastly improved interpretation and wildlife viewing rooms.
"special events like today provide us an opportunity to share the wonder of the outdoors with so many new people," said Valerie Blaschka, Park Interpreter. "we figure by the end of the day we will have shared our wonderful resources here with over 800 visitors," added Blaschka.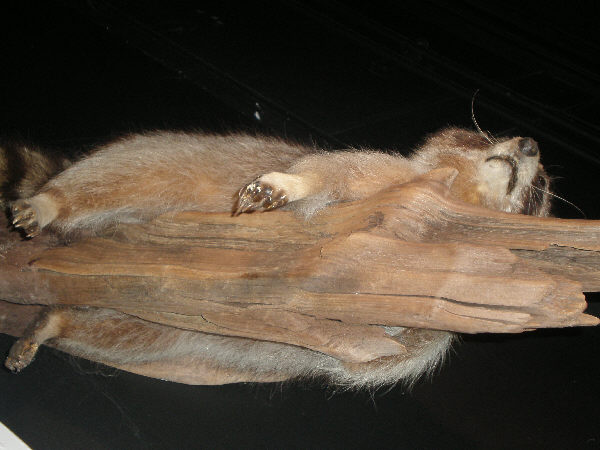 The raccoon display is hard to find in the Visitors Center just as they are in the wild.
(MyBayCity Photo by Kevin Leahy)
All events, presentations and activities were free once a $6.00 State Park Motor Vehicle Permit was purchased to enter the Recreation Area.
"We could never do this if it wasn't for our volunteers, we had 48 of our volunteers sign up to help today," said Blaschka. with the amount of cut backs in the state budget the Recreation Area has to rely on their volunteers, and their always looking for more.
If you would like to share some of your time in a wonderful natural environment please feel free to call the Visitors Center for details at 989-667-0717.
There are some great perks to volunteering your time there. Volunteers who work one day a month for six months will be given a "friends," polo shirt and after one day a month for nine months you receive an annual State Park permit good at all 97 State Parks for one year.
High schoolers can get their Service Credits while volunteering there also.
One highlight of our visit was the glass enclosed feeder area in the Visitors Center where all sorts of birds and wildlife are seen as well as heard. The viewing room is set up with an amplified microphone outside that brings the bird songs and chipmunk chirps up close.
My thirteen and five year old were mesmerized by the sights and sounds of the active feeding area and had to be pulled from the room after a half hour when the center was closing.
It was refreshing and relaxing to see them intrigued and engaged just watching wildlife, no computer or TV wanted.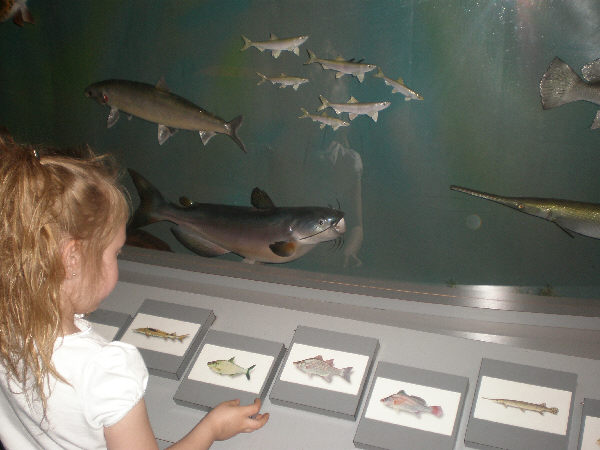 The fish exhibit at the State Park Recreation Center allows visitors to test their MI fish knowledge.
(MyBayCity Photo by Kevin Leahy)
Sherri's Feed-n-Seed has agreed to match one ton of seed to the park if patrons purchase one ton before June 1st. They are close to their goal and need to purchase 42 more bags at $9.00 apiece before getting their FREE ton.
Please go and view the feeding room and ask how you can help, you will not be disappointed.
The next two events at the Recreation Area are the "Run By The Bay," on May 17th with all proceeds generated benefiting the park and then on June 7th is the Free Fishing Festival with give-aways and prizes being offered. Please call ahead for more details 667-0717.