Rotary District 6310 Welcomes West African Group Study Exchange Team
International Exchange Group Tours Saginaw Valley Area
April 20, 2008
By: Dave Rogers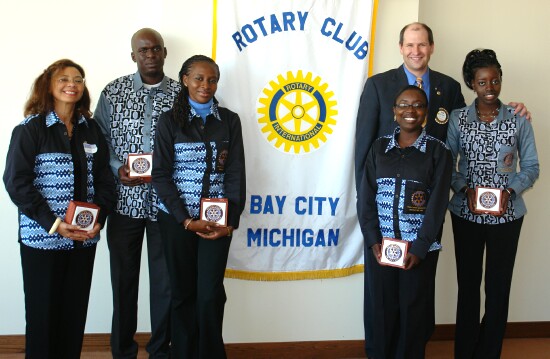 Julia Ramos, Cheikh Ndiaye, Raynatou Sadou, Dr. Pamela Pedanou, Cecelia Coly
with Club President Rob Clark
Last Weeks program - April 15, 2008
"Bonjour!"
"Bien vien vous," Bay City.
Rough translation of the French: "Hello, how are you Bay City."
With that cheery welcome the West African Group Study Exchange Team introduced itself to the Rotary Club of Bay City last Tuesday.
Chief spokesperson for the five person team from Dakar, Senegal, was Julia Adalzira Oliverira Ramos, a communications specialist for TACV-CABO Verde Airlines. She is public relations chair of the Praia Rotary Club. Julia is being hosted by Regina Turner and Leo Najar.
The West Africans represent District 9100, a huge district embracing 14 African countries with members speaking three languages, English, French and Portuguese.
The West Africans then delighted Bay City Rotarians by translating the Four Way Test (weekly recitation of which is a favorite of President Rob Clark) into French.
They also exchanged half a dozen flags from different Rotary clubs in Dakar, with Cheikh Ndiaye, the only male visitor, doing the honors with Club President Rob Clark.
The team also got reacquainted with Connie Schweitzer, Bay City Rotarian who led a local team to West Africa last year.
Other visiting West African team members and host families are: Raynatou Sadou, native of Niger and program coordinator at SIFE SENEGAL (Students in Free Enterprise). (Hosted by Anita Bowden)
Dr. Akofa Sika (Pamela) Pedanou, native of Togo, a physician in the dermatology-venereology department at the Hospital Aristide Dantec in Dakar. (Hosted by the Rob Clark family)
Cecilia Coly, Senagalese, management auditor at Senegal Tours, Dakar. (Hosted by Anita Bowden)
Ceikh Ndiaye, Senegalese, computer salesman for ATI company, married and father of a newborn. (Hosted by Hratch & Terry Basmadjian)
The West African team's visit has been long awaited since they were originally scheduled to come to District 6310 last year. "We didn't think they would ever make it," said Ms. Schweitzer. "Happily they finally were able to complete the exchange."
The first Rotary Club was established in Dakar in 1939 and the main club involved in the exchange, Praia Rotary Club, started up in 1992.
The West African team was picked up at Bishop Airport, Flint, on Monday by Gena Gates, past president of the Bay City Rotary Club, and Anita Bowden. The group had dinner at the DoubleTree Hotel - Bay City Riverfront on Monday evening.
Tuesday's schedule included the visit to the noon club at Lumber Barons and a stop at Central High to meet with English and French classes, arranged by Craig Windt and Kimberly Dodge.
On Wednesday the team visited Standish-Sterling schools and Delta College.
Thursday's itinerary included a visit to the Bay City Morning Rotary Club and Hampton Elementary to chat with Principal Bob Jansen, who had been a member of the outbound team with Ms. Schweitzer last year. They visited the Pinconning/Standish Rotary Club that meets at noon Thursdays at the Third Street Deli in Pinconning.
In the afternoon the team visited the Saginaw Valley Rotary Club at Curtiss Hall on the campus of Saginaw Valley State University.
###
---
CLUB NEWS and ANNOUNCEMENTS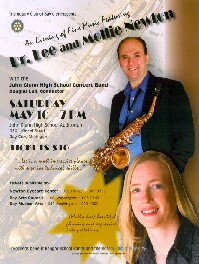 Rotary Concert
: Lee and Molly Newton will be giving a concert with the Garber Band on
Saturday May 10
. Proceeds will benefit both Rotary and Garber.
Cindy Chadwick and Anne Trahan unveiled the concert poster they designed and had printed. Posters and tickets were distributed to club members.
The
Annual Golf Outing
has been scheduled for Monday, June 2, 2008 at the Bay City Country Club. See Brian Kay or visit the club web site for details.     (
RotaryBayCity.org
)
Love Bag update
: At last count over 170 bags have been collected and delivered to Lutheran Child and Family Services. The campaign is drawing to a close but there's always time to collect more!
REMINDER!
The May 6th meeting will be changed to the next day, Wednesday May 7th. The speaker will be Ambassadorial Scholar Mohibullah Israr from Afghanistan
---
Upcoming Programs
(See the official schedule at
RotaryBayCity.org
)
April 22 William Ostler from Michigan Attorney General Office speaks on identity theft and how to protect yourself.


April 29 Clubs Review of Major Projects for 2008


May 6 meeting to be held on May 7! Rotary Ambassadorial Scholar Mohibullah Israr.


May 13 Consumers Energy's New Power Plant In Essexville
---
Visit RotaryBayCity.org