Bay City May Soon Have First Native Son Playing in the NBA - Eric Devendorf
Syracuse Said Seeking Medical Red Shirt for Devo Recovering From Torn ACL,
April 27, 2008
By: Dave Rogers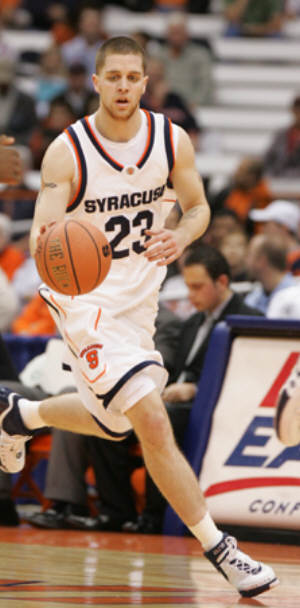 Bay City's Eric Devendorf, Syracuse University point guard, dribbles past defender in Nov. 1, 2007 exhibition game against Division II Bryant in which he scored 30 points, including six three pointers.
Eric Devendorf, 21-year-old Syracuse University junior, may soon have to make a tough decision.
1-Stay at Syracuse and lead Jim Boeheim's Orange to potential national prominence in basketball; or
2-Declare himself early for the National Basketball Association draft and become a professional basketball player.
If Devendorf takes the latter course, he would become the first player born in Bay County to play pro basketball, unless, of course, someone like St. James and Niagara star Artie Lipan played in what passed for a professional league in the early 1900s.
Devo is already listed on draft prospect websites. One site, DraftExpress, ranks him No. 183 and lists a projection "second round to un-drafted." Another site has him in the top 100 players. ESPN Draft Tracker ranks him #53.
DraftExpress evaluated Devo's NBA potential in a 2006 article, commenting: "If he is able to develop into a full time 6-4 combo guard, capable of playing either position at the next level, it is certainly not out of the realm of possibility to see him land in the first round. However, if Eric only improves marginally over the next three years, we will still most likely see him get drafted somewhere in the second round eventually, due to his outside shooting capabilities and his ability to create off the dribble, as well as his pedigree playing under Jim Boeheim at Syracuse."
Syracuse officials reportedly are readying paperwork to apply to the Big East Conference for a medical red shirt for Devendorf, who suffered a season-ending torn anterior cruciate ligament (ACL) in the tenth game of the past season.
Devendorf was reportedly seen last week at the athletic complex with a huge brace on his left knee and was said to be undergoing rehabilitation.
Big East rules provide that a player injured before his team has played 30 percent of its games may be red shirted so he or she doesn't lose an entire season of eligibility. The facts would seem to support the Syracuse plea for a medical red shirt for Devendorf, but the application hasn't been made or a decision announced yet.
If the medical red shirt is approved, that would give Devendorf two more years at Syracuse and he would be expected to be one of the premier point guards in the nation before graduation.
Rumors about Devendorf began to fly on Orange blogs after Syracuse's Donte Greene, 6-10 freshman sensation, declared for the draft recently. Greene averaged 17.7 points per game but Devo was close behind with 17 points per game. The Bay City point guard last year had 3.9 assists per game and a blistering 40.7 percent in 3-point shooting that would likely set pro coaches drooling.
An Orange Blogger posted a comment about the pending Devendorf decision: "Boeheim tells Andy (Katz) that "he firmly believed Devendorf was going to declare for the NBA draft after this season, but now he'll have to stay to rehab his knee."
If the 6-4, 175 pound Devendorf declares for the draft, he will join several locally well known players, Michigan State's 22-year-old Drew Neitzel, 6-0, 180 pound point guard, and Raymar Morgan, 6-7, 220 pound strong forward, 19, and Michigan's Manny Harris, 6-5, 170 pound shooting guard, just 18.
InsideHoops guesses that Devendorf will stay at Syracuse. Other blogs note that Boeheim has brought in a load of talent and Devo may opt for the NBA bucks rather than fight for playing minutes for two years and risk being overshadowed.
Devendorf, who was a preseason All Big East pick, was the lone upper classman in the Syracuse lineup this year as a junior. He has steadily improved his point total from 12.2 ppg in 2005-06, to 14.8 ppg in 2006-07. Rebounding has stayed steady at about 2.6 rebounds per game and his shooting was a dead-eye .466 this past year. Free throw shooting has fallen from .821 his frosh season to .793 in 2006-07 and .743 the past season.
Sports writers lamented the loss of Devendorf, who twisted his knee in the second half of a win against East Tennessee State on Dec. 15, 2007. The team finished 21-14, with the loss total the Orange's worst since 1969.
The Orange were last in Big East 3-pointers made with 83 and topped only South Florida in 3-point shooting percentage at 30.3 percent. With Devendorf in the lineup, Syracuse undoubtedly would have done better in three pointers.
###