Gas Prices and Short Visit Travel Trends May Favor Tourism in Bay County
One Tank Trip May Attract More Detroit Area Travelers to Handy Garden Spot
May 3, 2008
By: Dave Rogers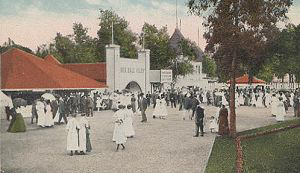 Wenonah Beach was magnet for downstate, Ohio tourists who traveled by train to vacation on the shores of Saginaw Bay in the 19th and early 20th centuries.
(from Pure Michigan, Official Travel & Tourism Guide)
Bay City - Savvy travelers are turning east off I-75 and heading for the City by the Bay. Just 1½ hours north of metro Detroit, Bay City welcomes visitors like long lost friends. Warm smiles greet guests at the many antique and specialty shops and fine restaurants and pubs that thrive in renovated 19th century buildings simply oozing with ambiance. A bustling art and culture scene provide the perfect complement to year-round festivals and special events celebrating everything from St. Patrick to Santa Claus and power boats to classic cars. Charter boats, excursion vessels and tall ships stand ready to explore the Saginaw River and Saginaw Bay coastline while more than 3,500 acres of protected natural area open sun-dappled doors to the nation's largest freshwater wetland. From golfing and swimming to cross-country skiing and espresso sipping, a visit to Bay City will warm your heart all year long.
As the price of gas escalates, spending tightens and tourist dollars are harder to attract, Michigan officials are promoting local, short trip travel.
These developments may work to the benefit of Bay City and Bay County businesses, with the Detroit metropolitan area only about 90 miles away -- less than a tank of gas round trip for the average vehicle.
"As the closest area with extensive natural attractions to Detroit, just a short trip up I-75, we can capitalize on the market by getting together to promote the Bay Area," said one business advocate. "Plus, a more effective way to attract the millions of tourists who go to Frankenmuth and many others who pass by Bay County on the expressway needs to be developed," he said.
"The halcyon days of up to a century ago can return," said the local sage. "And, Bay City is ready to accommodate more tourism with the DoubleTree Hotel - Bay City Riverfront, Bay Valley Hotel & Resort, the renovated Pere Marquette Union Station Depot as a visitor center, the new downtown Farmer's Market on Water Street, the 1,200 foot long sandy beach at the Bay City State Recreation Area and many other attractions.
Historians and tour guides who have been polishing tour scripts for more than a decade are ready to entertain visitors and boat trips on the Princess Wenonah and Appledore schooners await sightseers. Sailing and sailing lessons are another untapped resource, along with nature walks and trails, birding, yacht clubs, boat harbors, charter boats and fishing from convenient boat launches.
A whole new concept of Bay County in terms of image and marketing can help make the transition to the new economy of the 21st century, according to local visionaries who are working together to prime the local economic pump. They point to the success of places like the Upper Peninsula that capitalized on tourism after the mining and lumbering days of the 1800s were over.
"In the latter part of the 19th century and the Depression era, Bay City was a prime tourist location," recalled a veteran observer of the local scene. "Trains from Detroit, Toledo and Cleveland ran to Wenonah Beach Amusement Park, bringing thousands of tourists escaping the hot cities during sweltering summers."
Wenonah Beach, in fact, was developed by the Bay City Traction and Electric Railway Co. in 1887 to boost passenger trade, according to J.R. Watson's nostalgic picture book "Wenona Beach." And, the strategy worked.
This kind of travel resulted in development of dozens of cottage camps, miniature villages of summer cabins for tourist accommodations, among them Linden Hof Gardens and Tourist Camp on Euclid, Green Gables on State Park Drive, Walt's Cabin Camp on the Kawkawlin River, Rabior's Inn and the El Del Cabins on Patterson Road at Bay Road.
In town the Wenonah Hotel was as busy as the Grand Hotel, and other hostelries catered to travelers like the Tourist Park Hotel on First Street, the Kimbark Hotel on Water Street, the VanDome Hotel on Marquette near the Michigan Central Railroad depot.
The shortage of money caused by the Depression led many vacationers to bring tents or campers and camp in State Park, including the notorious Pretty Boy Floyd and cohort in crime Adam Richetti in the summer of 1934. (See the book "Ghosts, Crimes & Urban Legends of Bay City, Michigan," available at the Bay County Historical Museum, Bay Antique Center and Water Street Market.
Bill Richter, manager of the State Park during the 1930s to 1950s era, recalled the hot summer of 1933 when he estimated the number of campers in the park at over a million.
Give the right strategy and proper cooperative marketing efforts, those days can return, community business advocates predict.###