Rotary Ambassadorial Scholar Mohibullah Israr Speaks on Afghanistan
Began at San Diego State University and later transferred to CMU
May 11, 2008
By: Stephen Kent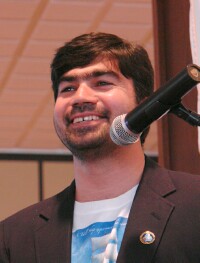 Last Weeks program - May 7, 2008 Ambassadorial Scholar Mohibullah Israr
The Bay City Rotary welcomed Scholar Mohibullah Israr to Tuesday's meeting. Israr (who says that the custom of his country is to address people by their last name) is studying "English as a second language" at CMU. He came to the U.S. to study at San Diego State University and later transferred to CMU.
The 35 year old told of a life that few Americans could imagine. He recalled that night when he was awakened by his parents as they fled his home for Pakistan. The family and village walked through the mountains for 15 days. Israr was given responsibility for the family chicken which provided eggs. He was only six years old.
The family's exile to Pakistan, which was anticipated to last for a few months, ended up lasting some 20 years. Much of the time was spent living in tent cities. Israr was fortunate enough to get an education during that time.
In 1996 Israr and his family returned to Afghanistan's capital Kabul. They arrived on the day that the Taliban took over the country. Israr told of the repression of education and the punishment of people for infractions of Islamic laws as interpreted by the Taliban.
He told of walking through the mountains for 15 days and the family being shot at from helicopters. "We lost 25 villagers," he lamented.
After 9-11 Israr went to work for an NGO (a non-profit, non-governmental, volunteer citizen organization). Six months later he joined a United Nations program to collect weapons and munitions and train soldiers for other occupations. He became a regional manager of that effort. He went on to work for the USID to help farmers find export opportunities. They are trained in improved packaging and marketing and have been making shipments to Dubai and India, he said.
Helping farmers grow alternatives to poppies is part of the campaign to control the flow of heroin, he said. Now poppies are the major crop and families make about $2,000 a year and are reluctant to give up production since it is their major source of income.
Rotary International is helping start pre-schools for the children in cooperation with the university, he said. RI contributed $15,000 to build a dormitory at the university and now parents "are glad to send their kids there. Thanks to you guys, you really have helped," he exclaimed.
Eventually Israr found himself teaching English in Jalalabad. He and eleven other teachers earned scholarships to study in the U.S. starting in San Diego, sister city to Jalalabad.
Israr will return to Afghanistan in August where he will become head of the English Department at the university in Jalalabad.
Israr is the father of six children, the youngest of which was born after he left for the U.S.
A school blackboard shows the results of the recent wars.
A tent city like that where Israr's family lived.
---
CLUB NEWS and ANNOUNCEMENTS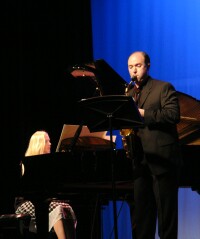 Rotary Concert
: Dr. Lee and Mollie Newton, accompanied by CMU's Dr. Mary Jo Cox presented "An Evening of Fine Music" last Saturday at John Glen High School. The program opened with four numbers by the John Glen Concert Band. Lee and Molly met at CMU in a piano practice room. Lee is now a practicing optometrist in Bay City. Molly, a classically trained pianist taught school music for a number years but is now one of the youngest retired band directors. Proceeds will benefit both Rotary and John Glenn.
The
Annual Golf Outing
is scheduled for Monday, June 2, 2008 at the Bay City Country Club. See Brian Kay or visit the club web site for details. (
RotaryBayCity.org
)
---
Upcoming Programs
(See the official schedule at
RotaryBayCity.org
)
May 13 Consumers Energy's New Power Plant In Essexville


May 20 Retired USAF General David Hall speaks about the Iraq War and Leadership.


May 27 Chippewa Nature Center Executive Director Dick Touvell.
---



Visit RotaryBayCity.org

###