We're Talking Turkey
Hunting that is, with an Expert
May 20, 2008
By: Kevin Leahy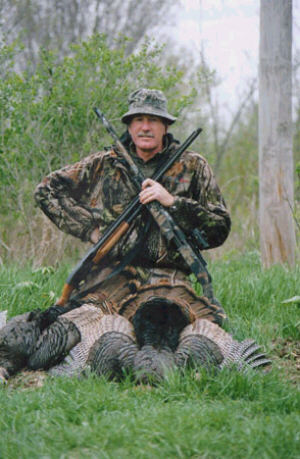 Cabela's turkey call Champion Larry Leslie shows off a couple of this years gobblers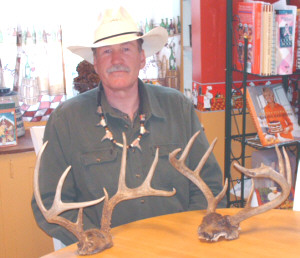 Larry Leslie, the consummate turkey talker, enjoys success hunting many species
With turkey season coming to a close, I wanted to share a hunting story with you before the thermometer hits 80 and thoughts of hunting won't be back until the leaves begin to change color again.
I had the recent privilege to hunt gobblers with a turkey call Champion who makes, uses and markets his own box and slate calls.
Just as there is the dog whisperer, this guy is the consummate turkey talker.
Larry K. Leslie grew up in West Virginia, he and his brother Dale were taught about the woods and its creatures by their father Lovell.
Dale is a professional hunter out West while Larry is a semi-pro living in the heart of the Mid-West in Fort Wayne, Indiana.
I believe Larry chose that location to be in the center of guiding territory in the pursuit of the ever-elusive Eastern Wild Turkey.
In this 2008 season alone Larry has achieved what some turkey hunters refer to as the quintuplet holy grail of wild turkey hunting by bagging a wild turkey in five states, and in some more than one.
After already guiding and harvesting birds in Indiana (2), West Virginia (2), Kentucky (2) and Tennessee (2) Michigan was in his cross hairs.
My brother luckily knows Larry from the construction trade in Fort Wayne and I had the pleasure of meeting him and guiding them last summer on a Blue Gill, Bass extravaganza near our property outside of Cadillac MI.
Larry noticed the lay of the hilly land at our cider mill and pulled out a couple of his custom made calls to show us. After echoing a bunch of yelps on the cabin porch with his box call I confirmed to him, "there's turkeys out there in them hills."
Larry must have remembered because when my brother mentioned a possible return trip this spring, Larry replied, "I'll even pay for the gas." That was when gas was under three bucks a gallon but the draw of the rare quintuplet turkey slam was as they say on the credit card commercial, "priceless."
They were already at the cabin sleeping when I arrived around midnight. Just as I closed my eyes Larry in full camo grabbed my shoulder, "come on Kevin, it's time to go turkey hunting," with a classic southern drawl that you hear on hunting shows.
I swear I was dreaming, but as I focused on the LED alarm clock across the room and it read 4:30AM, I realized, this must be how professionals hunt.
The coffee wasn't even started but Larry was buzzing around the cabin getting his gear ready like he'd been up for a couple hours already.
I like hunting with people who are excited and invigorated about the process of hunting or fishing, it becomes very contagious, I just need my coffee to catch the fever.
Before long, we were hoofin through the orchard toward the North East corner of the property with twelve gauges, a pop up camo blind, and a whole bunch of calls.
They had already scouted and hunted the day before so they knew just the spot to set up. We stopped just thirty yards from my deer hunting blind on stilts just over a ridge coming out of a swamp and just below another ridge that paralleled a large alfalfa field.
My brother and Larry set up in the pop-up while I set up in the deer blind just above them to witness the action, let the sunrise and the calling begin.
As the woods came alive with a litany of bird calls, geese honking, squirrels and chipmunks chirping and in the distance a rooster was crowing, then we heard our first gobble in the distance then Larry went to work.
He started with a few yelps from his box call but there was no reply. Then he chirped a few times with a diaphragm call again no reply. Then he let loose with his gobble call and it was on.
A distant gobbler instantly responded and so it went for fifteen more minutes back and forth with the wild bird getting louder and closer with every response.
There were now hens, jakes and toms in three different directions responding to Larry's calls.
I have hunted turkeys many times before but never have I talked with them in such a manner, it was very educational to hear someone who knows what they're doing.
There were a couple of jakes and hens making a bunch of noise just over the ridge in the field but they wouldn't come up on the ridge.
I watched anxiously as my brother and Larry exited their blind and began sauntering up the ridge toward the field where the birds were hung up. Just as they crested the ridge I couldn't see out to the field but I heard POW-POW, then I watched as they high fived each other.
They used a large stump on the edge of the field to sneak up on those birds and both were successful as the birds were just fifteen yards out on the edge being wary of the boisterous calls Larry was delivering. That's the way a professional does it, I thought again.
"You gotta listen to the birds first, hear what their doing and give'em a chance to answer your calls," said Larry as we walked back to the cabin with our bounty.
"Every time that tom gobbled Larry hurried up and gobbled before he was done, it really riled that bird up," said my brother.
That's how you talk turkey.
I asked Larry how he became so good at turkey hunting? "I operate a small business called HOOSIER HUNTER CUSTOM CALLS. I focus on turkey calls primarily and the single piece box call is my passion. I also am currently making custom box turtle slate calls, scratch box calls, custom strikers, and various pot calls. In this master call makers opinion though, nothing reproduces the sound of a hen wild turkey better than a well-tuned box call. That is not to say that there are not those out there, that can use a diaphragm call equally well, but the custom box calls are the king of the roost!"
The proof is in the results and harvesting birds in five states is a testament to his technique and philosophy.
If you would like to see more of Larry's custom calls log onto www.hoosierhuntercustomcalls.com and if you get in touch with Larry himself tell him Kevin from MyBayCity sent ya. Now get out there and talk some turkey.