Saginaw Valley "Hot School" Growing Fast, Says New Athletic Director
University Making Transition From Commuter to Residential Campus
May 26, 2008
By: Dave Rogers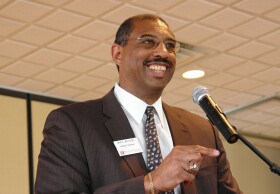 Last Weeks program - May 20, 2008 Farr SVSU Athletic Director Mike Watcon
Saginaw Valley State University's new athletic director Mike Watson also is the school's best cheerleader.
Mr. Watson, introduced by Chuck Cusick, gave Rotarians the rundown not only on the university's athletic goals but also its overall position among like schools
. Watson, a native of Mansfield, Ohio and graduate of Miami (OH) University, knows whereof he speaks about athletics: he played football at Miami University and spent five years in the pros with the Miami (FL) Dolphins and the New Orleans Saints.
"It's important that the words 'student athlete' not be an oxymoron," quipped Watson with a touch of seriousness in his voice.
He explained his departure from Miami, where he was assistant coach, associate director of university relations and associate athletic director for 24 years.
"I looked for a school with strong academic, a great community environment, faculty and staff excellence and strong athletics," he said. "I found them all at SVSU. I wouldn't trade it for the world."
He described the present as "an interesting time at SVSU," noting that its fast enrollment growth is causing the university community to reconsider how it should be positioning itself in the world of higher education.
"We have broadened our recruiting base and we are transitioning from a traditional commuter institution to more of a residential campus," he said.
In athletics, Mr. Watson said he has simple goals: First, retention and graduation. "I don't care how talented they are, none of us can outrun time," he said. "You need to look at what you are prepared to do for the rest of your life."
Mr. Watson also was unabashed about another goal of SVSU athletics: win championships, but win them with integrity. "Never sacrifice integrity to win," he said forcefully.
Athletes in Mr. Watson's orbit are urged to get involved in community service, to give back some of what they have received. That comment especially resonated with Rotarians, who follow the creed "Service Above Self."
"We preach about being able to keep perspective on where you came from and what it's all about," he said. "You've been given a special talent but you need to understand youth, the elderly, the sick and homeless."
But intercollegiate athletics are important to an institution because they are "the front porch" of the university, he said, commenting: "The athletic department hits the paper before the chemistry department. Athletes are looked up to for what they do."
He looks forward to a good year for Cardinal football under new coach Jim Collins, formerly at Capital University, who took over last December after the program experienced turmoil under a previous coach even though the team made the NCAA Division II playoffs two of the past five years. "We have a lot of good people coming back," said the AD.
---
CLUB NEWS and ANNOUNCEMENTS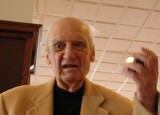 Congratulations and thanks to
Henry Smith
who was awarded a Paul Harris fellowship pin for his contributions to the Rotary Foundation's.
The
Annual Golf Outing
is scheduled for Monday, June 2, 2008 at the Bay City Country Club. See Brian Kay or visit the club web site for details. (
RotaryBayCity.org
)
---
Upcoming Programs
(See the official schedule at
RotaryBayCity.org
)
May 27 Chippewa Nature Center Executive Director Dick Touvell.


June 06 Rotary Foundation


June 10 Rotary Banner restoration project update.


July 01 Passing of the gavel ceremony. Outgoing President Rob Clark passes leadership of the club to incoming President Deb Lutz.
---



Visit RotaryBayCity.org

###