Chippewa Nature Center Plans Expansion
May 31, 2008
By: Stephen Kent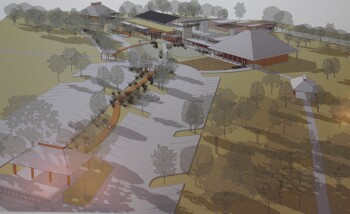 Last Weeks program
May 27, 2008
Chippewa Nature Center
Members of the Rotary Club were given an update on the expansion plans for Midland's Chippewa Nature Center on Tuesday. Director of Volunteers and Outreach Cathy Devendorf and Director of Land and Facilities Tom Lenon talked about the center's 42 years history, its programs and it's plans.
The mission statement of the center is: "Chippewa Nature Center is a non-profit organization whose mission is to facilitate the enjoyment and understanding of our natural and cultural resources as relevant to the Saginaw Valley's ecosystems, to promote environmental awareness and foster responsible stewardship."
As an educational resource the Center serves 34 school districts and 55 parochial schools. It reaches some 18,000 area students each year, including 3,500 from Bay City.
Along with science and nature field trips from the schools, the center operates a full time preschool program, one of just 13 in the country housed at a nature facility. The preschool has an approved curriculum just like any other preschool but it emphasizes outdoor activities and nature study.
The expansion plans will double the size of the center's buildings. A new classroom facility and a large covered porch will be added. The porch will enable students to still enjoy outside activities even if it's raining. A large new fireplace will be featured in a warm-up room where winter visitors can relax and enjoy a coffee when returning from the trails.
The expansion project is being designed as a model of "green" technology. Every aspect is being considered. Some features include vegetation covered roof tops, methods for collecting rain water, solar power generation, rain gardens and a bioswales to filter parking lot runoff water. The center will use sustainable and local materials.
The nature center is located on 1,348 acres on the western edge of Midland. Habitats include woodlands, wetlands and upland fields. The Chippewa and Pine rivers meet near the center of the reserve. The area, including some 15 miles of marked trails, is open to the public year round.
In 1980 the deer population was out of control resulting in die offs and destruction of native plant life. A controlled management program employing a small group of selected archers was started. The wild deer herd is now estimated to number between 70 and 100 animals. Since starting the program an estimated $60,000 worth of venison has been given to local food shelters.
The center is home to a wide variety of native plants and animals making it a premier nature watching resource. Birds of all types are plentiful and common. If your are observant, said Lenon, at this time of year you may well find deer fawns hiding in the foliage.
For additional information on the web visit
www.ChippewaNatureCenter.org
---
CLUB NEWS and ANNOUNCEMENTS
Reminder that DUES INVOICES have been mailed for the six month period of July through December 2008.
Polio Plus Update
. The three year, $12,000 challenge to the club is off to a roaring start with almost $5,000 raised in the first two weeks. Add to that the Andreas and Tracy Teich matching grant of $3,000 and the temptation is to raise the goal! Every member is asked to pledge to give $33 a year over and above their normal giving for the next three years.
---
Upcoming Programs
(See the official schedule at
RotaryBayCity.org
)
June 3 Rotary Foundation


June 10 Rotary Banner restoration project update.


July 01 Passing of the gavel ceremony. Outgoing President Rob Clark passes leadership of the club to incoming President Deb Lutz.
---



Visit RotaryBayCity.org

###