Bay City Rotary Awards New 'Service Above Self' Scholarship
Western Graduate Says He's Honored To Receive Scholarship
June 10, 2008
By: Chelsea Anderson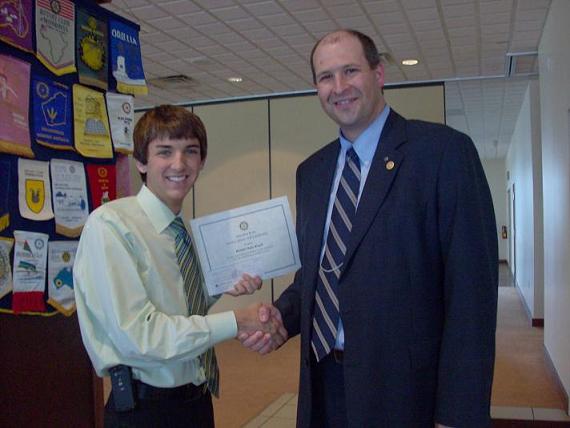 Scholarship recipient Mitchell Rivard (Left) graciously accepts the award from Bay City Rotary President Rob Clark
On June 10, 2008, the Bay City Noon Rotary Club gave out its first annual "Service Above Self" scholarship award, worth $500. The recipient was intended to be presented to "a high school graduate that has demonstrated great contribution to the community."
It was no surprise when Western graduate Mitchell Rivard received the award.
"It's a tremendous honor," Rivard said "[and] it really means a lot. I hope I've lived up to it." He definitely has. With 1026 hours of community service recorded from his freshman to his senior year, he's been involved with such activities as three years on yearbook, being the first youth member on the United Way board and a Bay Community Foundation youth.
Rivard was also a team captain for Relay for Life at Western, helping the American Cancer Society. He raised so much money, he was then asked to be on the Relay for Life county committee, helping to raise $27,000. He is now working with the voter registration program, adding more than 400 voters between the ages of 18 to 25 this year -- a sixteen percent increase.
Rivard says he likes working hands-on, and making a difference.
Rivard intends to go to Michigan State University this fall to study Pre-Law and Politics.