Craftsman Truck Series NASCAR Race Coverage
Father's Day Weekend In Pictures
June 22, 2008
By: MyBayCity Staff
Live Action From MIS - June 2008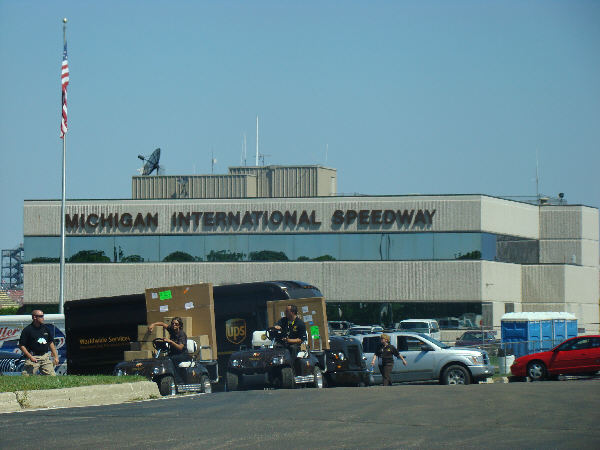 To all of our avid readers who happen to be NASCAR fans (and we know you're out there), we would like to share our experience at Michigan International Speedway last weekend with you!
MyBayCity's own Marlo Leveling and her family got the opportunity to view the race from the Miller Lite Party Deck, which is literally a few feet from the track!
MyBayCity congratulates Dale Earnhardt Jr. on Sunday! Earnhardt's victory Sunday in the LifeLock 400 at Michigan International Speedway was exactly what NASCAR needed. It broke a 76-race winless streak for Earnhardt, who won the 18th Cup race of his career.
Earnhardt's victory was monumental not only for himself, but also for his new car owner, Rick Hendrick, and for his manufacturer, Chevrolet. Every team seeks the bragging rights that come with winning at Michigan, in the very shadow of the city that houses the Big Three manufacturers who have helped build NASCAR -- Chevy, Ford and Chrysler.
Sunday's race was somewhat of a snoozefest over the first 140 laps of the 200-lap event, but who remembers that after the fantastic and riveting finish? And what does it say about the sport that the top four finishers drove a Chevrolet (Earnhardt), a Dodge (Kasey Kahne), a Ford (Matt Kenseth) and a Toyota (Brian Vickers)?
Enjoy ...
(MyBayCity Photos by Marlo Leveling)