Senior Becca Dewyse (#5) and team mates celebrate a State Championship for All Saints
---
"Jeez Louise" Dominates in Girls Softball State Championship
All Saints defeats Homer 4-0 to claim 2008 trophy
June 22, 2008
By: Kevin Kula

As Senior #5 Becca Dewyse said
"Two is better than one"
.
After climbing to the summit of State Finals, the Girls Varsity Softball team would try to bring home another state title and to be from the first school in Michigan to ever bring home both Baseball and Softball titles in the same season.
For the Cougar Softball team, it had been a easy climb to the top. Blasting six teams to reach the top, the Cougar Softball team had become a juggernaut force on the road to the finals.
In District play, the Cougar gals blasted Merrill 16-0, and then defeated Michigan Lutheran Seminary 6-0 to attain their District title. Next the Cougars crushed Arenac Eastern 9-0, and shortly after Harbor Beach 4-0 to gain their Regional Title.
After trumping New Lathrup 9-0 in the Quarter Finals, it was on to the State Finals with the Cougar Boys as State Final traveling companions.
The girls ran into some problems in the State Semi-Finals though, however it wasn't from the opposing team but from the weather. Delayed a couple hours until well after dark, the girls would play, many of them for their first time, under the lights. But rain once again delayed their game, and with the score at 4-0 Cougars the game was put off till the next day. After transferring to another field, due to another teams 14 inning game, the Cougars would add two more runs to their tally to defeat Cassopolis 6-0.
Below:(Left) Starting Catcher Becca Dewyse comes up throwing. (Right) Junior Louise Rezmer prepares to take the mound in the State Finals.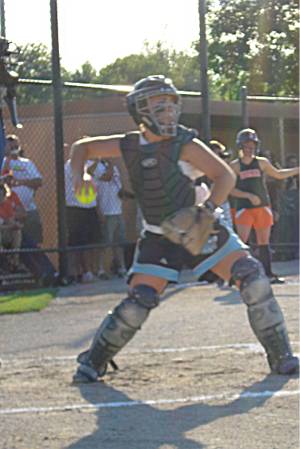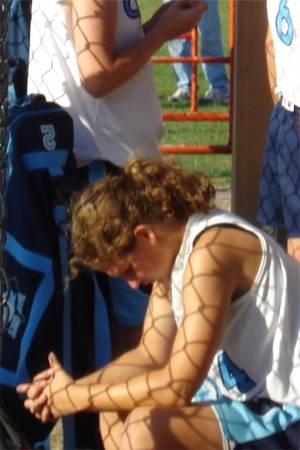 ---
Last but not least was the Trojans of Homer. A huge force behind the Cougars unassailable strength was pitcher #14 Louise Rezmer. Junior
"Jeez Louise"
is the lead pitcher for the Girls Varsity Cougars and is the most formidable pitcher at All Saints. The season stands as testimony to that fact. The State Finals were no different for her. Three strikes were all it took to claim their State Title in the last inning.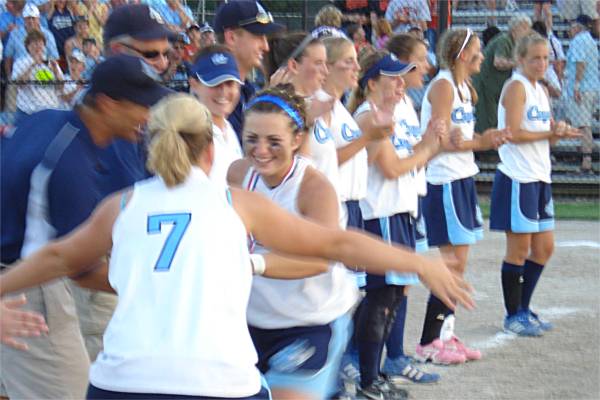 State Champs celebrate while receiving their medals after the game
.
Thanks to Rezmer and Dewyse; who had a hit and 2 RBI's, the Cougar girls claimed their State Title, and All Saints became the first High School in State History to win both Baseball, and Softball titles in the same season.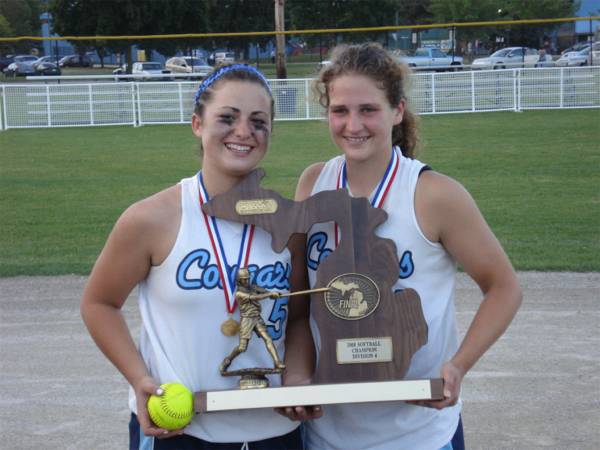 An unbeatable match Dewyse and Rezmer with the State Championship trophy
.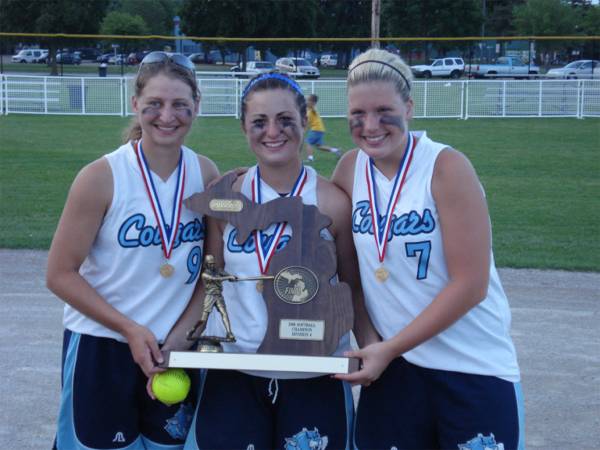 Senior Girls Selene Rezmer, Becca Dewyse and Ally Marvin with the State Championship trophy.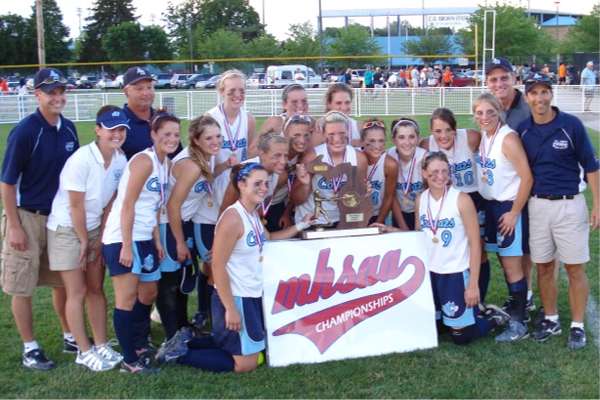 Division 4 State Softball Champs the Cougars of All Saints!.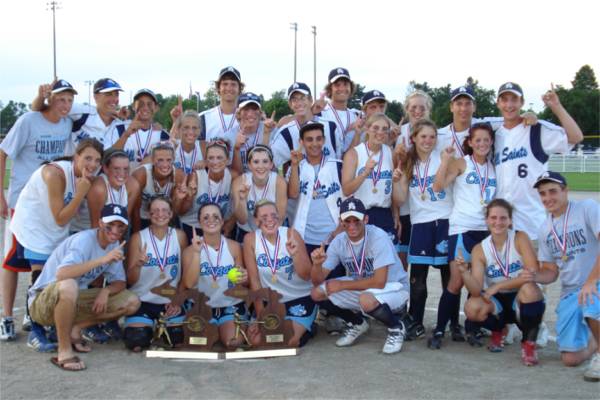 Record setting ball teams - Baseball and Softball State Champs - Bay City All Saints!