Rotary Recognizes Families and Members
June 22, 2008
By: Stephen Kent
Last Weeks program - June 17, 2008
As a fitting climax to an outstanding year for the Rotary Club of Bay City, President Rob Clark designated last Tuesday's meeting to be a
Family of Rotary and Member Recognition
day. A number of families and lots of kids were on hand to enjoy the fellowship and to recognize the achievements of the last year.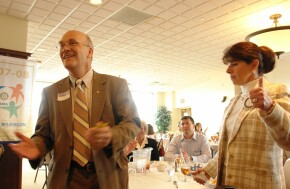 To continue the tradition, Rob put a marker under one chair and asked that person to recite the 4-way test of things Rotarians do and say. The lucky "winner" was Optimist Club guest Guy Greve, husband of member Nancy-Mueller Greve. With just a tiny amount of coaching, Guy delivered the points in grand style:
Is it the TRUTH, Is it FAIR to all concerned? Will it build GOODWILL and better FRIENDSHIPS? Will it be BENEFICIAL to all concerned?
Rob invited several members to the front to review activities of the last year. Deb Lutz talked about the special Polio challenge drive and noted that we're already past $8,900 of our 3 year goal of $12,000 and we're barely a month into the campaign!
Rob highlighted some of the club's achievements for the year including:
Giving a Dictionary to every 3rd grader.
Giving a Thesaurus to every 4th grader.
Already raising almost $9,000 for the polio challenge.
Giving over $12,000 to the Rotary Foundation
Raising over $30,000 at International Night
Raising over $7,000 at the Golf Outing
Delivering over 2,000 food items to the food pantries.
Collecting over 400 tote, duffel bags and back packs for foster kids.

Thanks and recognition was given to various committees and volunteers in the club. Over 20 members were honored for perfect attendance over the past year. Special commendation was noted for Mike Stoner, who has also accumulated about 60 unused make ups!

District Governor spoke to the Club congratulating it on so many achievements. She then presented a small gift and her own appreciation to member Jerome Yantz, who was her mentor for many years.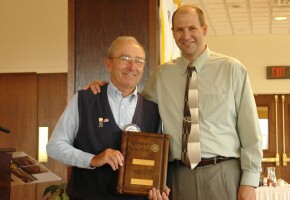 Rotarian of the Year Chuck Cusick

Presidential Citations were presented to ten members for their special efforts on behalf of the club over this year and many years before.

A new "Rotarian of the Year" award was presented to Chuck Cusick for his many years of service to the club and to Rotary. Chuck and Nancy have been involved in local, national, and international Rotary projects. They have made several polio inoculation trips over seas. Chuck said that the recognition goes to Nancy as much as himself for her tireless efforts on their many excursions.

As one of his final presidential acts, Rob and son Owen made one more grocery shopping trip to Kroger at 5:00. They purchased almost $100 worth of canned goods, dry foods, and staples to be delivered to area food pantries.

Good work Rotary. And a big thanks to Rob Clark for the leadership and drive to make it a great year!

---
A little help
The Phantom Bell Ringer
2007-2008 Board.
Andy Rogers and Pat Trahan provide the music.
Rob and Owen go shopping for the last time.
---
CLUB NEWS and ANNOUNCEMENTS
Reminder that DUES INVOICES have been mailed for the six month period of July through December 2008.



---
Upcoming Programs
(See the official schedule at RotaryBayCity.org )


June 24 Bay County Medical Care Facility. Presented by Brenda Burzynski.


July 01 Passing of the gavel ceremony. Outgoing President Rob Clark passes leadership of the club to incoming President Deb Lutz.


July 15 GSE Team that went to Australia in February. Presented by Craig Windt.
---
Visit RotaryBayCity.org