Bay Medical Care Facility
June 29, 2008
By: Stephen Kent
Last Weeks program - June 24, 2008
Bay County Medical Care Facility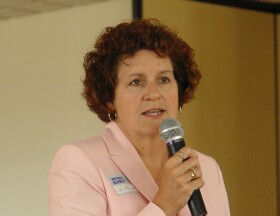 Brenda Burzynski, administrator of the Bay County Medical Care Facility (BCMCF), spoke to the Rotary Club about the role of the facility and some of its history.
Founded as an infirmary in the late 1800's, the Bay County facility is today one of 35 in the state. Today's facility stand on the grounds of the "Bay County Poor Farm", which in days past provided food for the residents of the Medical facility.
Located at 564 West Hampton Road in Essexville, BCMCF operates under the direction of the Bay County Social Services Board as a licensed skilled nursing home providing long-term care to Bay County residents over the age of 15. Patients are typically people who need convalescent or specialized care which is not provided by hospitals and they can't stay at home.
Patient costs are funded by Medicare, Medicaid and private insurance. The facility is also supported by a county millage which helps cover the cost of operations, equipment and maintenance. The .5 mill tax will be on the August ballot asking for four years extension. While the majority of funding comes from Medicaid, the approximately 8% from the millage is essential to continued operations.
The facility was built in 1964 on the site of the former Poor Farm. Within 3 years the 100 bed facility was expanded to 200 beds. A renovation project was completed and the facility now has 206 beds in both private and semi-private rooms
With over 300 employees, BCMCF is among the top 15 employers in the county. They also have a large contingent of volunteers and an active auxiliary organization. Burzynski noted that the facility is very highly rated and enjoys very low staff turnover.
See related
MyBayCity article
about the opening of the expanded facility, October 9, 2005.
---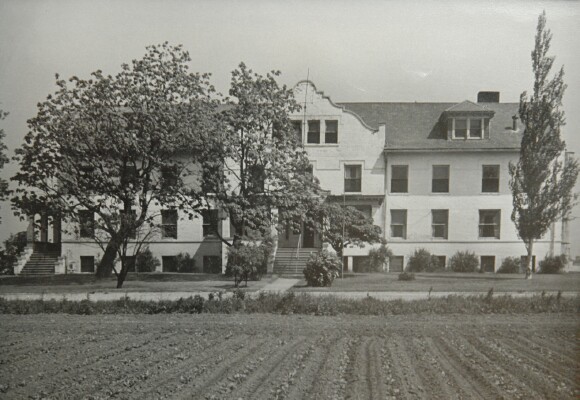 Bay County Medical Care Facility in the days of the Poor Farm
Bay County Medical Care Facility 2008
---
CLUB NEWS and ANNOUNCEMENTS
Reminder that DUES INVOICES have been mailed for the six month period of July through December 2008.
Gena Gates introduced a proposal by District Governor Pam asking that clubs raise $1,400 to qualify for a district matching grant to support Ambassadorial Scholar Israr's effort to operate a school in Jalalabad, Afghanistan. The funds would purchase supplies and educational materials for the students.
This coming Tuesday marks the beginning of the Rotary year when President Rob Clark passes the gavel to 2008-2009 president Deb Lutz. Everyone is encouraged to be in attendance.
---
Upcoming Programs
(See the official schedule at
RotaryBayCity.org
)
July 01 Passing of the gavel ceremony. Outgoing President Rob Clark passes leadership of the club to incoming President Deb Lutz.


July 08 Love Bag Project report by Marc Melton, Lutheran Child and Family Services.


July 15 GSE Team that went to Australia in February. Presented by Craig Windt.


July 22 Retired US Air Force General David Hall will talk about leadership and the Iraq war.
---
Visit RotaryBayCity.org