Rotary Gives 400 Love Bags That Help Foster Children Gain Self Esteem
Club Helps Meet Important Needs, Says Lutheran Children's Official Melton
July 13, 2008
By: Dave Rogers
Last Weeks program - July 8, 2008
Rotary Gives 400 Love Bags That Help Foster Children Gain Self Esteem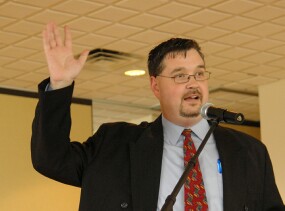 "It's all about putting love into a child's life."
So said Mark Melton, director of development for Lutheran Child and Family Service of Michigan, at Rotary last week.
Introduced by programmer Ed Keating, Mr. Melton has raised about $45 million for various governments, corporations and non-profit organizations in his career. He earned a master's degree in Public Administration from the University of Michigan-Dearborn and was graduated from the University of Memphis, Tennessee.
"We always need duffel bags, backpacks and suitcases," explained Mr. Melton, noting that children removed from their parents' homes by the police or Child Protective Services often have nothing but trash bags for their belongings.
He thanked Rotarians and specifically former President Rob Clark for providing about 400 suitcases and bags for children, commenting: "These Love Bags you have given will each find a loving home with a foster child."
Although it seems like a simple thing, foster children are placed in one of life's most vulnerable positions.
"They are waiting for somebody they've never met who looks at the garbage bag that represents everything they have," he said. "Giving the child something decent to keep their clothes and personal needs is the first thing we can do when a child comes into our care."
He described the situation of a young man named Malcolm, now age 17, whose parents were addicted to drugs. Malcolm was called to the Principal's office at his school only to find his brother and sister there with the worker, having been removed from the home that day.
"A child like Malcolm could be leaving his home forever, or at least until he is 18, and could be separated from his brother and sister," he said. "He would have given anything that night to have his own pillow and pajamas."
In Malcolm's case, he has been in foster care for a year and a half and is now living with his grandparents. "He's really flourished and is about ready to go to college and has offers to play quarterback for football teams at two Michigan universities."
That's one story of a foster child that is a happy one.
Using the theme "Picture the Possibilities," Mr. Melton showed a packet of family photographs from an unknown family and described what his agency would do to help create a more favorable picture for the foster child they belong to.
"Try to picture a world where kids don't suffer abuse and neglect," he urged. "Kids who have no family support system can't get over obstacles like we can. But because of the work like Rotary is doing, many things are possible for these kids." ###
---
CLUB NEWS and ANNOUNCEMENTS
Reminder that DUES INVOICES have been mailed for the six month period of July through December 2008.
Linda Heemstra reported that the district project to send text books to Afghanistan with Rotary Ambassadorial Scholar Mohibullah Israr is well under way. Guidelines have been established for the type of books to be sent. This is a short term project that will be completed with a few months.
The Polio Plus Challenge has almost reached the $12,000 giving goal with current contributions at $11,500. And the club is only a few months into the planned three year fund raising effort!
The International Night Committee meets July 22 as 11:00 am before the regular Tuesday meeting.
---
Upcoming Programs
(See the official schedule at
RotaryBayCity.org
)
July 15 GSE Team that went to Australia in February. Presented by Craig Windt.


July 22 Retired US Air Force General David Hall will talk about leadership and the Iraq war.


July 29 Head Football Coach Jim Collins of Saginaw Valley State University will talk about the upcoming season and his new position as head coach at SVSU.


Aug 05 District Governor Bob Chadwick's official visit and address.
---
Visit RotaryBayCity.org