Rotary Group Exchange Team Reports on Month in Australia
July 20, 2008
By: Stephen Kent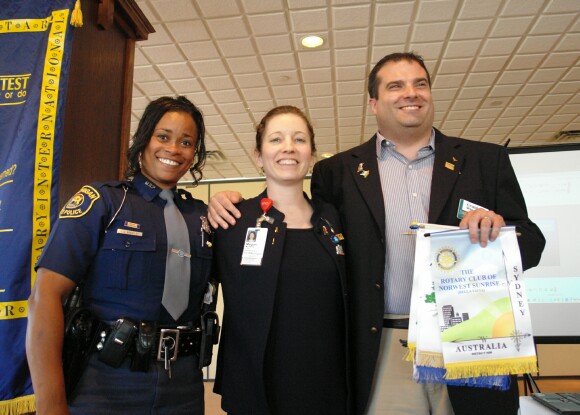 Yvonne Brantley, Megan McHenry, Craig Windt
Last Weeks program - July 15, 2008
Rotary Group Exchange Team Reports on Month in Australia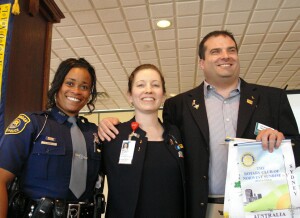 Yvonne Brantley, Megan McHenry, Craig Windt
"Even with a miserable 20 hour plane trip I'd do it again!"
That was the message from the Rotary GSE team that recently returned from a month in Australia. The GSE program is "a unique cultural and vocational exchange opportunity for business and professional men and women in the initial years of their careers".
Craig Windt
, a teacher from Bay City Central High School explained how GSE is an immersion in the culture of the country visited. Team members live with local families, eat the food, see how people live and work.
The educational system in Australia enjoys very strong public support. Teachers are paid at a higher level than in the US and all schools are far ahead technologically. Every class room has computers, electronic white boards and other high end equipment.
All students at all schools (and 68% or students attend private schools), wear uniforms. They seem to accept this readily and enjoy the lack of competition in dress and the ease of getting ready to go to school. Students are also required to wear hats outside due to the high level of ultra violet sunlight in the southern hemisphere.
Yvonne Brantley
, a Michigan State Police Officer, spoke on her experiences with law enforcement officers and agencies. "They don't wear bullet proof vests. There's little need with no public firearms." She also noted that the police have an enormous amount of authority. They can stop people at will. In traffic enforcement situations an officer can take a person's license on the spot.
Brantley also noted that the entire country shares a single communication system. In Bay County the various police agencies use seven different systems and frequencies. In Australia everyone knows what is going on.
Commenting on a picture taken with a mounted police group Brantley said "Hey, I was raised in Detroit. I thought those horses were going to eat me!". She was more comfortable in a "Bear Cat" armored vehicle, which was made in the US and had a left hand steering wheel.
Megan McHenry
, a manager with Midland's Mid-Michigan Health, visited hospitals and other health care facilities. Although there is universal health care, the system and quality of care is very similar to what one would receive in the US. There is a strong private health care sector and people with higher incomes are given a tax incentive to purchase private insurance.
The Australian system faces many of the same challenges as the US system. The population is aging and placing more demand on the system. The cost of drugs and malpractice insurance continues to grow. And a shortage of professionals has hospitals recruiting out of country, in particular in Asian countries.
Many of the hospitals enjoy high levels of technology. McHenry visited a 3,000 bed hospital in New South Wales where all records are universally available electronically to all care providers.
The entire team commented on other parts of Australian live and the country, including the wild life. They noted how the Australian population is very familiar with US, largely through our TV shows, but also because the US is a popular place to visit and Australians like to travel.
It was noted that Australians are follow the US elections very closely. Some feel that perhaps they should be allowed to vote because US politics have such a strong influence on the world and on Australia in particular.
Perhaps the most interesting piece of political information is that Australians are required to vote in elections. There is a $200 fine for not voting. Of course it is not necessary to vote FOR anyone. One can always turn in a blank ballot as long as one shows u.
---
CLUB NEWS and ANNOUNCEMENTS
Reminder that DUES INVOICES have been mailed for the six month period of July through December 2008.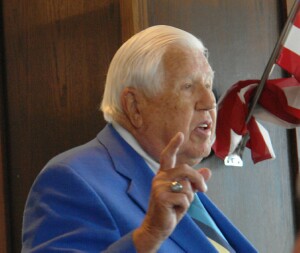 The club was happy to have honorary member Tom Tabor visit from Florida. Having read about the club's Polio Plus Campaign and challenge, Tom presented the club with a check for $1,000. He also noted that he received his Paul Harris Fellowship in the days when it was bestowed on people by a club. Today it is an acknowledgment of the gift of $1,000 to the foundation. Tom also gave his annual encouragement to all Rotarians to wear their Rotary Pins!
The Polio Plus Challenge should have exceeded the $12,000 giving goal by the time this article is published. An admirable achievement considering the club is only a few months into the planned three year fund raising effort!
Rotarians have been enjoying a new weekly challenge with the "Rotarian of the Week" quiz where facts about a mystery member are read and the club is asked to guess who that member is. If you have not filled out your fact sheet, be sure to do so!
---
Upcoming Programs
(See the official schedule at
RotaryBayCity.org
)
July 22 Retired US Air Force General David Hall will talk about leadership and the Iraq war.


July 29 Head Football Coach Jim Collins of Saginaw Valley State University will talk about the upcoming season and his new position as head coach at SVSU.


Aug 05 District Governor Bob Chadwick's official visit and address.
---
Visit RotaryBayCity.org