SVSU Head Football Coach Jim Collins Speaks About 2008 Season
August 3, 2008
By: Stephen Kent
Last Weeks program - July 29, 2008
Saginaw Valley State University Coach Jim Collins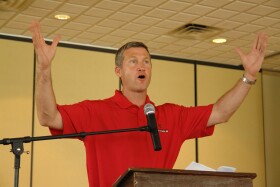 SVSU's new Head Football Coach Jim Collins began his talk by commending the Rotary Club on its involvement in the community. He said that such involvement is an important example to young people. He said that the University's athletes are encouraged to follow that example and that a number of his players are participating in events like the Pig Gig this coming weekend.
Coach Collins has recently arrived in Michigan from his coaching position in Ohio. But he noted that he is not unfamiliar with Michigan having started his career coaching at Central Michigan some 19 years ago.
Collins talked of three goals for his program. Noting that most college athletes won't become professional players, he said coaches must be teachers and help students develop to their fullest potential. Complimenting the first goal, Collins said he expects his student athletes to graduate with a degree. He encourages them to shoot for high grades and to consider post graduate work.
Coach Collins' third goal is to win some championships! "I've got the hardest working people I've ever been around", said Collins. "They've got a terrific work ethic. There's football in the air and we're getting ready to run an exciting offense and defense."
Ohio, said Collins, was known as an explosive team that recruited for speed. He said SVSU may try that. There is some good power and speed in this year's team and he has a good feeling.
Practice begins on August 11. Collins said the team will do their part but what they really need is support from the area. "We're not a Saginaw school, or a Midland school, or a Bay City school. We represent the entire area and we want people to know that."
---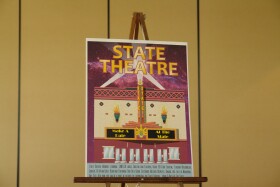 Mike Bacigalupo of the State Theater spoke to the club and thanked it for the recent community grant toward the Theater's marquee restoration project. The theater was build in 1908 as the Bijou. The name later changed to the Orpheum, then the Bay, and finally the State. The new marquee has been designed and demolition of the old structure is scheduled. The new marquee will be faithful to the look of the original but will also incorporate a high tech digital display.
---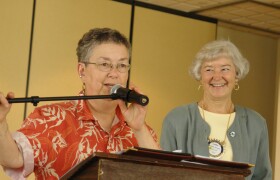 Barb Fisher and Linda Heemstra reported on the plans for the Books to Afghanistan project. Rotary Ambassadorial Scholar Mohibullah Israr's goal is to start a lending library when he returns to his home. He also wants to start an American style bookmobile service.
A flier has been distributed with guidelines on the type of books that are wanted. The committee asks for donations of gently used books and will also accept cash to purchase books and to help with shipping costs.
Books will be collected downstairs at the front door. Do-All Inc. will also collect books at their Cat's Meow store and they will store books until they are shipped.
---
CLUB NEWS and ANNOUNCEMENTS
The Polio Plus Challenge has raised over $12,500 in member contributions. An additional $1,500 was contributed by former members. With the Teich matching gift of $3,000 the total raised is over $17,000.
President Deb, promising to NOT have the members sing the Damper Song, introduced a audience participation new game. She said "Everyone stand up. I'm going to flip a quarter. You put your hand on your head or tail to indicate how you think it will land. Correct guesses continue to stand, everyone else sit down." After several flips the contest came down to John Bultrud and Andreas Teich. John won the final toss and was presented with a bottle of wine.
Rotarians have been enjoying a new weekly challenge with the "Rotarian of the Week" quiz where facts about a mystery member are read and the club is asked to guess who that member is. If you have not filled out your fact sheet, be sure to do so!
---
Upcoming Programs
(See the official schedule at
RotaryBayCity.org
)
Aug 05 District Governor Bob Chadwick's official visit and address.


Aug 12 Ambassador Scholar Kerry Kall


Aug 19 Off site meeting at Delta College. MARK YOUR CALENDAR!
---
Visit RotaryBayCity.org