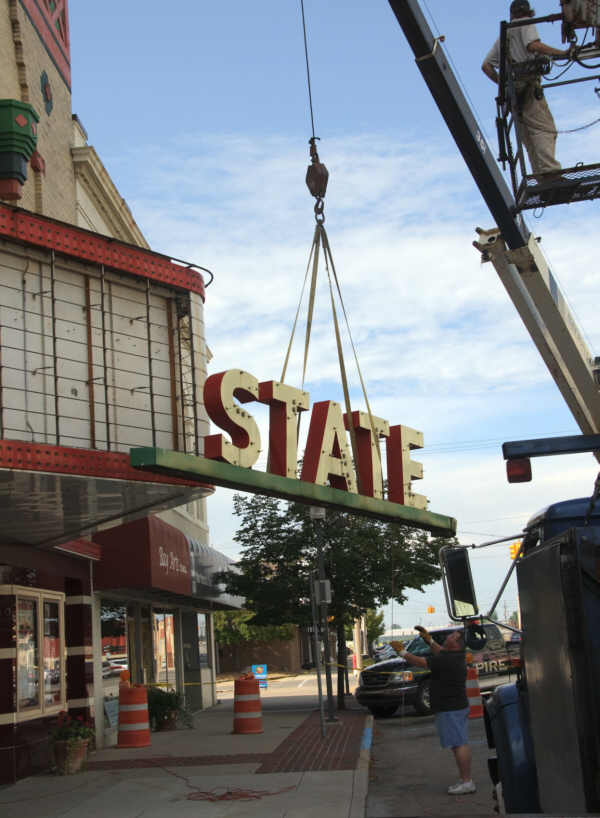 Marquee of the 1930s Bay Theater, as designed by Detroit architect C. Howard Crane, will be re-created in downtown Bay City. Photo by Andy Rogers
---
State Theater Sign Goes Into Bay County Historical Museum Archives
Theater Prepares for New Mayan Style Marquee to Rise Along Washington Ave.
August 17, 2008
By: Dave Rogers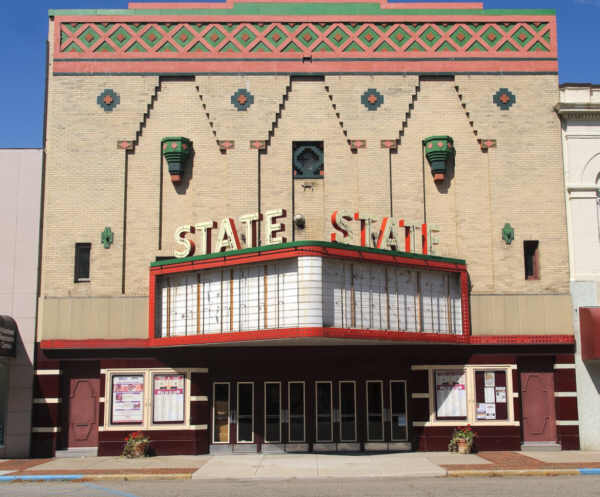 State Theater sign as it appeared in recent years.
(MyBayCity Photo by Andy Rogers)
It was a sign from on high.
Now it is history.
The familiar S-T-A-T-E Theater sign, actually two of them, are no longer Washington Avenue icons.
One sign is the newest artifact in the Bay County Historical Museum archives.
The second is being readied to grace the Saginaw Street side of the theater.
It's a sign of change, to coin a phrase.
Soon, the Mayan headdress marquee that once was a symbol of the magnificent Bay Theater during the Roaring Thirties in dynamic Bay City will reappear through the mists of historical memory.
Through the generosity of dozens of light bulb donors, the marquee will reappear magically along Washington Avenue to light the way to a glorious entertainment future for the new State Theater.
The incarnations of the State, from the old Bijou, to the Orpheum, to the Bay of the wartime years, to the State of postwar euphoria, comes the new State Theater.
(Video by Julie McCallum)


A community treasure, and a community project destined to enliven hearts and minds both enlisted in past glories and wedded to future enthusiasm for a downtown and a community of arts lovers.
Architect C. Howard Crane's masterpiece, created from the old theater in 1930, has awakened community spirited citizens to refurbish the theater in spectacular fashion, install new seats and now, erect a historic marquee that will symbolize mid-Michigan's entertainment past and herald its future.
The history of the State Theater is reviewed by Mike Bagicalupo, executive director of the theater:
"Built in 1908 during the booming lumbering era in Michigan, the State Theatre was known as the Bijou and was one of many vaudeville and burlesque houses in downtown Bay City. The Bijou was renovated in 1930 by renowned architect C. Howard Crane whose impressive body of work includes the twin Fox Theatres in Detroit and St. Louis, Missouri.
"Mr. Crane designed the Bay City State Theatre to resemble a Mayan Temple and the Theatre remains a magnificent example of art deco architecture which exudes a warm and intimate character with seating on the main floor as well as a second floor balcony.
"The State Theatre exists to enrich the arts & cultural opportunities of people in the Tri-Counties and the surrounding communities.
"In standing true to our mission, the State Theatre presents live events, film, family events, educational programming and special events. We are the home for the State Theatre Youth Orchestra and the Noon Optimists? travelogue series. You will also find the Bijou Orchestra performing here."###