Rotary Holds Meeting at Delta College
August 19, 2008
By: Stephen Kent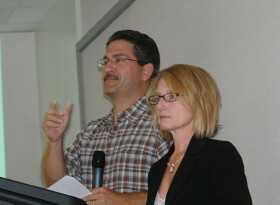 Last Weeks program - August 19, 2008
Club Meets at Delta College
As an initiative from the long range plan, the club will try to take two "field trips" a year by holding meetings at another location. The first of those excursions was taken this week when the club went to Delta College.
The program, introduced by Delta President Dr. Jean Goodnow, focused on Delta's Environmental Sustainability Philosophy and commitment. The goal is to develop an environmentally sustainable campus.
Speakers Linda Petee, Coordinator of Sustainability and Risk Management, and Mark Finelli, Assistant Professor Residential Construction, outlined steps that the college is taking on the environmental front and ways that individuals can take similar steps.
Sustainability is a goal and getting there is an evolutionary process. Delta has adopted a "triple bottom" approach that considers financial, environmental, and social benefits in all decision making at the college.
Speaking to the theme "Living Green at Work and Home", Linda and Mark cited examples from the Rotarian Magazine where Rotary Clubs have acted as "EcoVisionaries". Clubs have planted windbreak trees in the desert, opened a zoo training lab, started a wood recycling company, and undertaken many other projects.
A common definition of Sustainability is "meeting the needs of the present generation without compromising the ability of the future generations to meet their needs." The speakers offered numerous examples of simple ways to achieve this goal on both a business and personal level.
Thinking environmentally with the goal of sustainability is a matter of mind set. Searching the
Delta Web Site
for these topics will reveal a wealth of information.
---
CLUB NEWS and ANNOUNCEMENTS
The major project selection committee is requesting proposals from the community. The RFP form and information can be found in the download section of the club's web site.
The club will old another membership drive in the next couple of months. Everyone is encouraged to propose candidates.
Another family has been recruited to house our incoming exchange student from Brazil, who will arrive within a week and plans to attend John Glen High School. One more family is still needed.
The district Group Study Exchange program is soliciting applications for next year's visit to Thailand. The team will have one Rotarian as leader and the rest of the members are young non-Rotarian.
Chuck Cusick announced that a Polio Immunization trip is being planned for the Ivory Coast of Africa. This professionally organized trip will be for eleven days. Between 50 and 100 people will go. A brochure is available for anyone interested.
International Night event tickets and bucket of fun raffle tickets have been distributed to all members. If you plan to attend, please make payment for your tickets at $60 each. Patron Sponsorships are available for $175 for two tickets. Attending or not, sell those bucket of fun tickets!
---
Upcoming Programs
(See the official schedule at
RotaryBayCity.org
)
Aug 26 Mark Yonan speaks on the Crim Marathon held each year in Flint Michigan.


Sept 9 Ray Scott NBA player and coach speaks.


Sept 16 Michigan Petroleum Association President Mark Griffin will speak on the cost of fuel and how it is effecting consumers, jobbers and gas stations.
---
Visit RotaryBayCity.org