Crim Race Official Outlines Big Plans for Flint-Based Foundation
August 31, 2008
By: Dave Rogers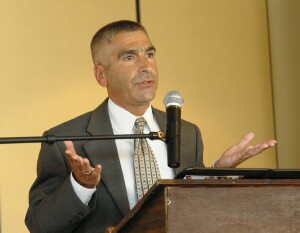 Last Weeks program - August 26, 2008
Crim Race Official Outlines Big Plans
Mark P. Yonan, chairman of the board of directors of the Crim Fitness Foundation, Inc., drew "the big picture" for Rotarians last Tuesday.
Not only has the organization become a leader in the national fight against the obesity epidemic, it has acquired the 380 room former Hyatt Regency hotel.
The 10K footrace known as "the Crim" that began in 1977 has evolved into a "festival of races/" The 10-K run that first drew 750 to raise money for Special Olympics not draws an international crowd of about 14,000 and widespread publicity.
Mr. Yonan, a compact fitness buff and Marine who served in Desert Storm, puts his actions where his mouth is, having completed 323 marathons including the famed Boston and Pike's Peak runs.
The foundation "is aggressively repositioning Flint as a center of excellence in health and fitness," says Mr. Crim, a former teacher and Speaker of the Michigan House of Representatives.
Mr. Yonan noted the importance of controlling obesity, pointing out that the development of human organs is retarded by excessive weight. More people are diagnosed with diabetes because of physical inactivity, he said.
"We want a community response to this issue," Mr. Yonan said, noting that the foundation has launched a fund drive that so far has netted $300,000. Those funds are considered seed money for larger gifts to fund the massive drive against obesity envisioned by the group.
As headquarters for the foundation and a center for the new drive against obesity, the Crim group has acquired the former Hyatt Regency, at 380 rooms the state's eighth largest hotel.
Mr. Yonan said the Crim planners may even try to have a medical school locate in the building, focusing on obesity and urban health. They have hired a lobbyist in Washington to try to raise $50 million over the next five years.
An Olympic training center in Flint is another possibility, he said, noting that officials of the group are talking to the U.S. Olympic committee about that idea. An interface with the University of Michigan-Flint physical therapy program also is being explored.###
---
CLUB NEWS and ANNOUNCEMENTS
The deadline for major project RFPs has been reached. The committee will be reviewing these and will report to the club soon.
The club will hold another membership drive in the next couple of months. Everyone is encouraged to propose candidates.
Another family has been recruited to house our incoming exchange student from Brazil, who will arrive within a week and plans to attend John Glen High School. One more family is still needed.
The district Group Study Exchange program is soliciting applications for next year's visit to Thailand. The team will have one Rotarian as leader and the rest of the members are young non-Rotarian.
Chuck Cusick announced that a Polio Immunization trip is being planned for the Ivory Coast of Africa. This professionally organized trip will be for eleven days. Between 50 and 100 people will go. A brochure is available for anyone interested.
International Night event tickets and bucket of fun raffle tickets have been distributed to all members. If you plan to attend, please make payment for your tickets at $60 each. Patron Sponsorships are available for $175 for two tickets. Attending or not, sell those bucket of fun tickets!
---
Upcoming Programs
(See the official schedule at
RotaryBayCity.org
)
Sept 9 Ray Scott NBA player and coach speaks.


Sept 16 Michigan Petroleum Association President Mark Griffin will speak on the cost of fuel and how it is effecting consumers, jobbers and gas stations.
---
Visit RotaryBayCity.org