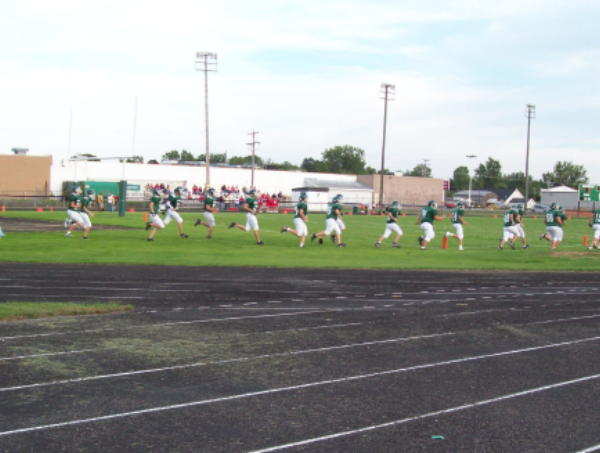 The Spartans JV's head out toward the field.
---
JV Spartans Struggle Against Braves
Tawas JV defeats Pinconning 41-12
September 12, 2008
By: Jeni Joan
The Pinconning Spartans Junior Varsity football team faced off against the Tawas Braves. The Spartans lost to the Braves 41-12.
If sheer determination and will counted, then it could be said that the young Spartans held their own. It was a night of unwavering resolve for the JV Spartans, who continued to fight up until the last second of the game.
It was a battle from the beginning, with the Tawas Braves scoring the first touchdown. The Spartans also had to contend with numerous penalties - for holding and false starts - that frustrated their offense.
After a Spartan punt, the Tawas Braves marched in for another touchdown and a successful play for the two point conversion to up their advantage to 14-0. At the end of the first quarter, the Braves scored yet another touchdown and the score stood at 21-0.
In the second quarter, the Pinconning Spartans battled back. One player, Sophomore half-back and defensive back Andrew Shoemaker, ran 65 yards to score the first touchdown for the Spartans. But by the end of the second quarter, Tawas had scored another touchdown as well.
In the 2nd half, the Spartans continued to play hard. On defense, freshman quarterback Samuel Bourcier stonewalled the Tawas Braves, stopping them at the three yard line with back-to-back tackles - keeping the Braves out of the end zone.
Quarterback Bourcier completed numerous passes during the game that led to many first downs. After a first down at the start of the fourth quarter, Bourcier hit Shoemaker with a perfect pass and Shoemaker ran for 38 yards to score the Spartans' second, (and last,) touchdown of the evening.
Despite the fact that the Braves went on to score two more touchdowns in the fourth quarter, the Spartans continued to battle.
With one minute left in the game, even though there wasn't time or even the possibility of victory over Tawas, the Spartans hung in there. As the seconds ticked down, the Spartans continued to pick up first downs, some by Bourcier and some by tight end Henry Patterson. They moved steadily down the field, but the game ended for Pinconning after an incomplete pass, with just one second still on the clock.
Although they lost, the Spartan JV's can hold their heads high because they gave their best and never gave up.