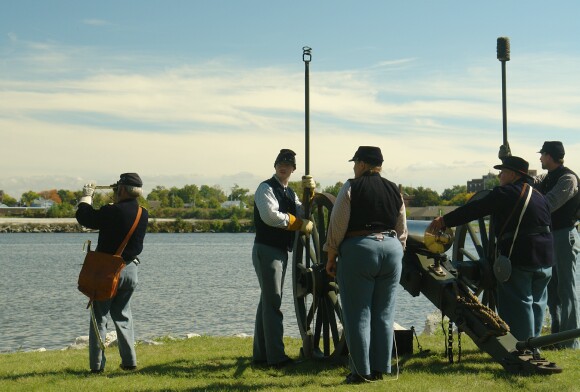 The River Roars To Civil War Cannon and Small Arms Battle
River of Time encampment brings it's own version of a river roar.
September 28, 2008
By: Stephen Kent
The Bay City River front is known for its ability to ROAR. The summer season starts with the River Roar power boat races, which can be heard far and wide.
Last Saturday the Annual River of Time encampment brought it's own version of a roar with the portrayal of a water and land battle from the Civil War. Although not a reenactment of any specific battle, the engagement was typical of the period.
Three boats participated in the battle. The tug Jill Marie and the schooner Appledore, which came in under partial sail, represented the Union. The side wheeler Hiawatha, powered by her vintage steam engine, took the Confederate side. Soldiers on the boats fired on each other in multiple passes and the Hiawatha shelled the shore battery.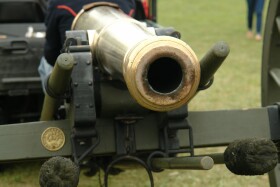 The shore was defended by the Union using one of the few Model 1841 Brass Six Pounder Field Guns in original condition. The gun is operated by the 2nd Michigan Volunteer Regiment as Hudson's Artillery. Ric Julian of Columbiaville told the story of the gun.
"The earliest record we have of this gun is a 1937 picture when it sat in McFarland Park at the corner of Detroit St and Saginaw St in Detroit." By the 1970's the wooden gun carriage had largely rotted away. Eventually the city decided to truck barrel away for scrap.
At this point a group of Civil War buffs came into the picture and asked to buy the barrel. Thinking it was an iron cannon, the scrap price was set at $100 and the sale was made. Only then did new owners discover that they had a bronze gun manufactured by Cyrus Alger & Company in Boston, Mass in 1843.
Following the common practice when displaying artillery in a park, the gun's vent piece had been "spiked" to prevent firing. During restoration the spike was removed and the details of the vent construction accurately dated the gun.
It was ten years before funds and materials were gathered to build a new carriage and mount the gun. Timber from an old barn in Unionville was donated and sent to Amish craftsmen in Indiana and soon the gun was mounted on the carriage seen today.
After a high tech scan and structural inspection that showed no micro cracks of other flaws the gun was first fired at Crossroads Village.
Current rules of the North South Skirmish Association require the working artillery pieces have steel liners. This gun is exempt from rule and is in original condition. The original $100 purchase is valued at over $68,000 now. If auctioned to collectors it has been speculated that it could conceivably bring a million dollars.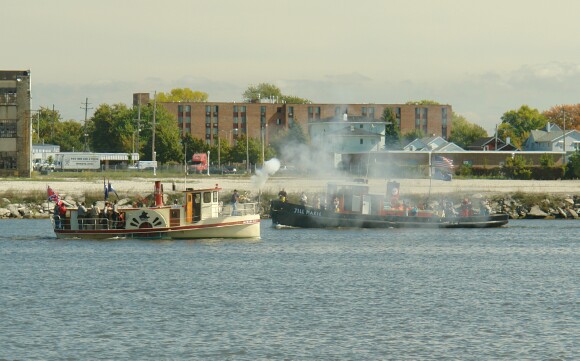 ---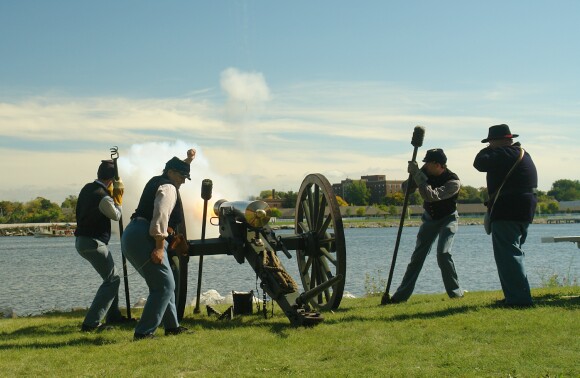 ---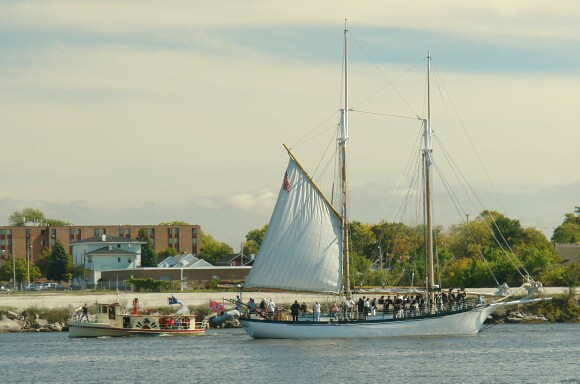 ---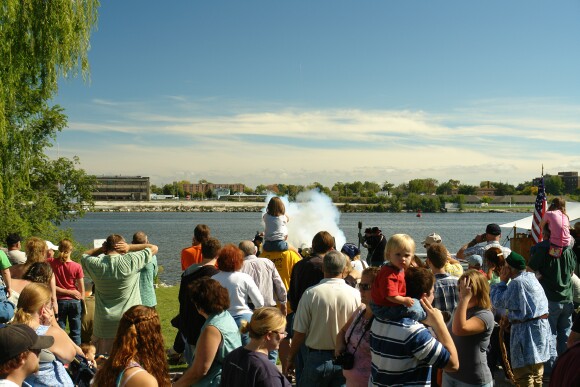 ---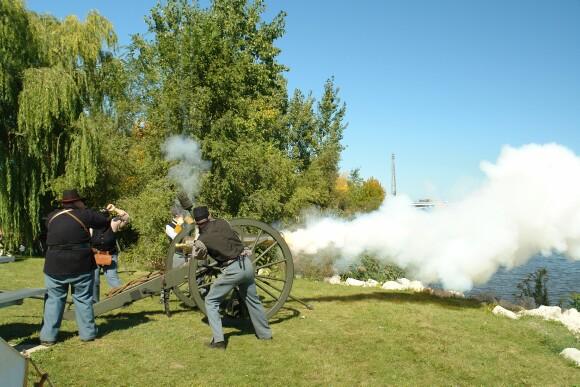 ---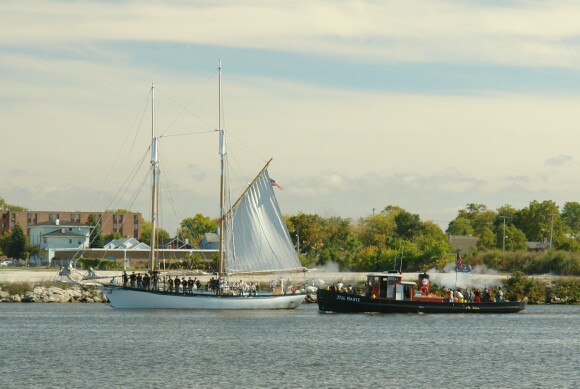 ---
MyBayCity.com has covered the River of Time since 2003.
Take any of these links for prior year coverage:

2018.a, 2018.b
2017.a, 2017.b, 2017.c,
2015, 2014, 2013,
2012, 2011, 2010, 2009,
2008, 2008, 2008, 2008,
2007, 2007,
2006, 2006,
2005, 2005, 2005,
2004, 2003,